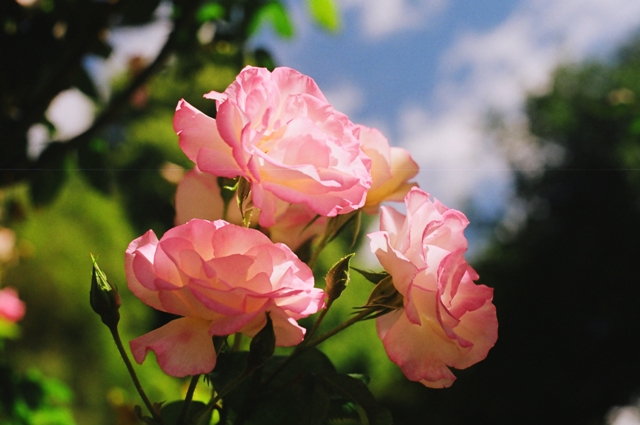 Christchurch Botanical Gardens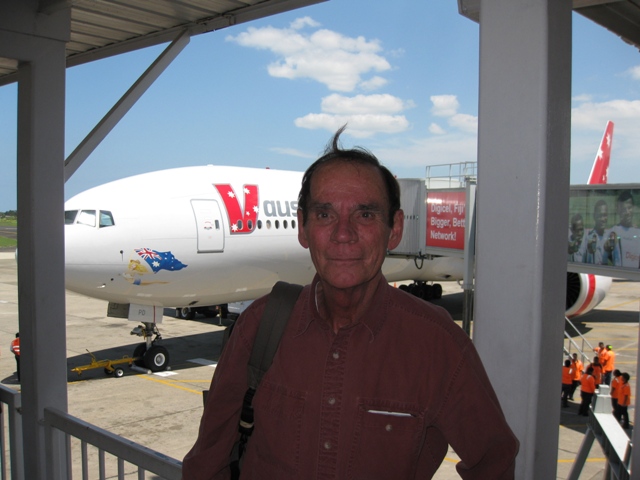 Our 14 hour non-stop flight from LAX to Sydney turned into a 24 hour flight with stops in Honolulu and Fiji. Honolulu because of a medical emergency on the plane to let off the sick flight attendant, and then Fiji to pick up a new flight crew because they had worked too long due to the medical emergency and unscheduled stop. Here is Dennis in Fiji in front of our plane - it was beautiful, 84 degrees, sunny and was very cool seeing all the islands dotting the south pacific...I definitely have to get back here for more than 3 hours next time.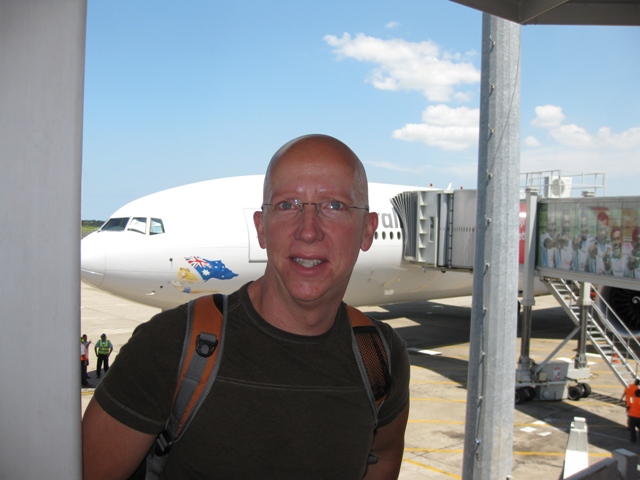 And of course I had to get my picture taken in Fiji as well - this is the airport in Nandhi, Fiji.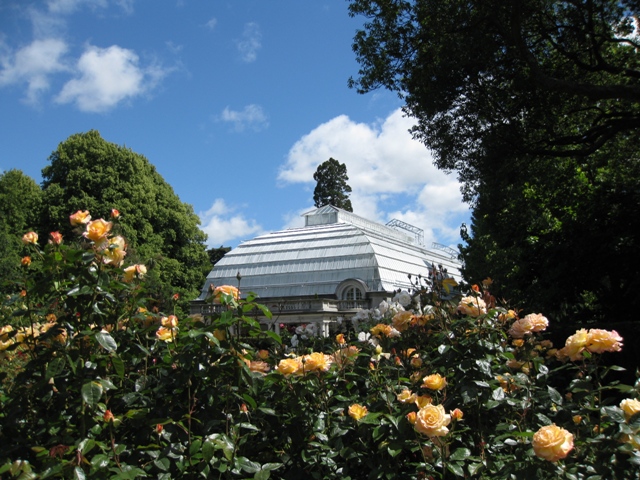 Our first day in New Zealand was beautiful and we wandered around Christchurch with our first stop being the Botanical Gardens which is very much their Central Park.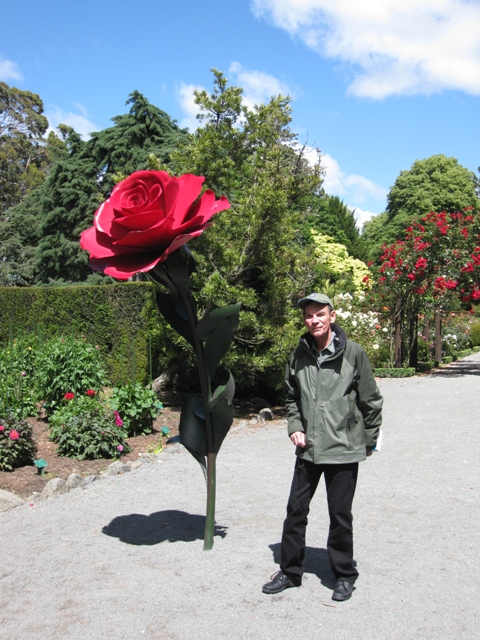 There were various sculptures around the park, but this was my favorite because it was the most colorful.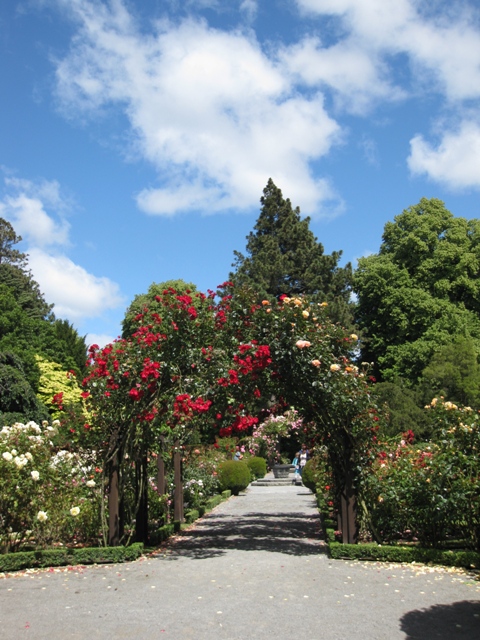 The entrance to the Rose Garden of the Christchurch Botanical Gardens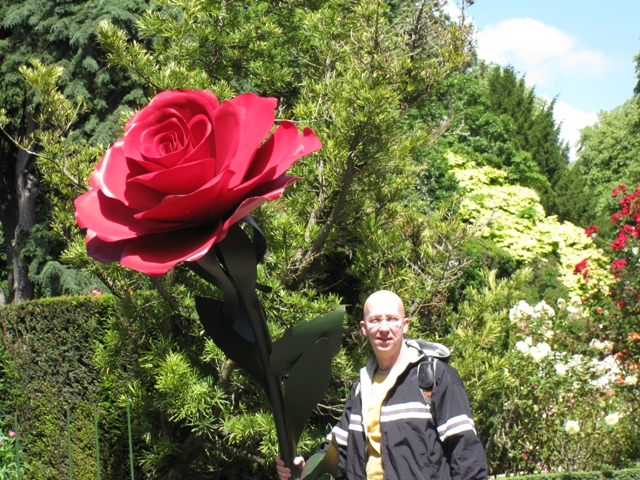 And just like the airplane shot of Dennis, I too had to get mine taken there too :-)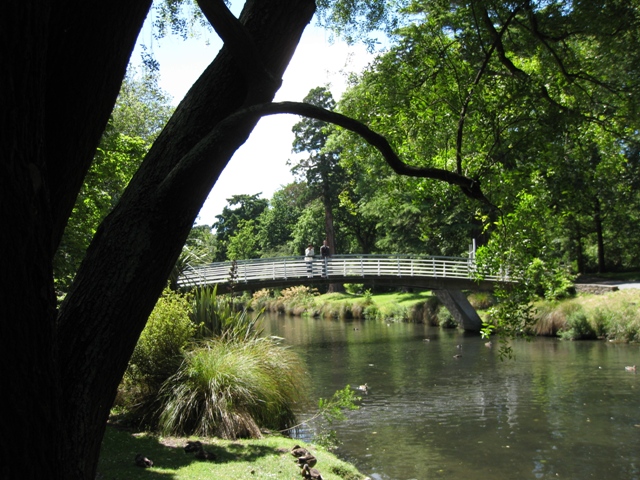 More inside the Botanical Gardens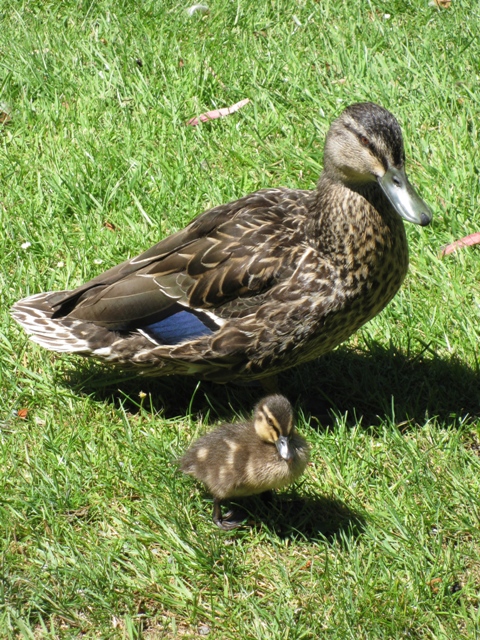 It may be winter at home, but spring is in the air down under...Sooooo cute!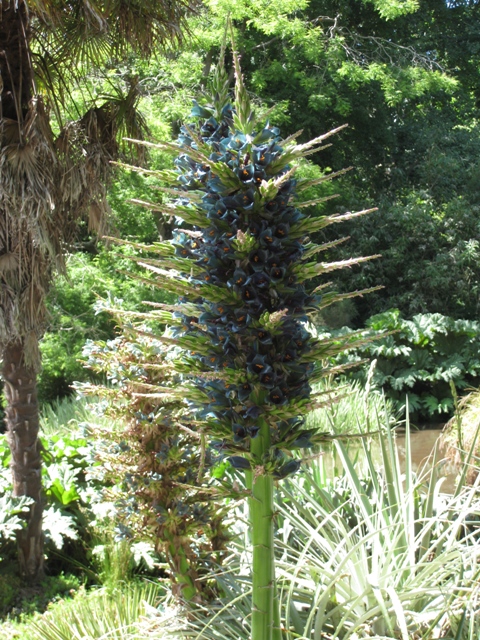 Still in the Botanical Gardens, obviously. I couldn't find a sign telling us what this was, but it was beautiful and pretty bizarre looking, huh?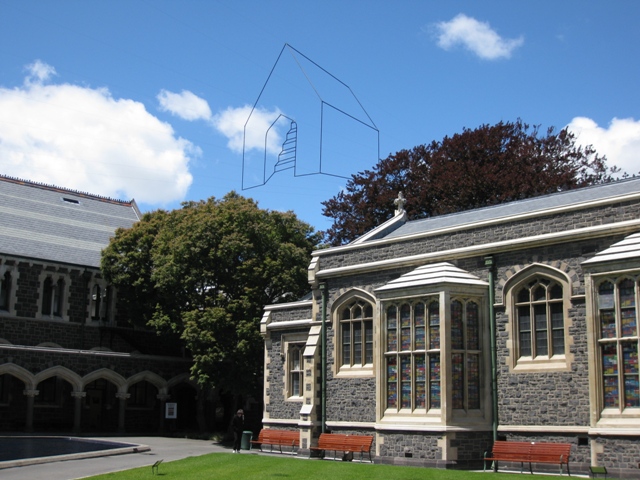 This was really cool. This was a courtyard behind a place we had a light lunch and coffee with ths very cool sculpture suspended in the air between 2 buildings.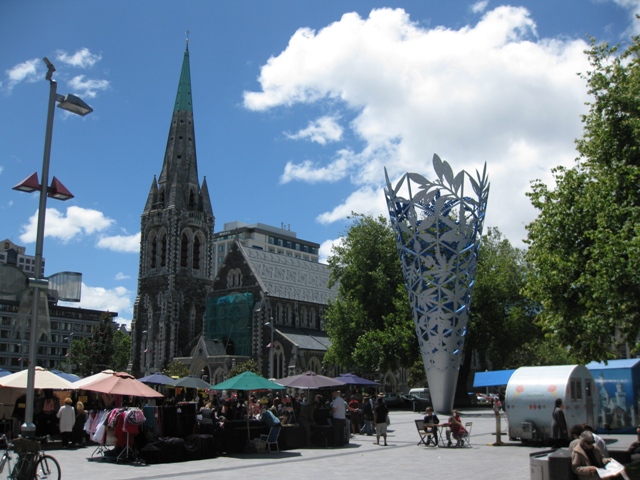 Downtown Christchurch: Christchurch Cathedral and "The Chalice" sculpture by Neil Dawson.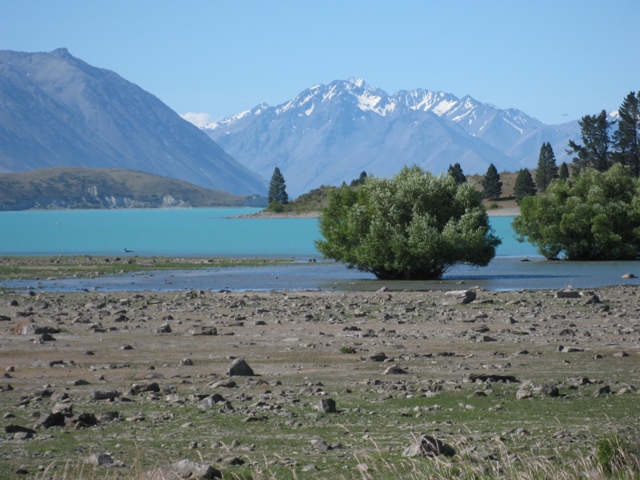 After 1 day in Christchurch we began our adventure around the South Island of New Zealand.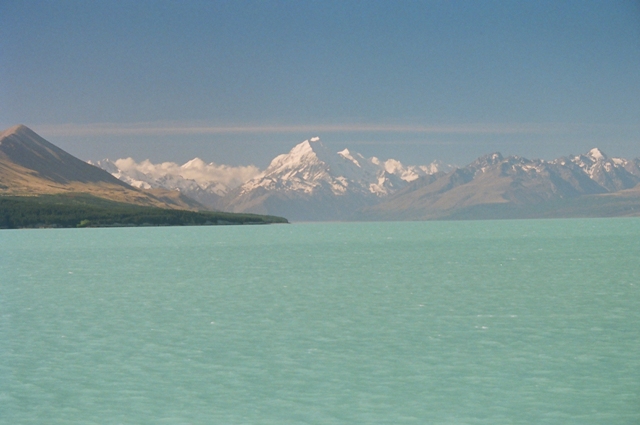 Our first stop, Mt Cook, the highest point in New Zealand - 12,316 ft. The water of this lake, Lake Tekapo, REALLY was this color!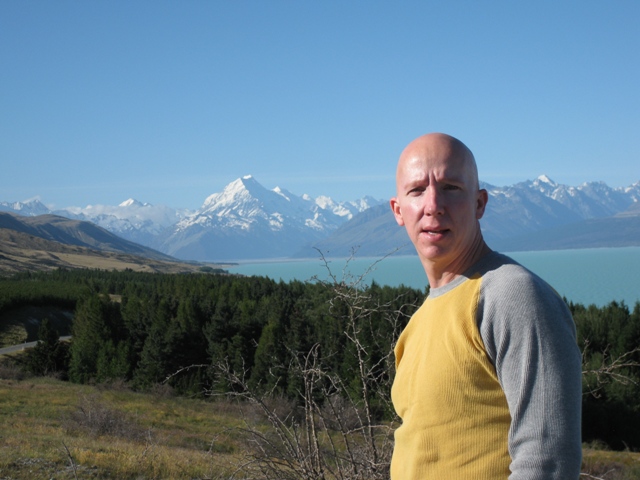 Me, Lake Tekapo & Mt Cook.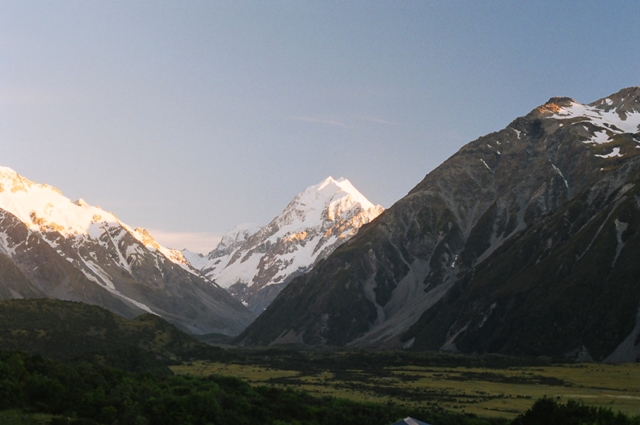 We were staying at the hotel The Hermitage in Mt Cook village - a popular spot to view Mt Cook and stay before some great hikes around the mountain.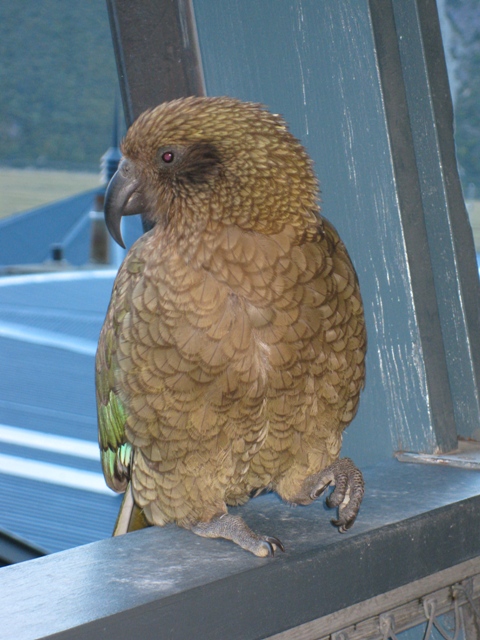 We were sitting on our balcony admiring the view of the mountain and suddenly we had a visitor - literally landed just 2' from me. We thought it was a parrot, but we later learned this is called a Kea, found in forested and alpine regions of the South Island of New Zealand. Later we found signs all over the place warning us of these birds and telling us not to feed them.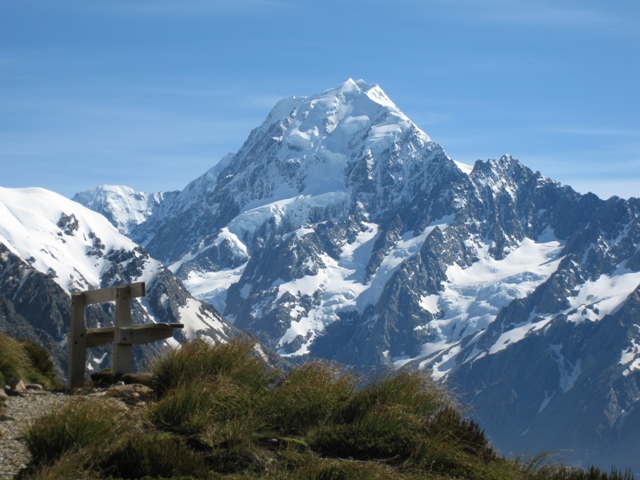 My first real hike in New Zealand and I was rewarded with this awesome view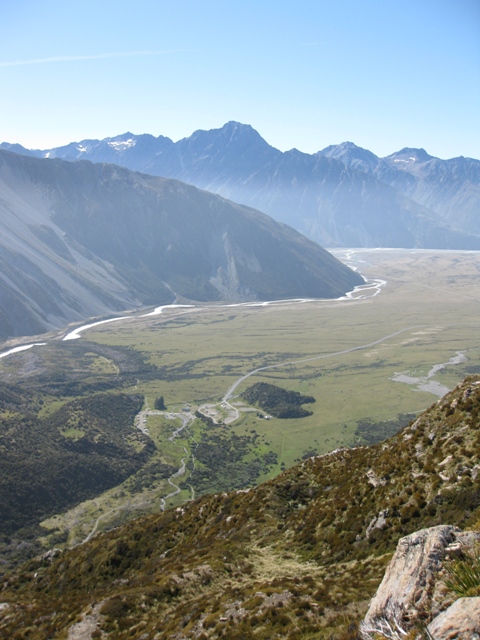 More from the hike - the hike called Sealy Tarns - a Tarn is a mountain lake or pool formed in a cirque (a landform found among mountains as a result of alpine glaciers) excavated by a glacier.

Here is the "tarn" with Mt Cook reflected in it. It was a beautiful stop and a beautiful day. I remember the sun being so strong and intense.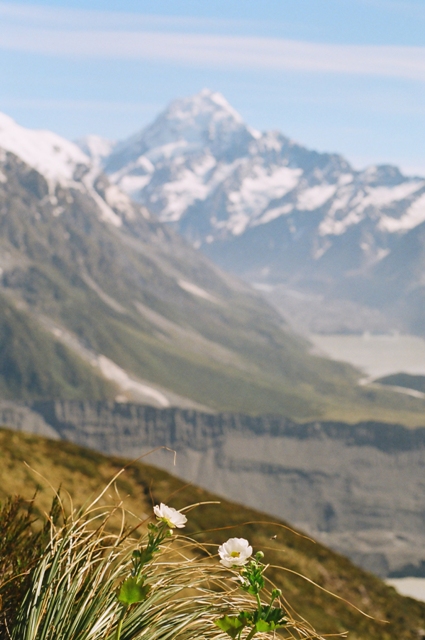 Still from the Sealy Tarns hike. Mt Cook lies in the Southern Alps, the mountain range which runs the length of New Zealand's South Island.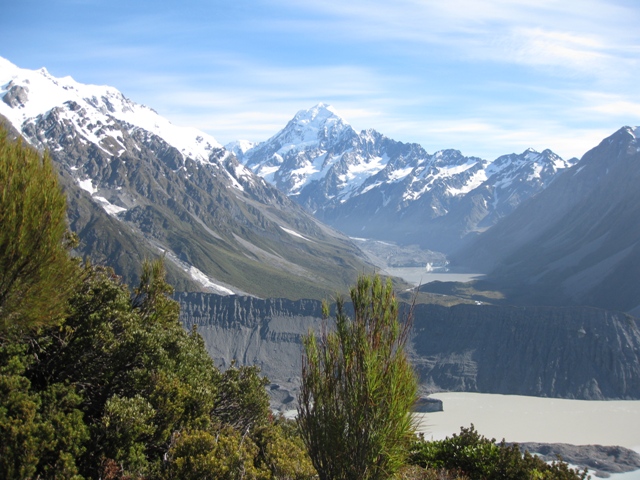 The park contains more than 140 peaks standing over 2,000 metres (6,600 ft) and 72 named glaciers, which cover 40 percent of the park's 700 square kilometres (170,000 acres).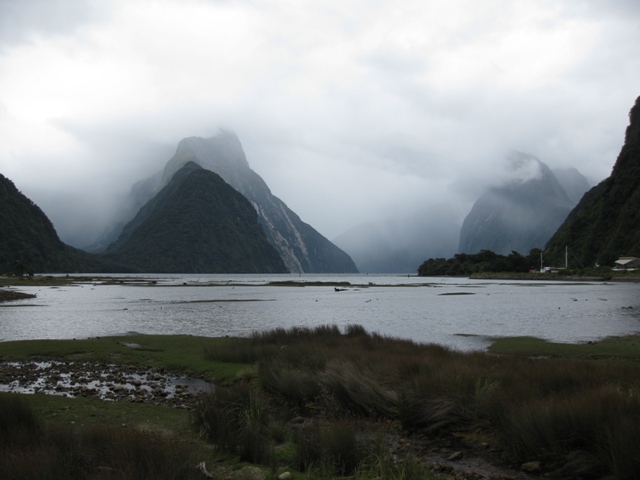 Milford Sound (Piopiotahi in Maori) is a fjord in the south west of New Zealand's South Island, within Fiordland National Park and the Te Wahipounamu World Heritage site. It has been judged the world's top travel destination in an international survey, and is acclaimed as New Zealand's most famous tourist destination. Rudyard Kipling had previously called it the eighth Wonder of the World.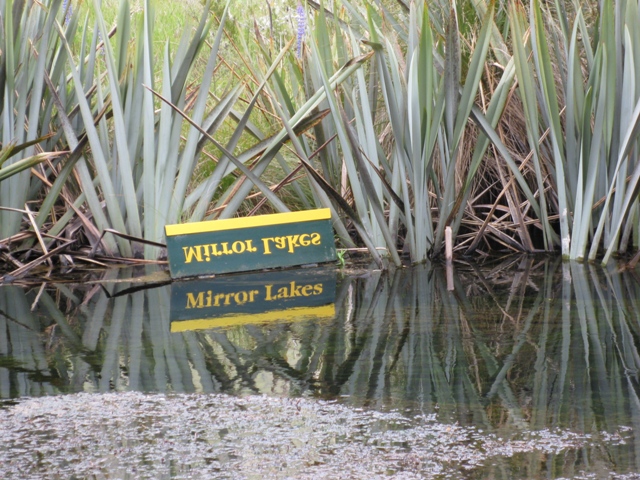 The road to Milford Sound is a major tourist trek because it is the only way to Milford Sound and there are many stops and view points such as this one called Mirror Lakes. The drive to Milford Sound itself passes through unspoiled mountain landscapes before entering the 1.2 km Homer Tunnel which emerges into rain-forest-carpeted canyons that descend to the sound. The winding mountain road, while of high standards, is very prone to avalanches and closures during the winter half of the year.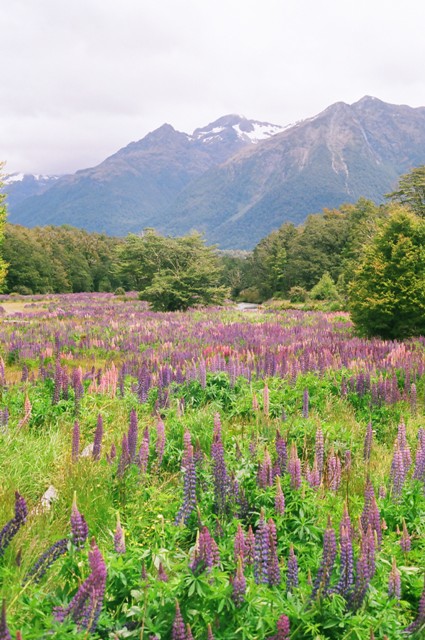 Being there for New Zealand's spring we were treated to tons of fields and fields of Lupines - and I do mean TONS! They were along the roads, in fields, along river beds...all over. Interesting facts about Lupines - Like most members of their family, lupins can fix nitrogen from the atmosphere into ammonia via a rhizobium-root nodule symbiosis, fertilizing the soil for other plants, this adaption allows lupins to be tolerant of infertile soils and capable of pioneering change in barren and poor quality soils.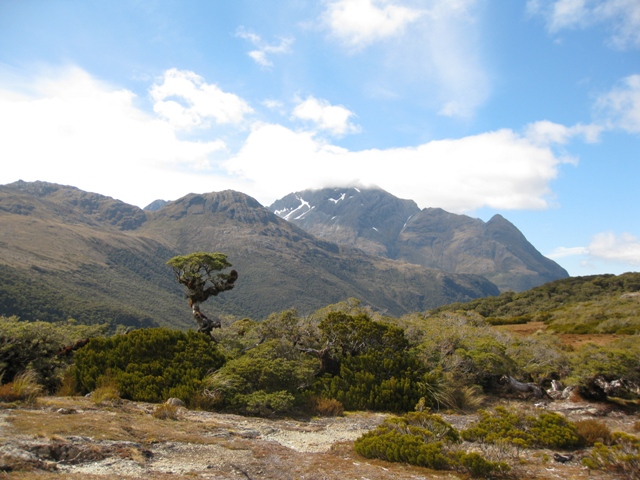 Another stop on the Road to Milford Sound we made was to take the hike to Key Summit. At nearly 3000' elevation, Key Summit is a great hike with spectacular views and part of the popular Routeburn Track, a world-renowned tramping track found on the South Island of New Zealand.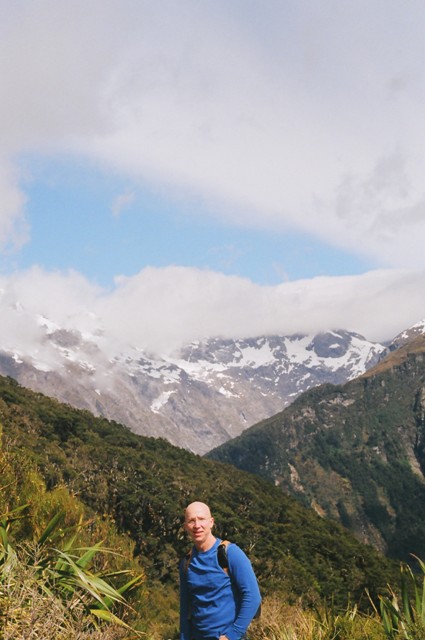 Here I am at one of my favorite past times - hiking.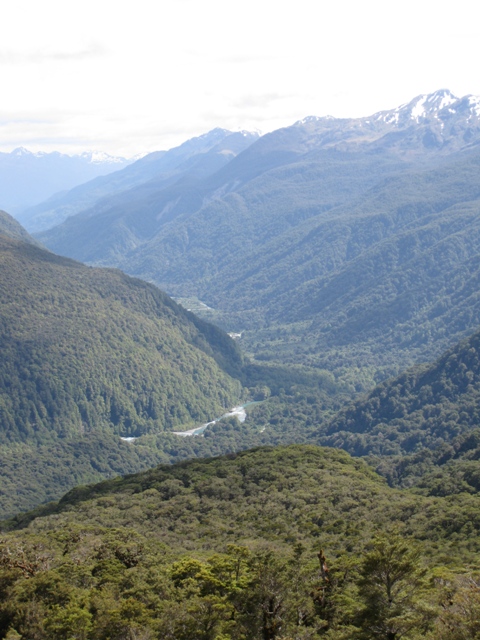 Milford valley from Key Summit.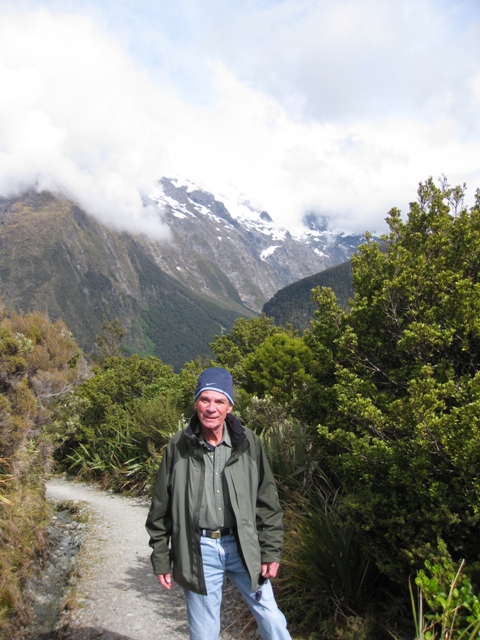 Dennis enjoyed this hike too.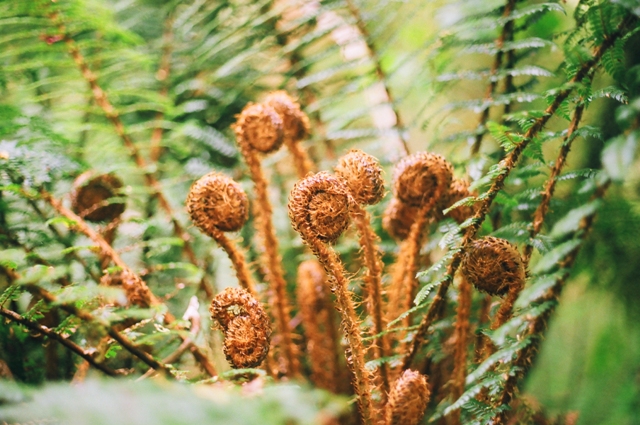 The New Zealand tree fern, or wheki in Maori, Dicksonia squarrosa, is a medium-sized tree fern with a tall, slender brown trunk. This fern produces few fronds, all of which sprout in almost horizontal fashion. The fronds reach 1.5 – 3 m in length, much smaller than Cyathea varieties, and are quite crisp to touch. They form a small "umbrella" on top of the trunk. It has a fast growth rate of up to 10 cm (5 in) a year, growing up to 6 m tall.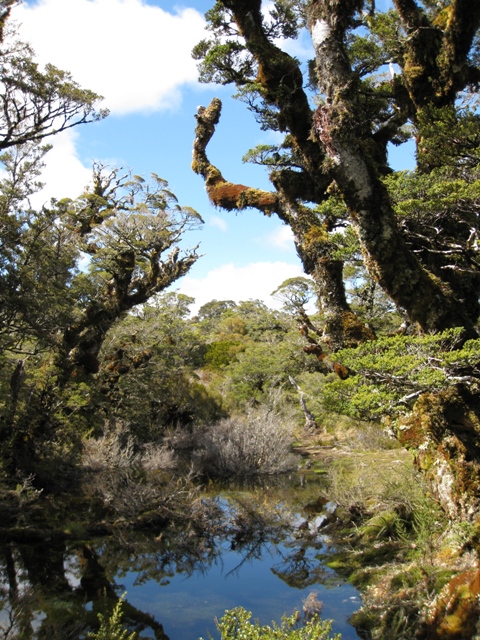 At the top of the hike at Key Summit was a 30 minute marked garden walk with awesome views.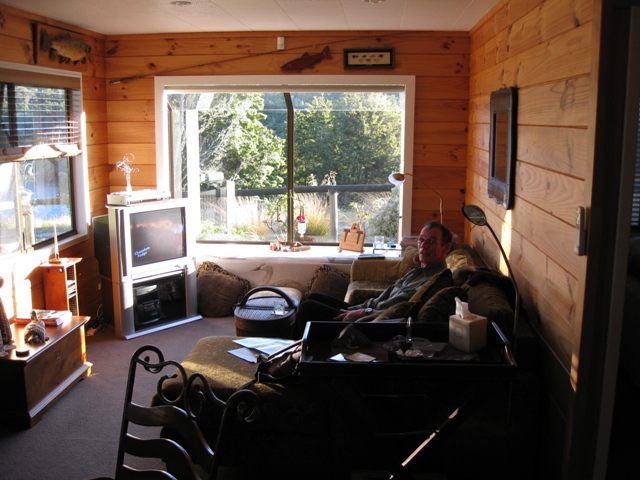 In the small town of Manapouri we found this charming and awesome cottage/house to rent. It was right on Lake Manapouri and walking distance from the dock where we would catch our cruise of the Doubtful Sound for Christmas Eve.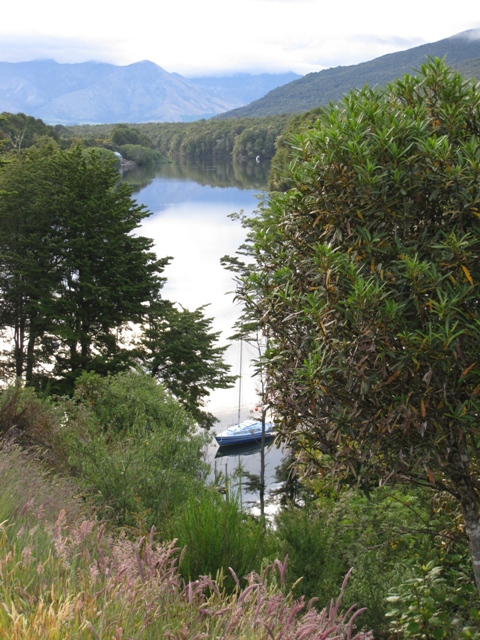 The view from the cottage backyard.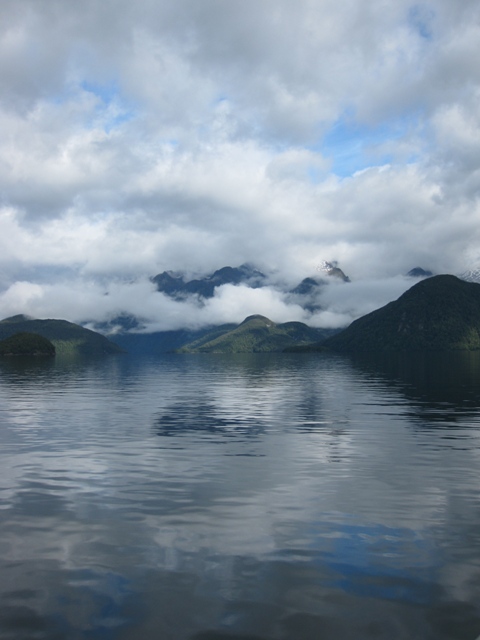 Our Doubtful Sound cruise began on a small boat on Lake Manapouri taking us across the lake where we transfered to van to take us over the mountain to the Doubtful Sound.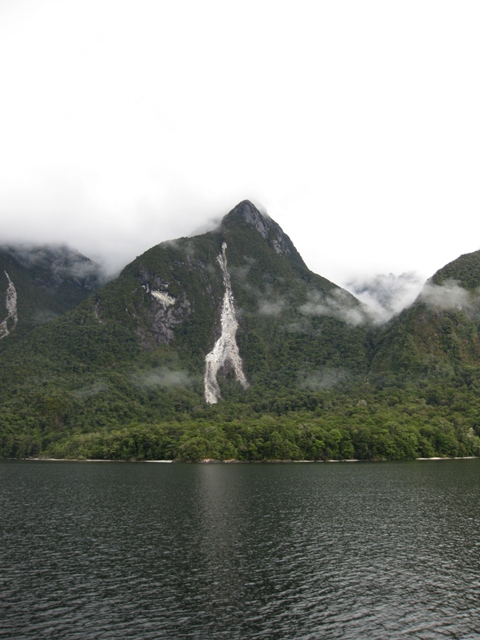 The views on the lake were aweseome. This was called the "Giraffe" - rock on the side of the mountain that is exposed and shaped like a giraffe.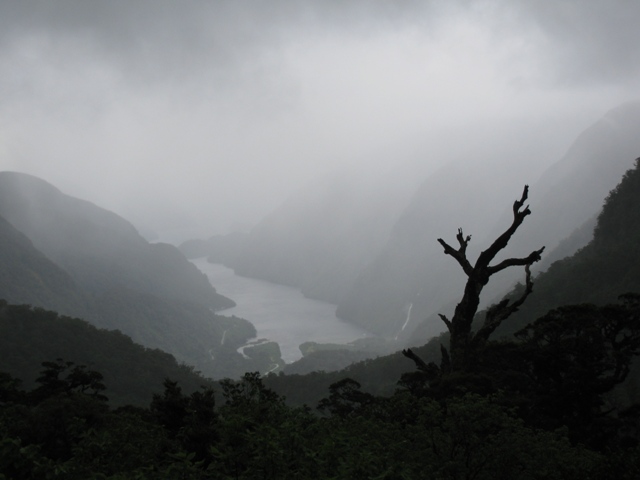 This is a picture of Deep Cove, an arm of the Doubtful Sound where we will pick up our cruise boat. It is also the site of discharge of water from the Manapouri Power Station's tailrace tunnels. Deep Cove, like the rest of Fiordland is a unique and mostly pristine environment. This area is naturally high in fresh water inflows (7.6 metres of rain falls annually).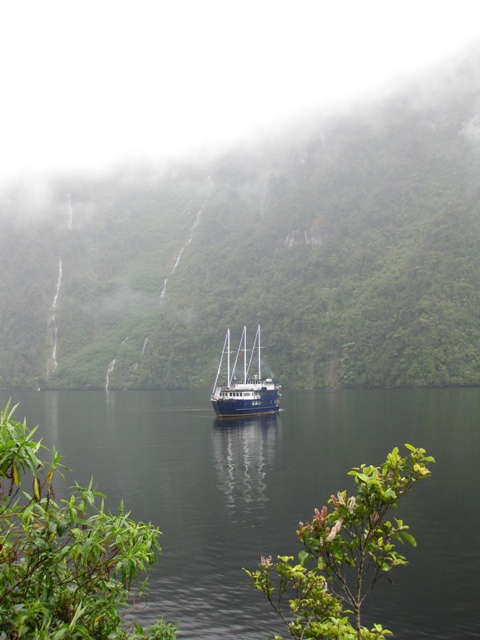 This is a picture of the typical boat most people take for their Doubtful Sound cruise as it holds 70 passengers and tours around the Sound. We chose a MUCH smaller version, a small yacht type boat that holds only 12 passengers.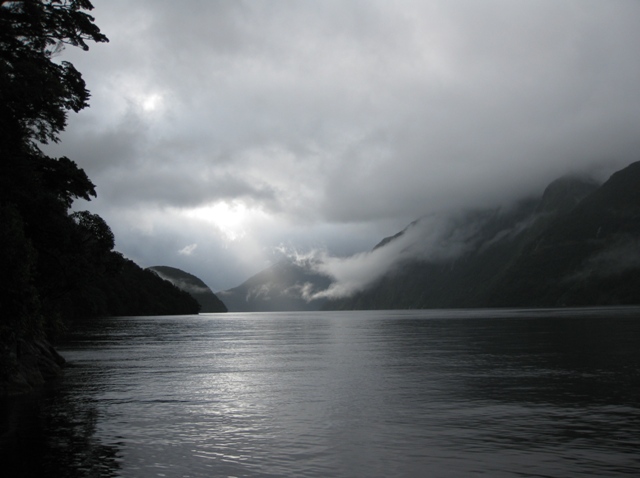 Our cruise wound up with just 10 passengers which worked out great for us, giving Dennis and I our own rooms on board.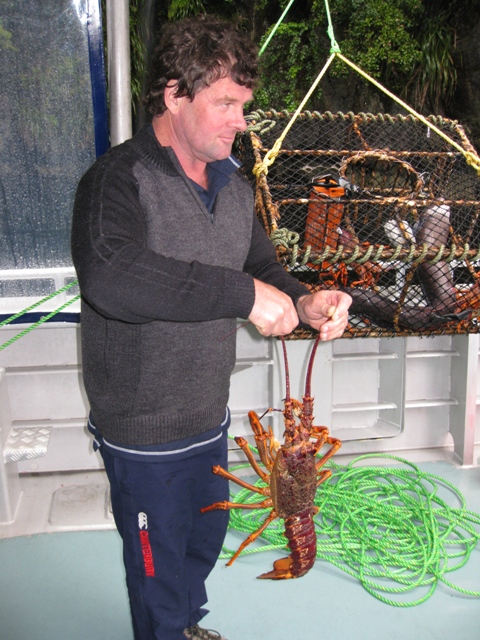 It was an awesome experience and a much better environment than being on the 70 passenger ship. There were 2 crew, the captain and the cook. We started the cruise with lobster for lunch, which the captain catches in a few traps he keeps in the Sound. We stopped on our way out to the Tasman Sea and pulled up the traps and on our way back.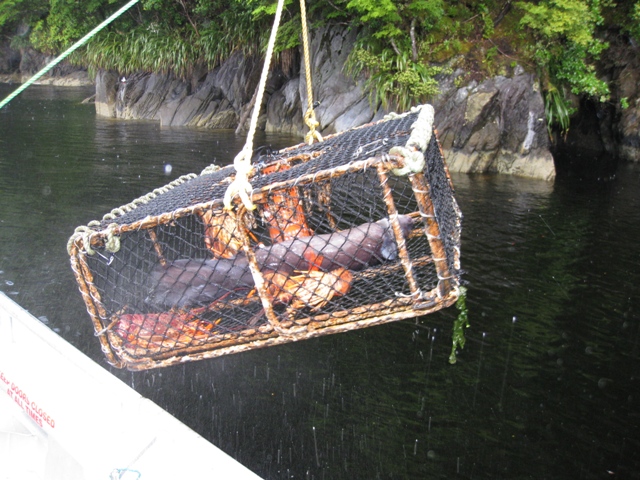 When one of the traps was brought up, not only were there the lobsters/crayfish, but also a Congo Eel - about 4 feet long. Congo Eels are scaleless eels with large heads, large gill slits, wide mouths, and strong teeth (which were quite obvious as the eel was not happy to be in the trap and ready to bite the captain's hand if he tried to reach in and grab one of the lobster/crayfish. They are carnivorous fish found in all oceans, sometimes in deep water, congo eels may grow to a length of about 1.8 metres (6 feet).
Interestingly enough, our captain stuck a knife into the cage and cut and killed the eel and left it in the cage as bait.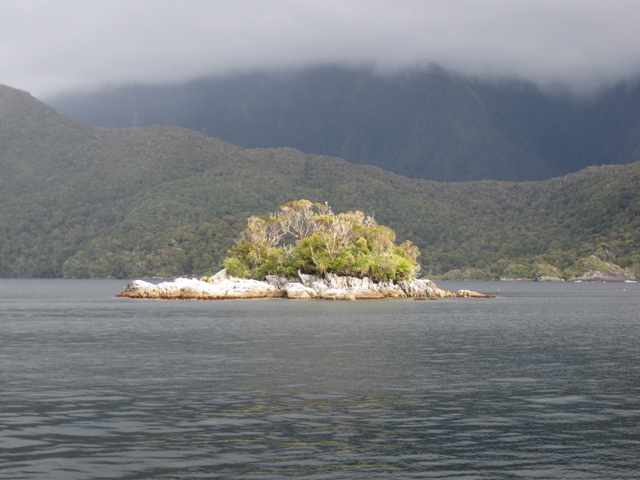 Although most of the cruise was damp and a little rainy, it was beautiful - we must have seen 300 waterfalls and several large and small islands.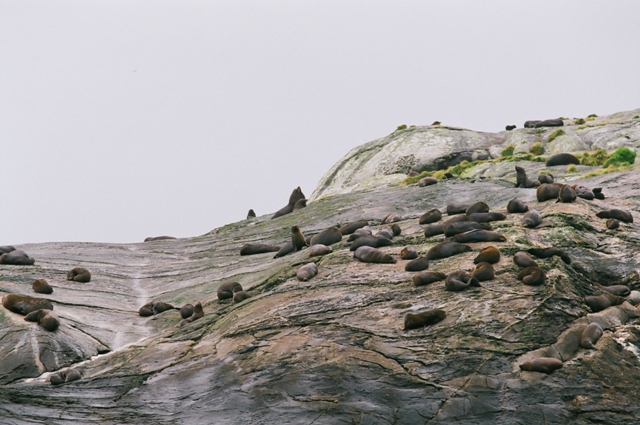 Right at the exit from the Doubtful Sound into the Tasman Sea are these popular islands for the seals to sun themselves.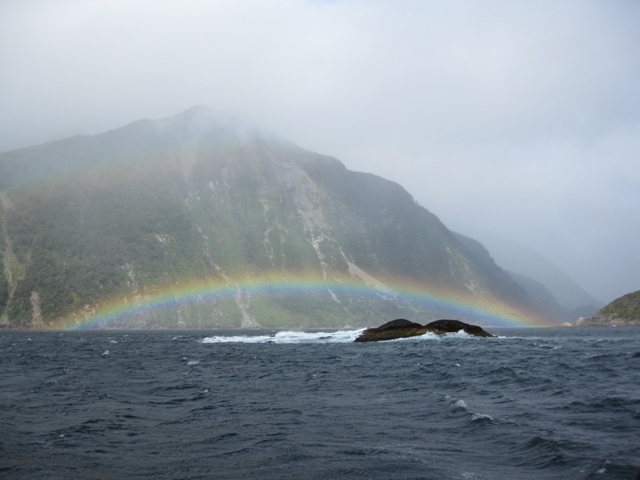 Give us lemon and we'll make lemonaide, give us rain and we'll find a rainbow...LOL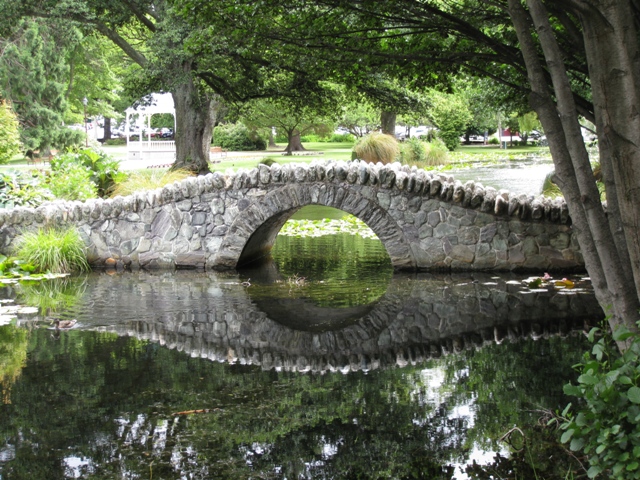 After our Doubtful Sound cruise, we then headed up to Queenstown - a centre for adventure tourism.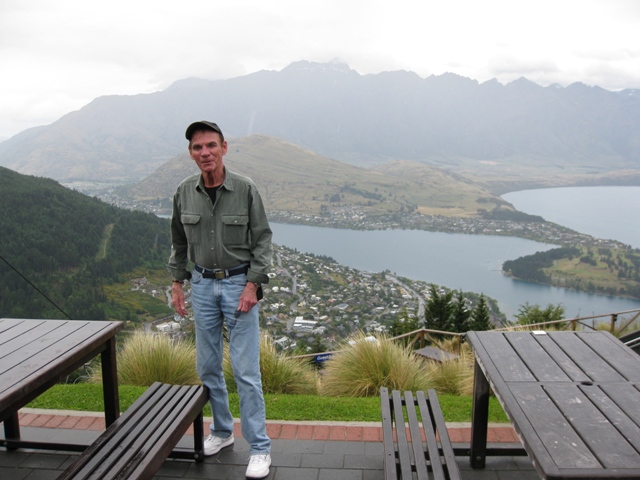 This was our one rainy day so we opted for the Gondola ride to a view point over Queenstown.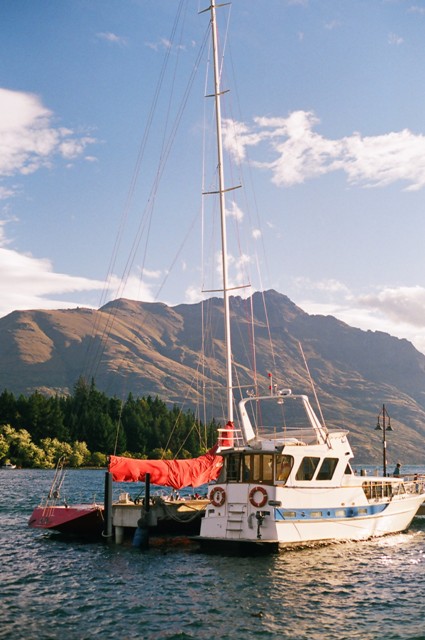 On from Queenstown to Lake Wanaka.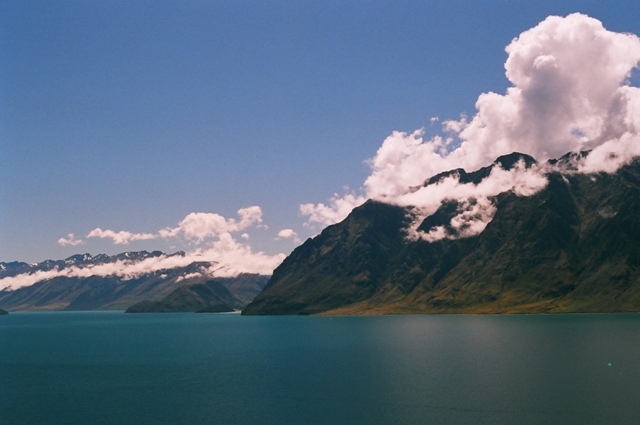 The waters in every lake in New Zealand were beautiful and all different shades, from light green to deep blue.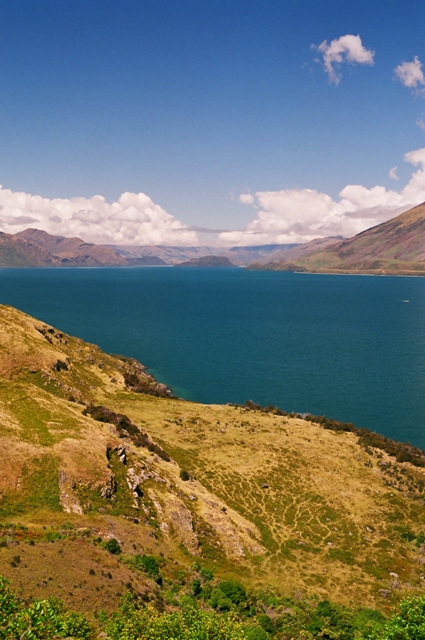 And of course, sheep along the shores, although tough to spot in this picture, they're down there.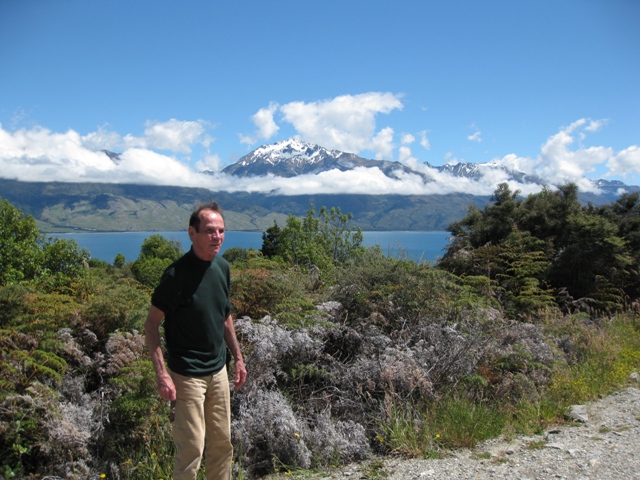 Dennis at Lake Wanaka.

And bright, bright blue skies.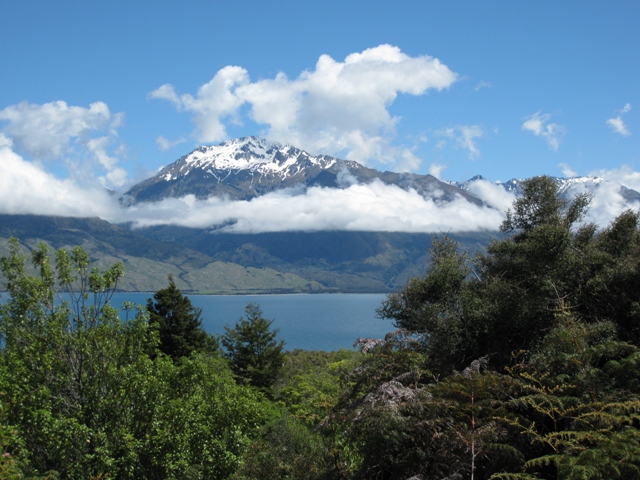 Lake Wanaka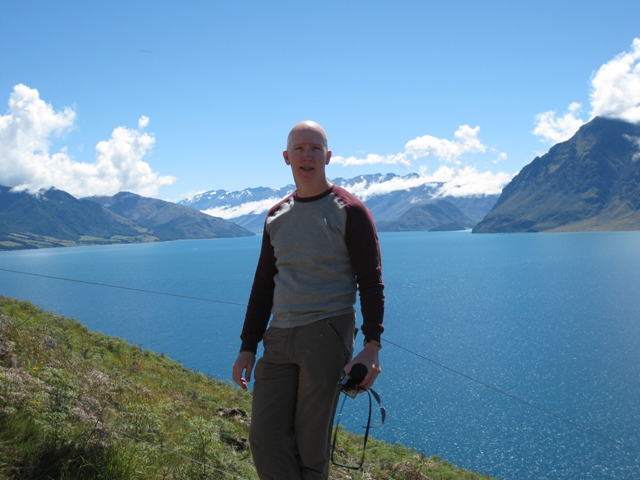 Me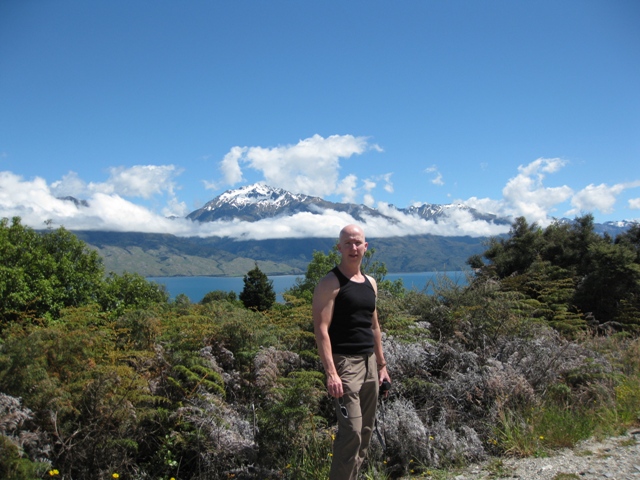 Me again...ahhhhh...December 28th and in a tank top.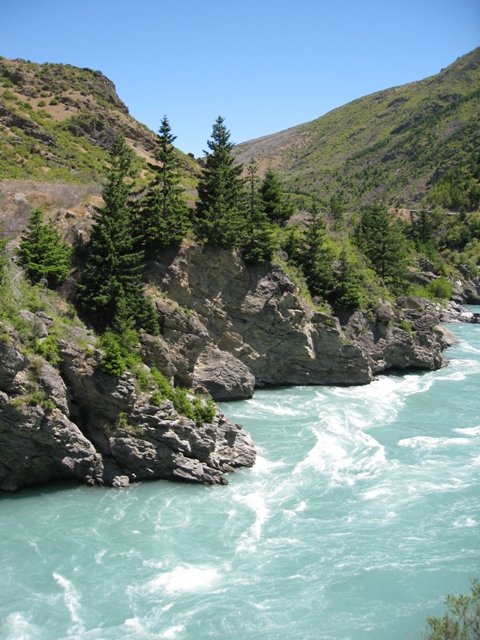 Not just the lakes, but the rivers even had an amazing color to them.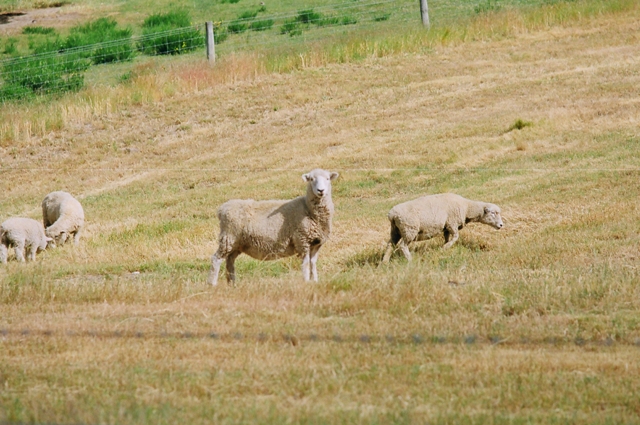 I had forgotten the term "sheepish" until we pulled over to take some pictures of them and they ran off quickly - for this picture I had to use a pretty strong telephoto lens.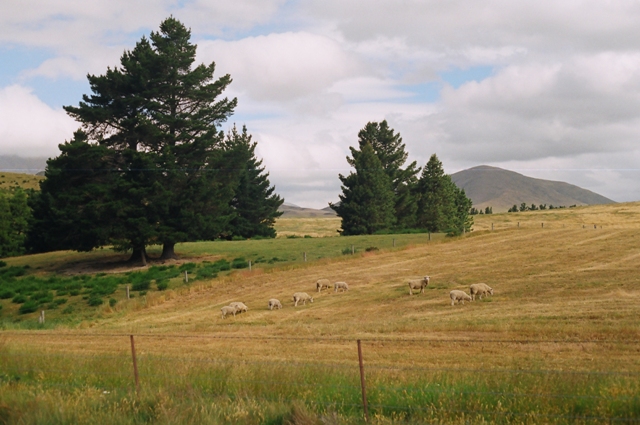 We did see a lot of sheep pastures, but it was also interesting that we saw deer pastures being raised for venison, as well as several cow pastures.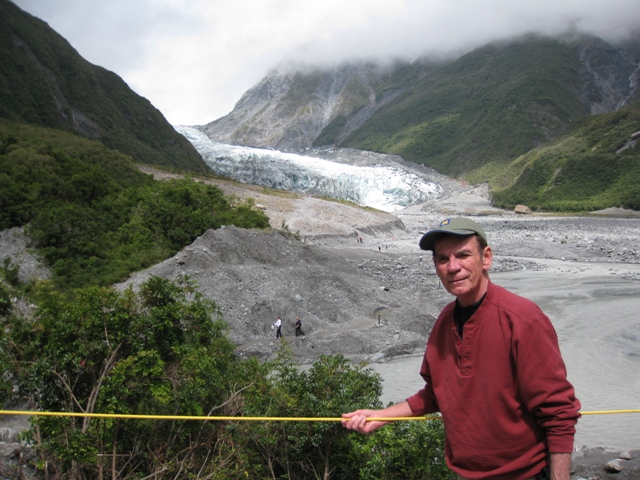 We stopped at 2 glaciers on our trip up the west coast, Franz Josef and Fox Glaciers.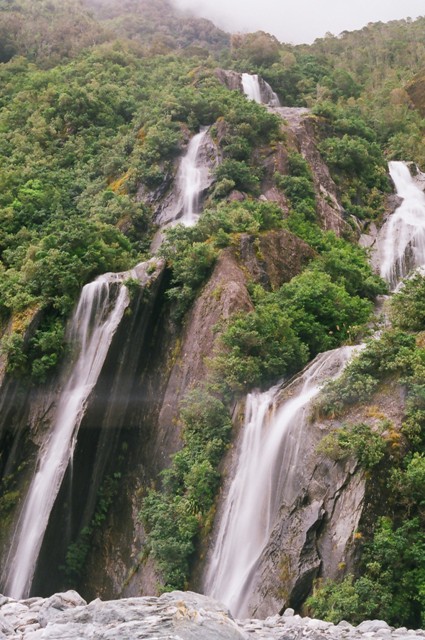 This must have been the 301st waterfall we saw.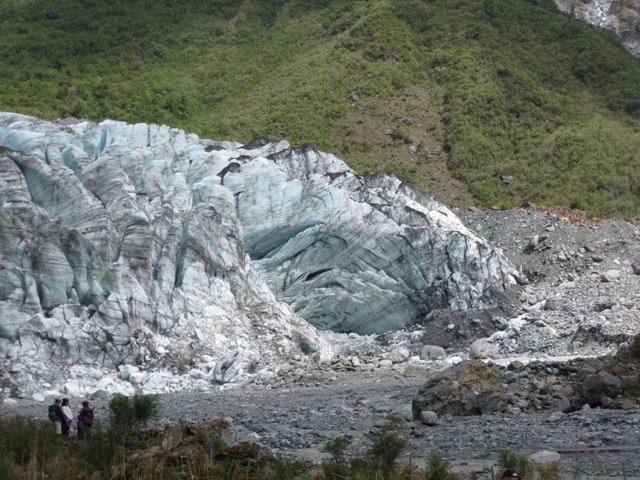 This doesn't look all that impressive until you notice the people standing in the bottom left corner of the picture.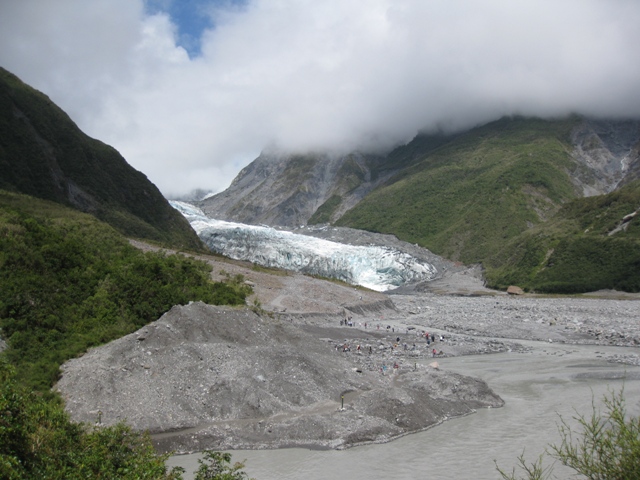 Fox Glacier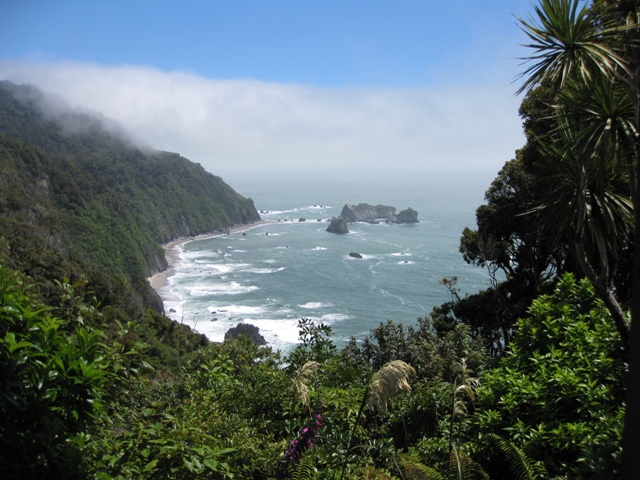 The varied landscapes we saw and different flora and fauna on the island was a surprise. I guess I always pictured New Zealand green and lush. Although we did see areas like that, we also saw flat fields of crops, rolling dry hills, steep snow-capped peaks and rugged ocean shores.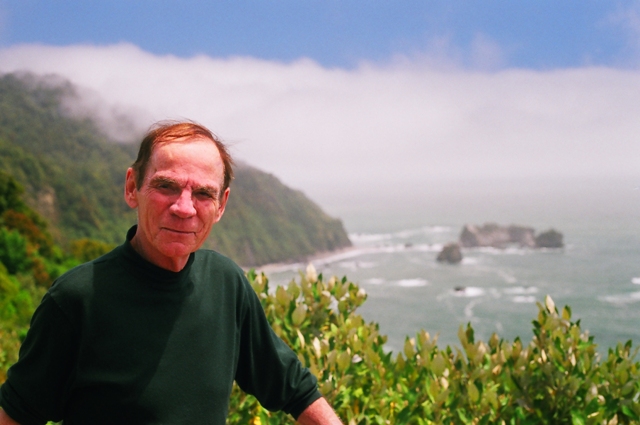 Smile!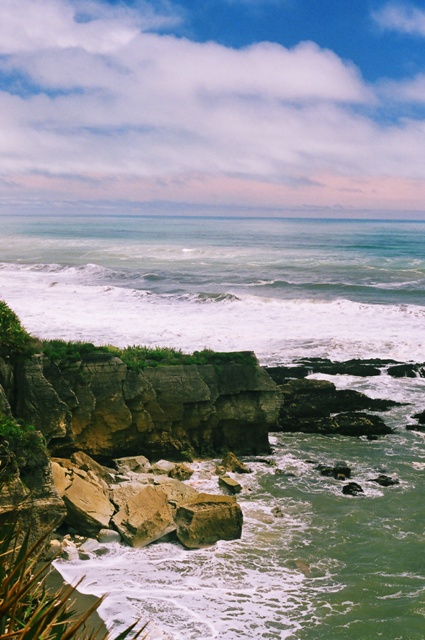 Loved the colors.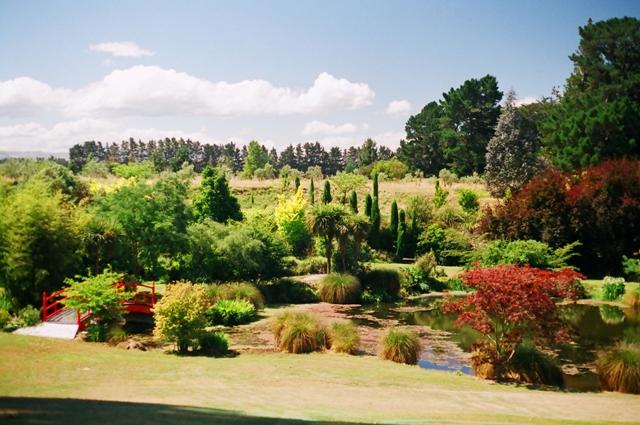 I can't begin to tell you how many times we were lucky with one thing or another (maybe it was karma's way of making up for our 10 hour delayed flight to Sydney). Here we showed up at the Pegasus Bay Winery for lunch, and although they had been completely booked for lunch, we got there just in time for a table to open up and they gave it to us.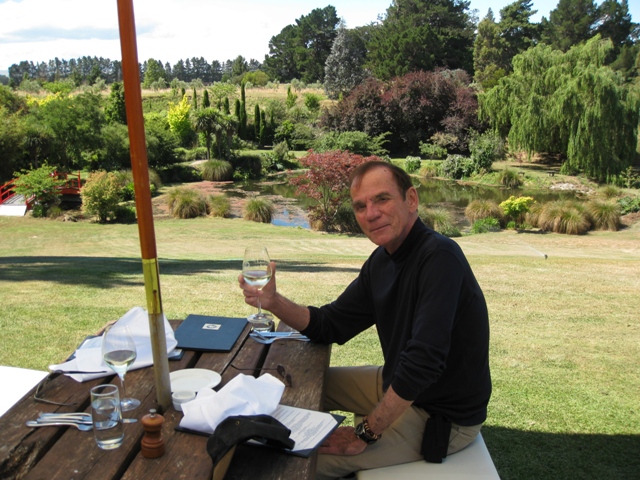 Very lucky indeed and what a setting. The day was beautiful.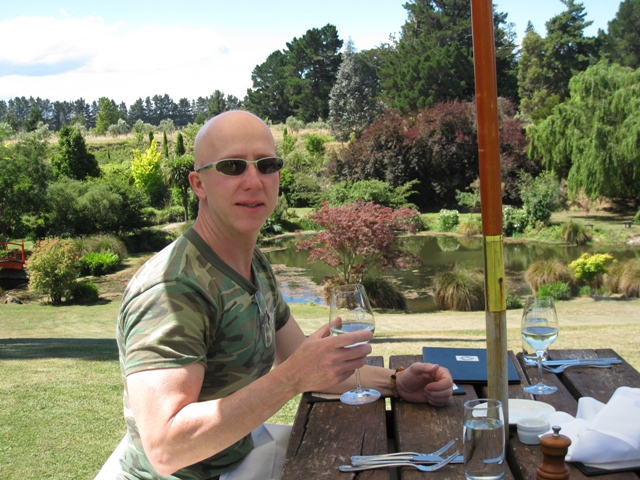 oh, and the food & wine...excellent!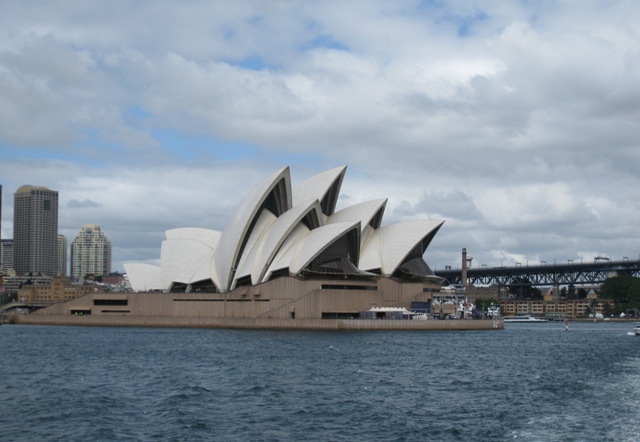 Once again, as luck would have it, one of our flights back home got cancelled, but it turned out kind of cool because our flight home forced us to be layed over in Sydney for 12 hours - all day.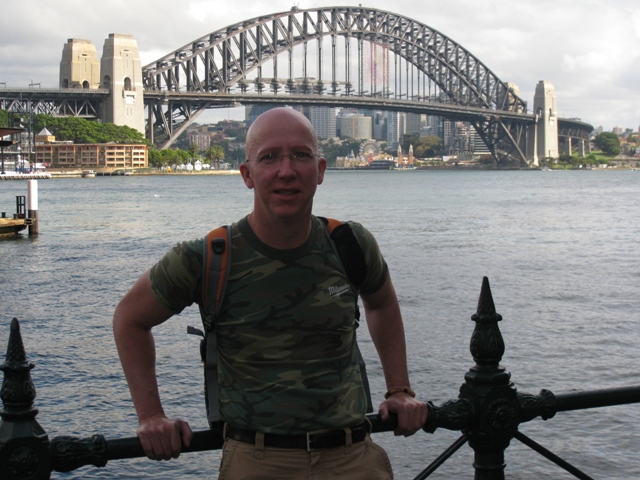 We took advantage of the delay and toured Sydney for the day.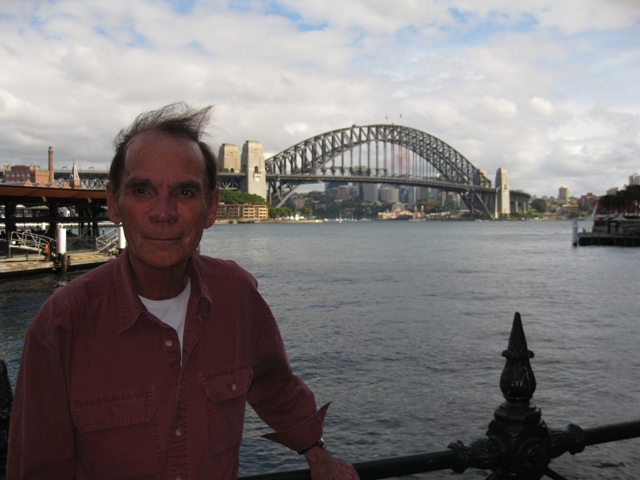 We took in the wharf, harbor bridge and Sydney Opera house.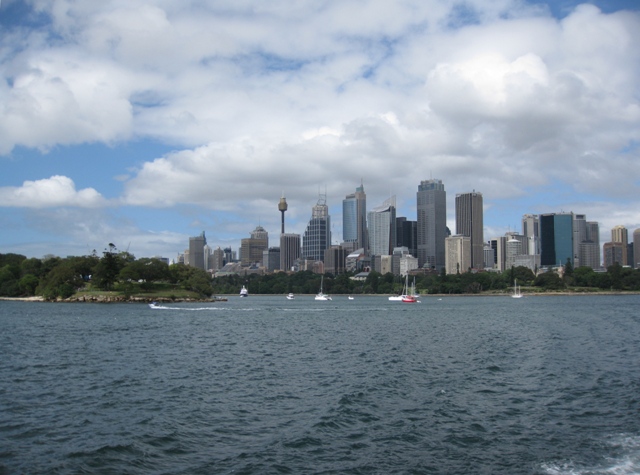 We took the ferry across the harbor to Manly - Sydney's main and very popular beach.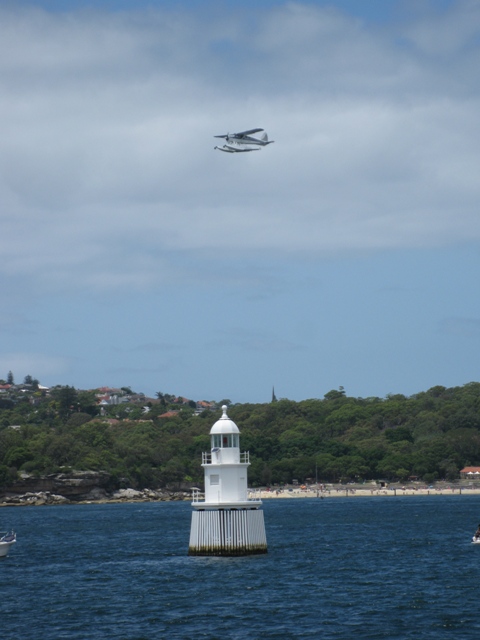 According to several tourbooks, the ferry to Manly is a must do.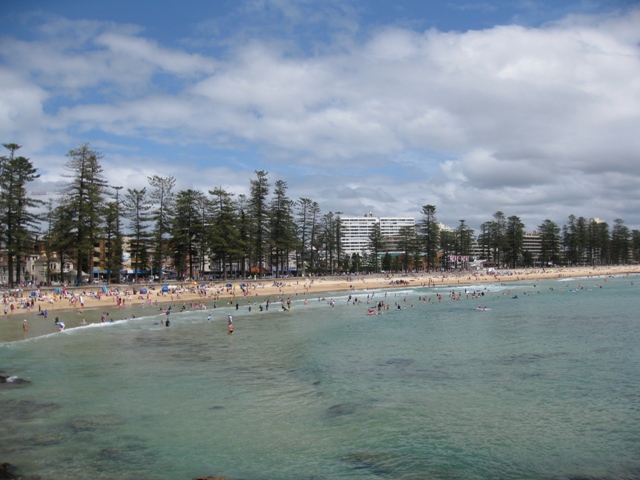 It was great having to slather on sunblock and wander around in t-shirts on December 30th!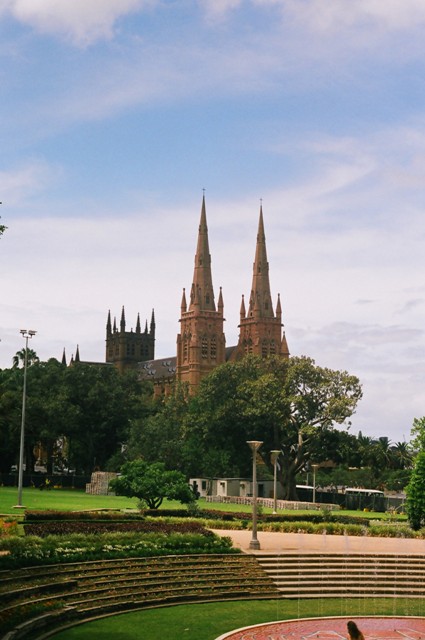 St Mary's Cathedral is the seat of the Roman Catholic Archbishop of Sydney. The cathedral is dedicated to "Mary, Help of Christians", Patron of Australia. St Mary's is the largest church in Australia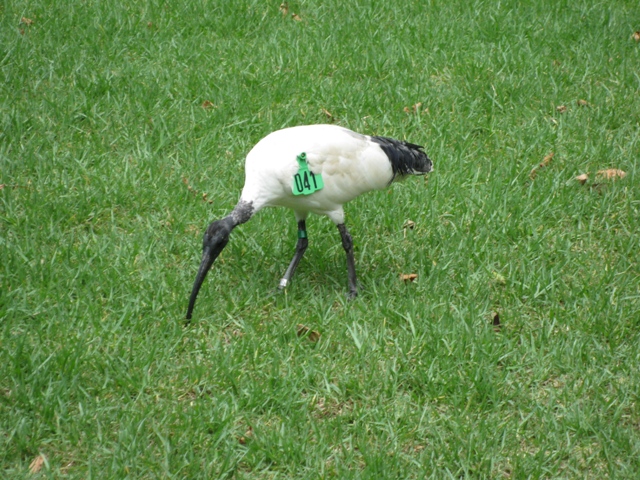 The Australian White Ibis (Threskiornis molucca) is a wading bird of the ibis family. Historically rare in urban areas, the Australian White Ibis has immigrated to urban areas of the east coast in increasing numbers since the late 1970s. Debate continues on whether to consider it a pest or vulnerable species and has been culled in parts of Sydney due to their smell and at times obtrusive nature.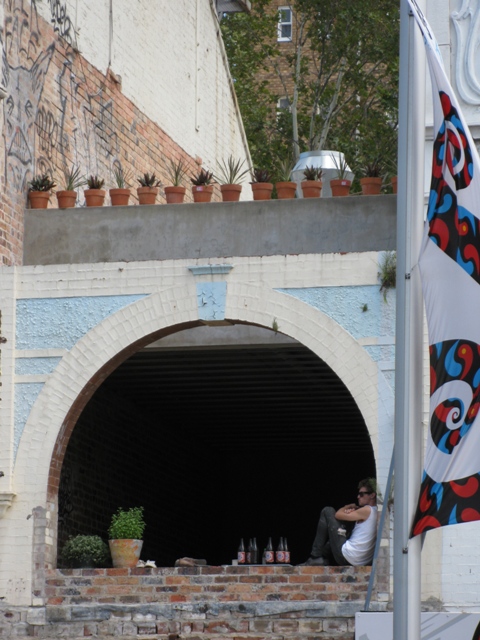 I just thought this was an artsy shot of the arched second floor window above storefronts on a busy street.