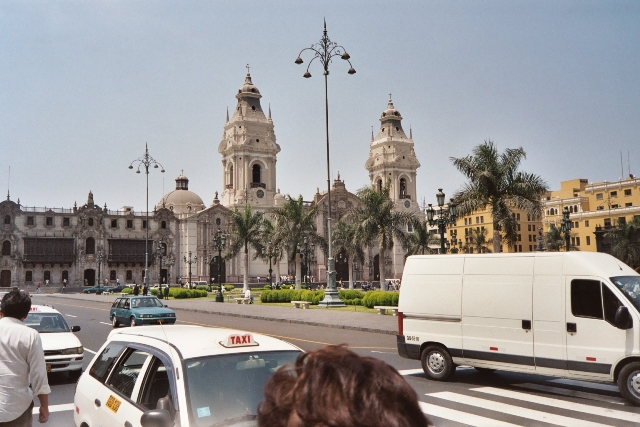 My trip began in Lima, the capital of Peru. As luck would have it, I had my own personal tour guides.
It turned out that the secretary to an attorney I was doing some work for was from Peru. Her Mother and Neice live in Lima and eventhough I had never even met her (the secretary), we spoke on the phone often. When she heard I was going to Peru she contacted her Mom & Neice and arranged for them to meet me and show me around Lima...UNBELIEVABLE...I was so incredibly grateful!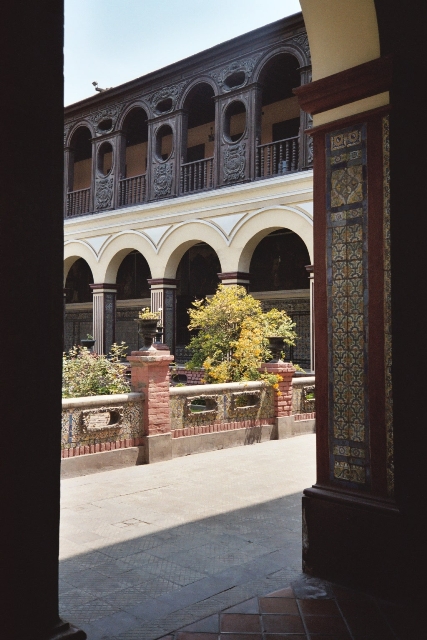 San Cristobal Cross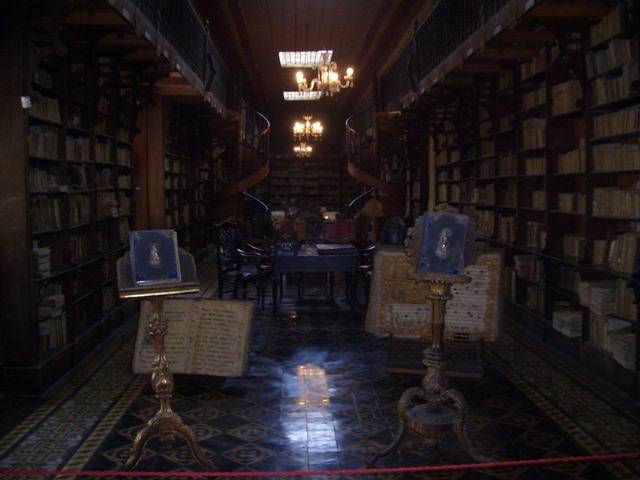 The library at the Church of San Francisco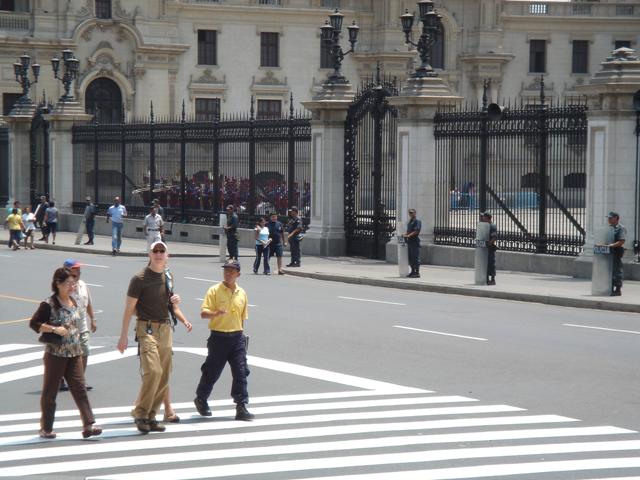 This was the funniest picture. I didn't take it. One of the girls from England on the hike took this picture in Lima - FOUR days BEFORE we met. On the hike one night she brought out her camera and showed me the pic...she said "I knew you looked familiar!"
That's me with my wonderful tour guides.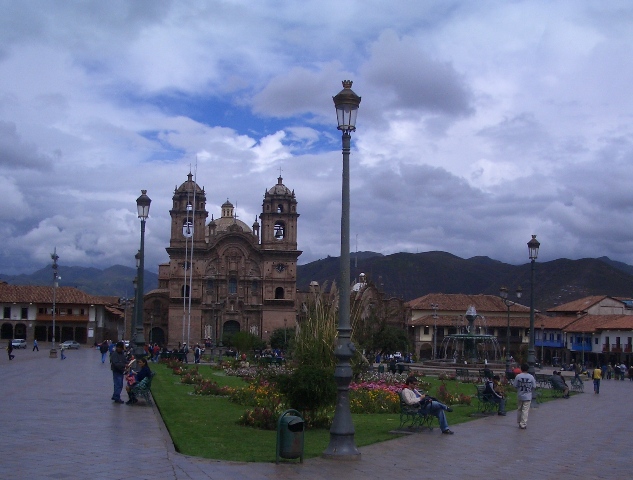 Cusco is considered the gateway to Machu Pichu. It is the historic capital of the Inca Empire and was declared a World Heritage Site in 1983 by UNESCO. It is a major tourist destination and receives almost a million visitors a year. This photo is the Church of La Compañia on the Plaza de Armas in the center of Cusco.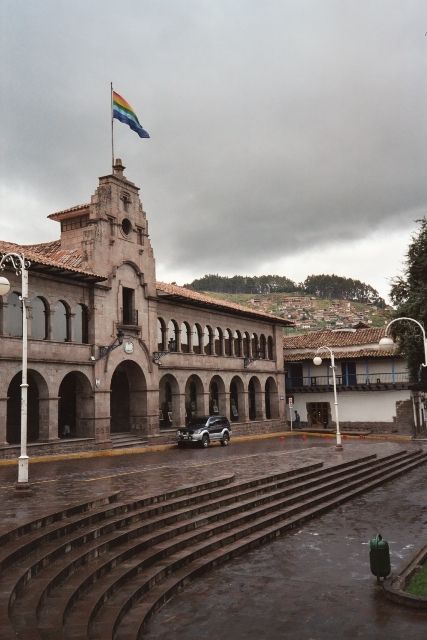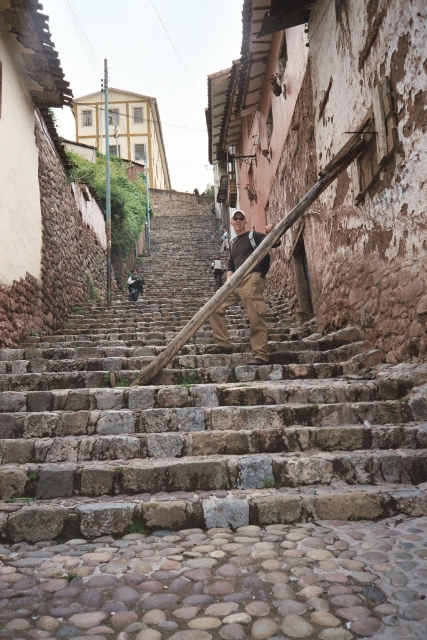 The streets of Cusco were fascinating (and sometimes challenging) to wander around. It was a beautiful and fun city to explore by foot.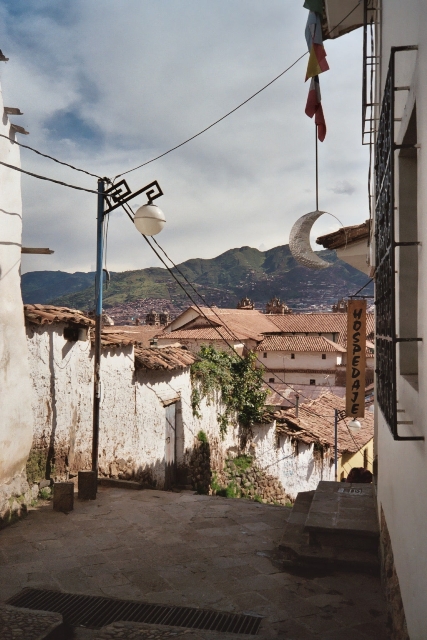 More streets of Cusco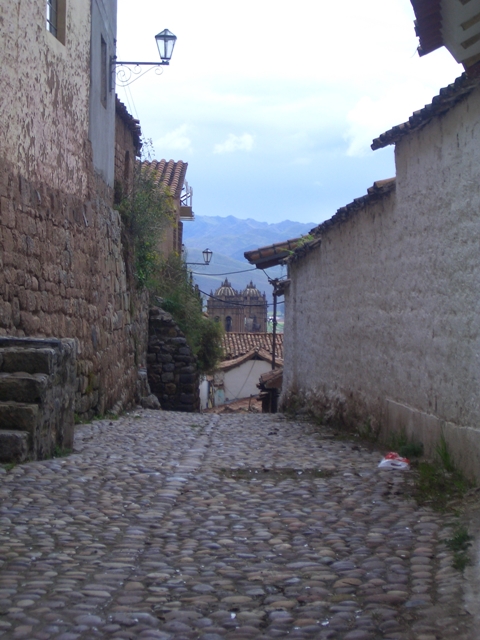 Steets of Cusco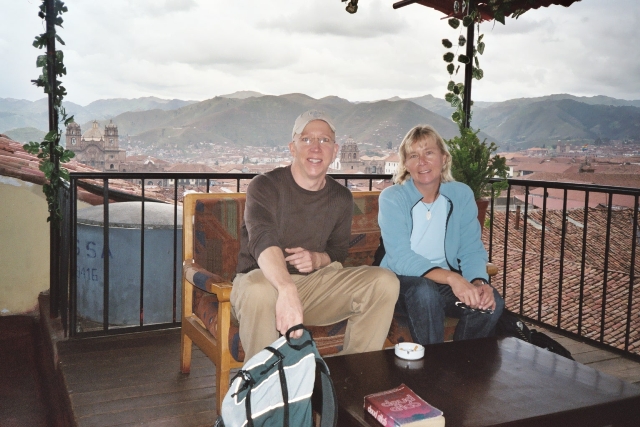 Trixie was the first person I met in Cusco that would be in the group I would be hiking with (you must have a guide to get onto the Inca Trail).
She was one of the other few singles on the trip also, so we ended up hanging out a lot together during the next four days.
She's from Germany but was living in Arizona and working as a nanny. She loved to travel and hike.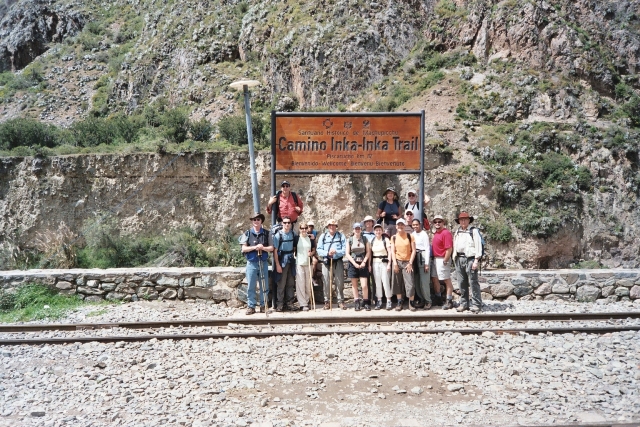 The beginning of a four day hike and one of the best experiences of my life!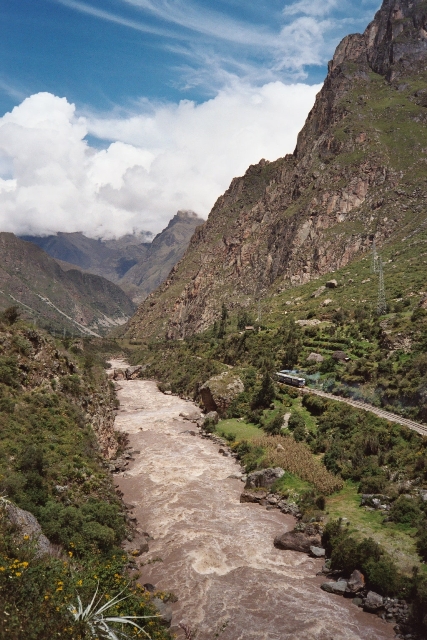 The four day hike is not required to get to Machu Pichu - this train is another popular way from Cusco to Machu Pichu. But, I have to say, although I loved Machu Pichu, the hike getting there was definitely the highlight for me.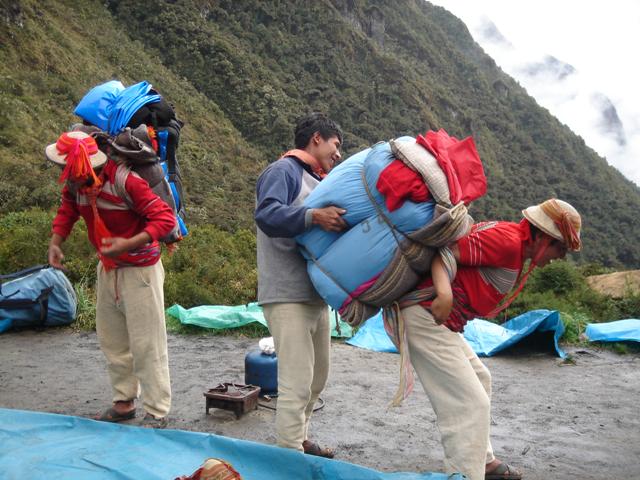 We had porters to carry the majority of our stuff from campsite to campsite. We carried our backpacks with just what we needed for the day, they carried approximately 50lbs per person - wrapped on a blanket with rope, on their backs...wearing sandals...NO KIDDING.
It was hysterical that at the beginning of the day we would roll up our sleeping bags and bed rolls and pack up our belongings and head out after breakfast. The porters would stay behind and take down the tents and pack up everything to take to the next campsite. A shorttime into our hike, here they would come... packed up, 50lbs on their backs, hiking in sandals, and they would speed by us...to beat us to our next site...some would stop and set up a lunch site for us, others would continue on to our evening campsite to set up...it was definitely an AWESOME way to hike :-)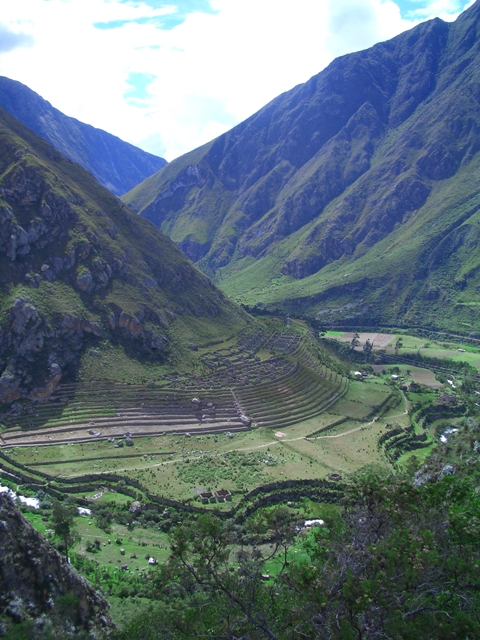 Our first glimps of Inca ruins, Patallacta Ruins.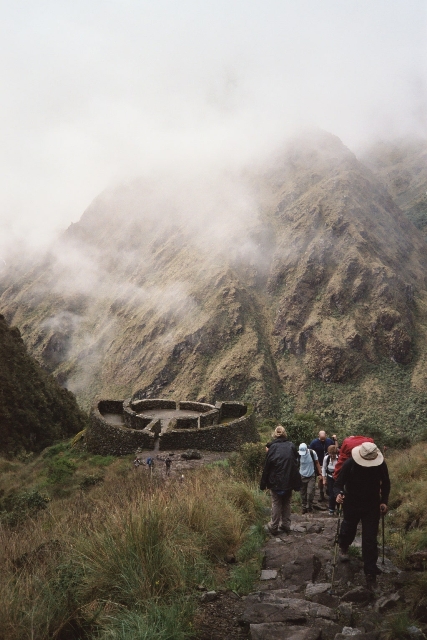 And our first visit, up close to some ruins, called Runcu Raccay.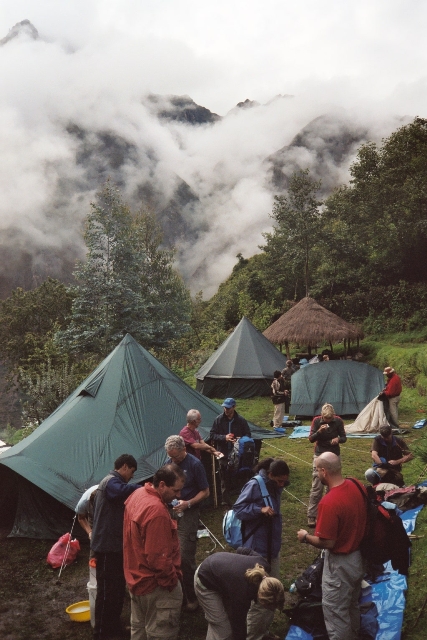 Once again, as luck would have it, there was an extra tent for the number of people in our group so I managed to have a tent all to myself. They were meant for 2 people, and were decent size...but still, it was awesome having one all to myself. What was even nicer...MUCH nicer...which I didn't even realize until a few days into the trip...each evening and each morning we were left a warm bucket of water outside our tent to wash up with...but I hadn't noticed until the second or third day...there was only one wash bucket of water per person...how do you decide who would get the sloppy seconds?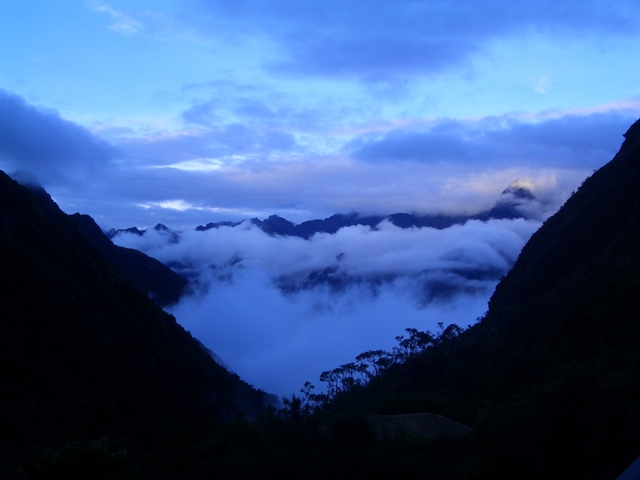 This was the view from the front of my tent on our second night...beautiful!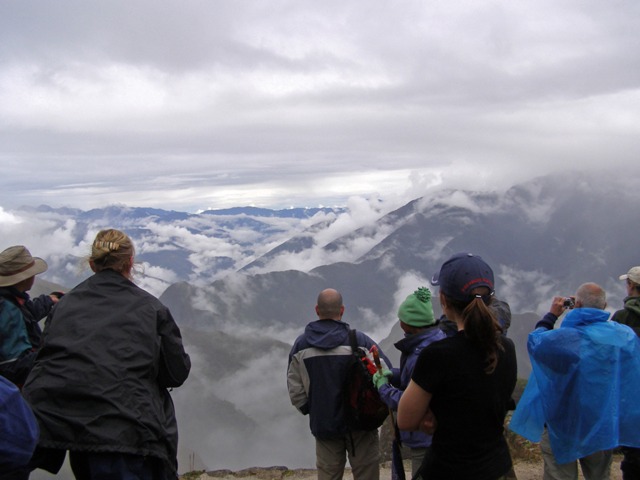 At times we felt as if we were on top of the world and could see forever. The assistant guide would talk about how we could see the clouds above and mountains around the Amazon and it was his goal to do guided trips on the Amazon.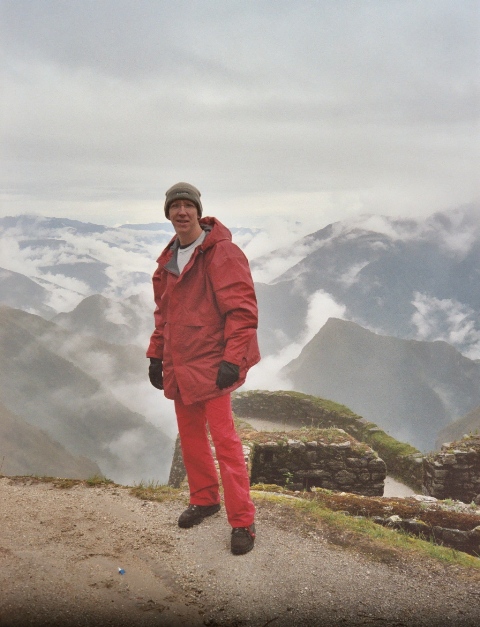 As you can see, we experienced the full range of weather...hot and dry to cold and wet.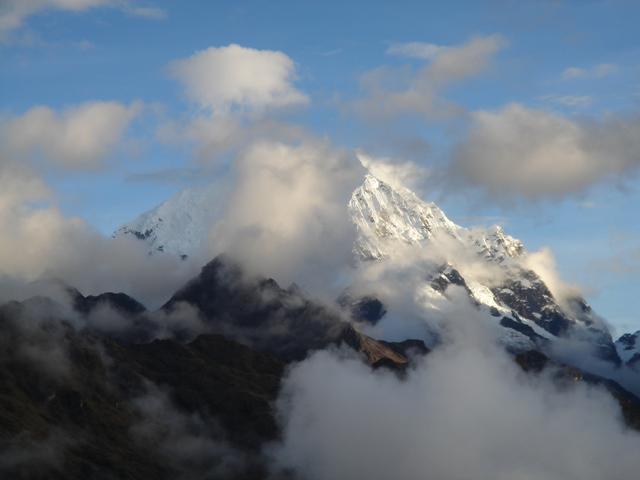 This peak is call Veronica and is nearly 20,000 feet high!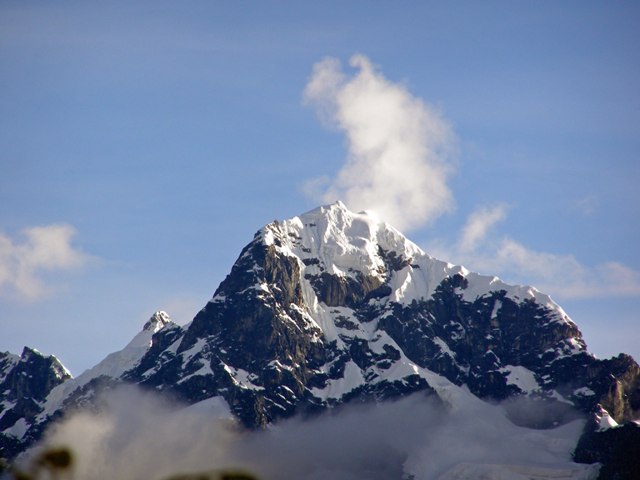 Some of the most incredible scenery I have experienced.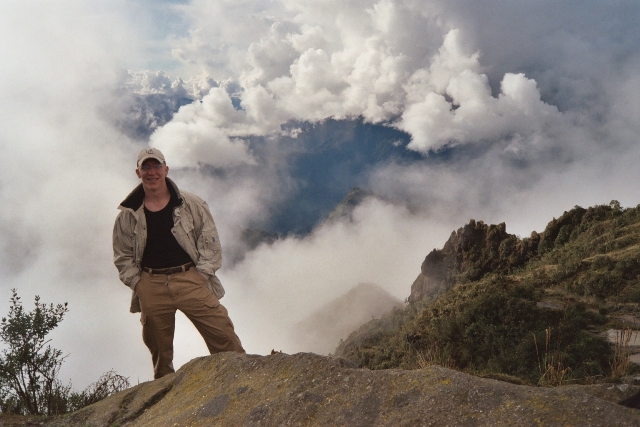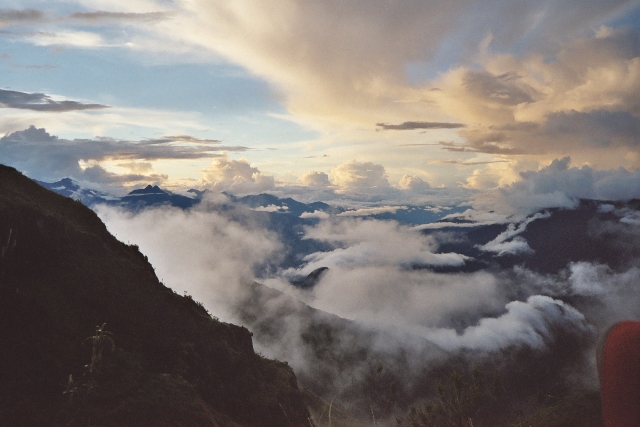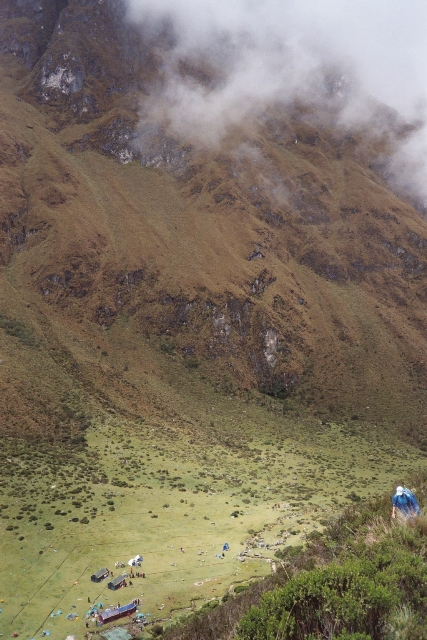 This was a steepest day of hiking...uphill all day...to reach our peak of 13,500 feet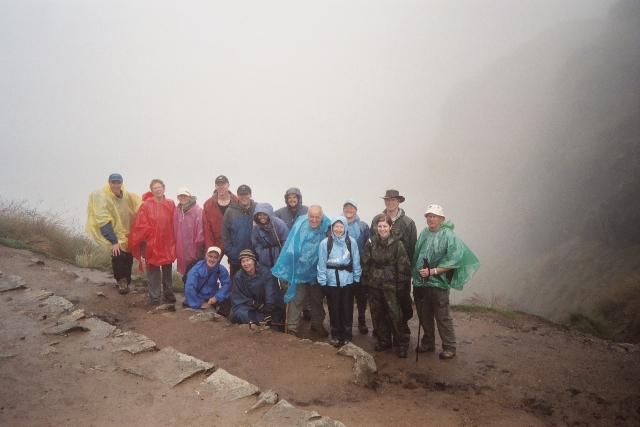 Here we all are at the highest peak of the trip - 13,800 feet! It was a day of almost ALL uphill hiking...and I LOVED it!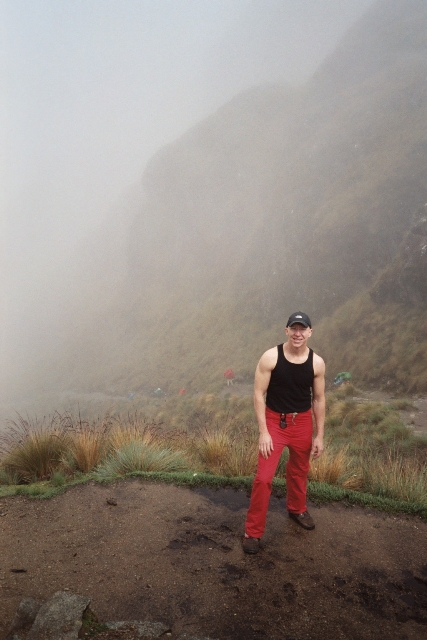 And I got pretty warm getting up here to 13,800 feet.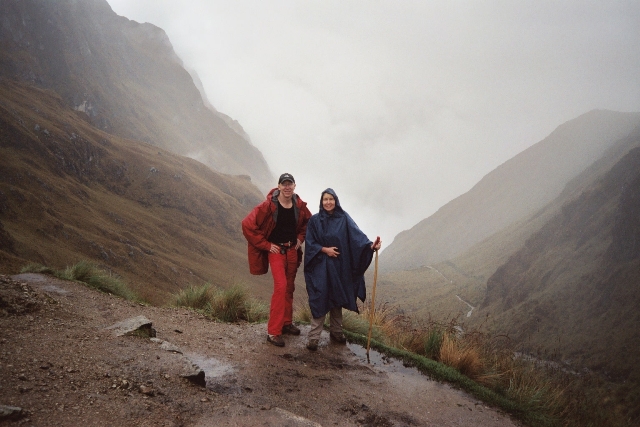 Me and Trixie at this highest point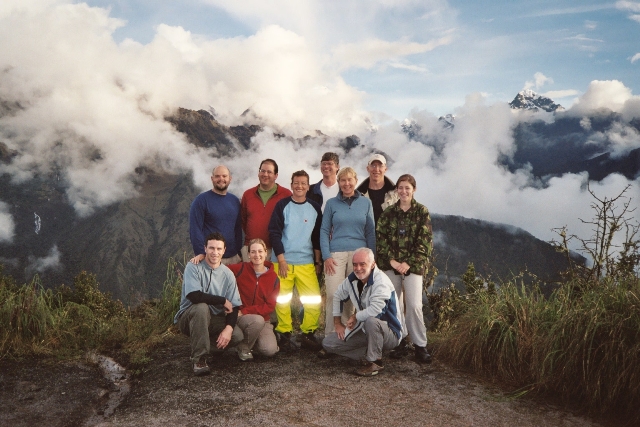 After another full day of hiking, our campsite was set up right next to a small mountain...and heck, after hiking all these other mountains, we couldn't hardly leave this one alone. Actually, our guide told us about the views from up here...definitely worth it, but as you might be able to tell, not all of the group opted to go for the extra hike.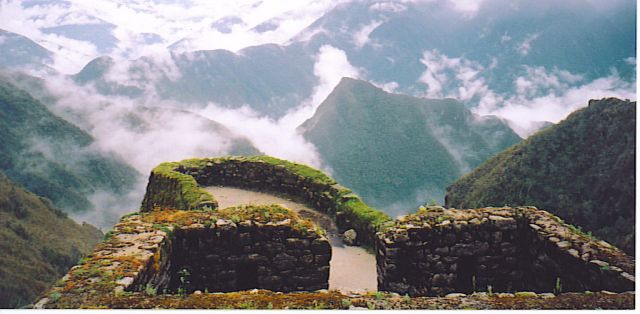 Each day, along the Inca trail we would see numerous Incan ruins.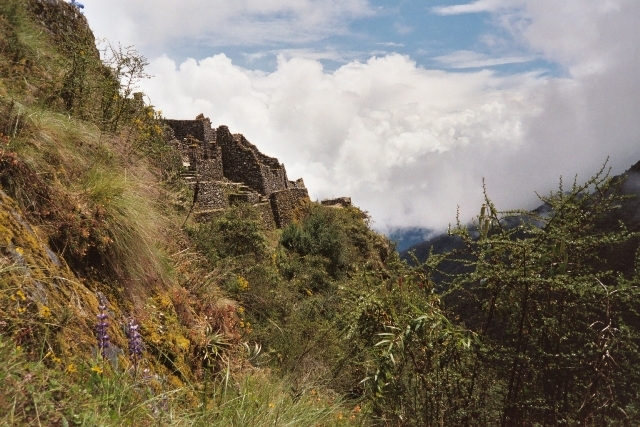 Sayac Marca - These ruins are in an impressive setting built onto the crest of a ridge (once again overlooking several valleys) with a view all the way down into Amazonia.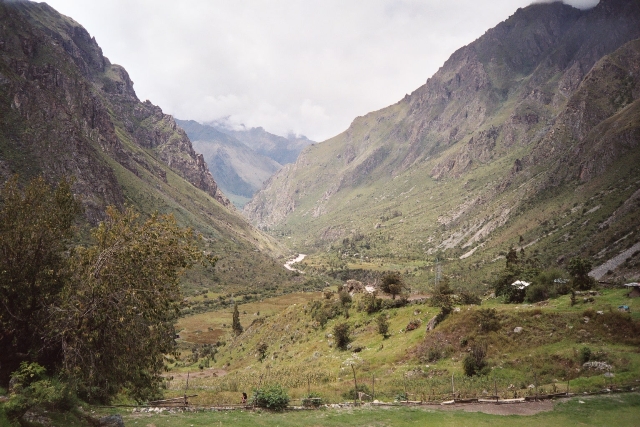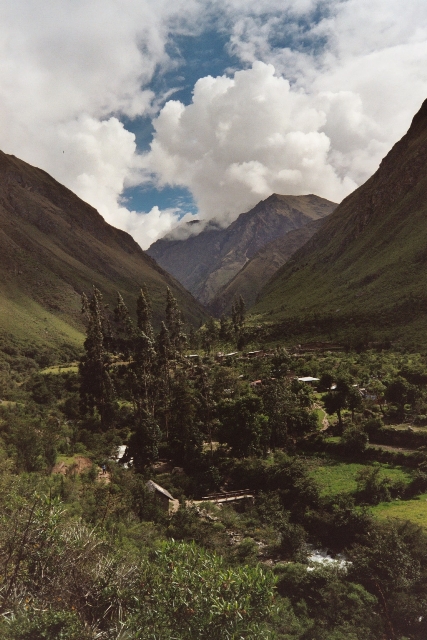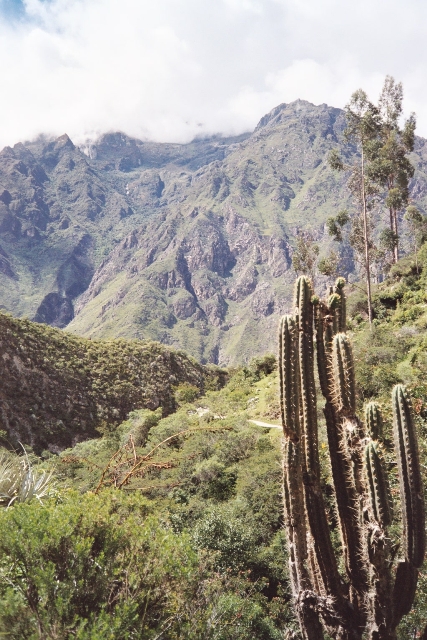 Cactus at over 10,000 feet elevation!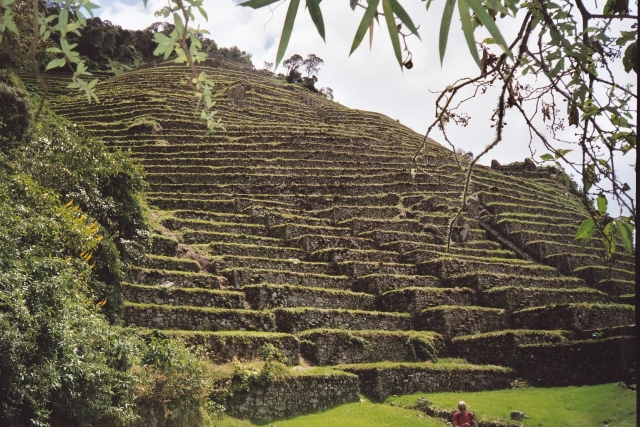 The Intipata ruins are recenlty discovered agricultural terraces. Inhabitants may have once used the terraces as a walking path to Machu Picchu.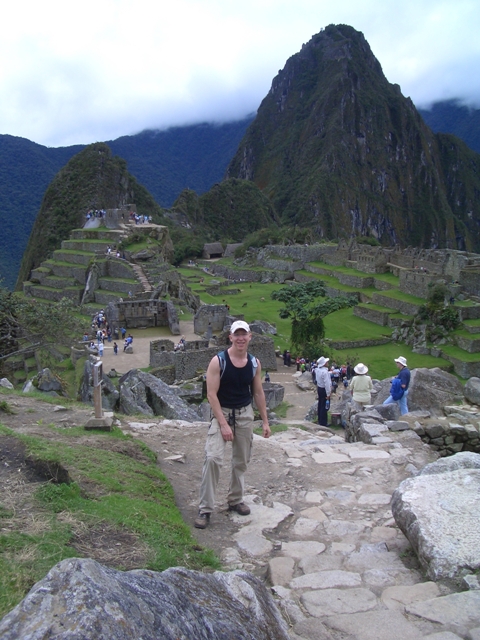 Me at MachuPichu - a full day exploring this ancient city and I could have easily spent another day.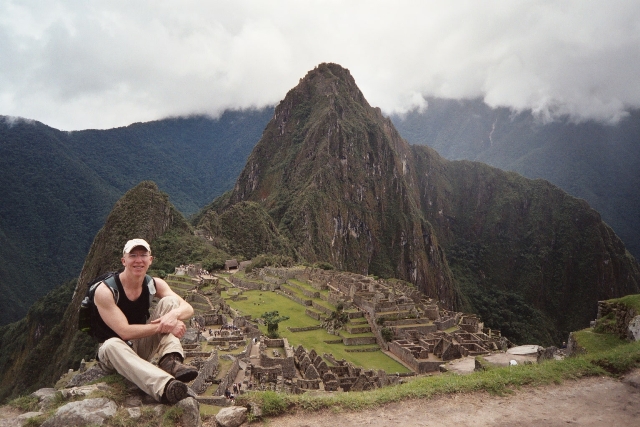 This photo is hard getting a perspective of how big this ancient city is behind me. The mountain peak there rises 1180 feet over Machu Picchu called Wayna Picchu (at 8,920 feet above sea level).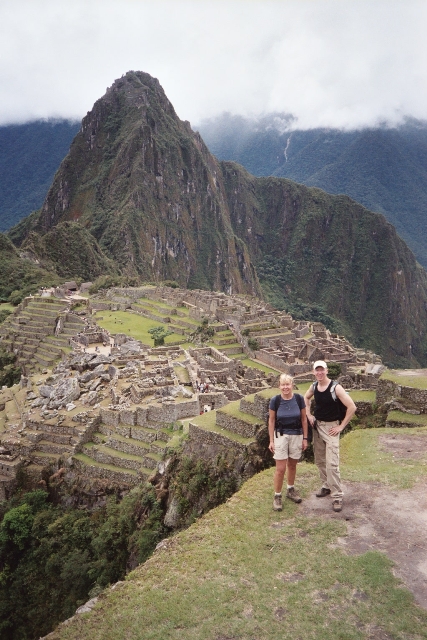 Trixie and I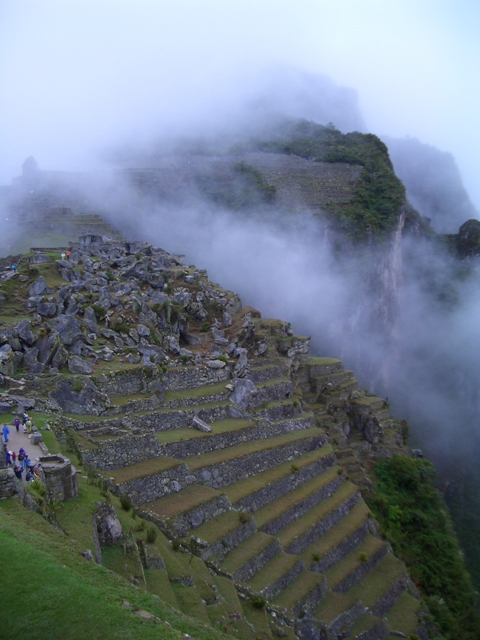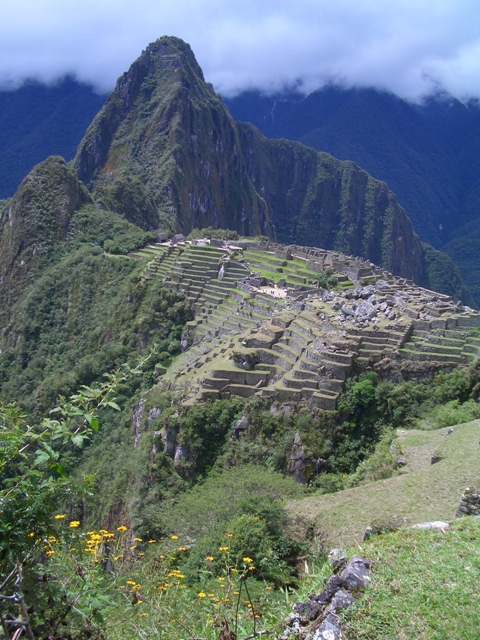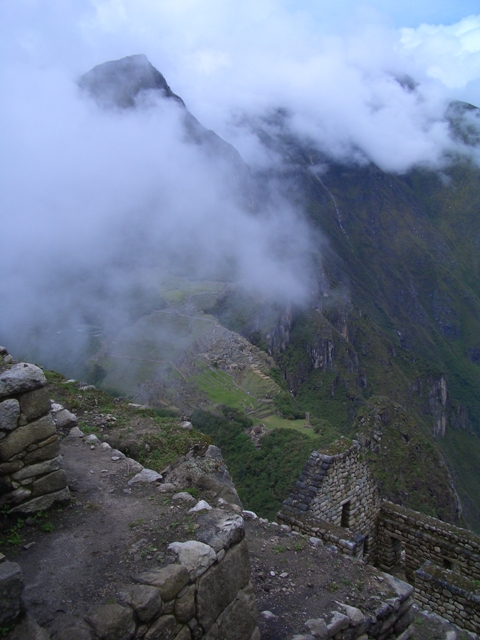 Yes, once again I couldn't leave another mountain alone. The challenge of hiking Wayna Picchu over Machu Picchu was irresistable...well to 4 of us in the group anyway.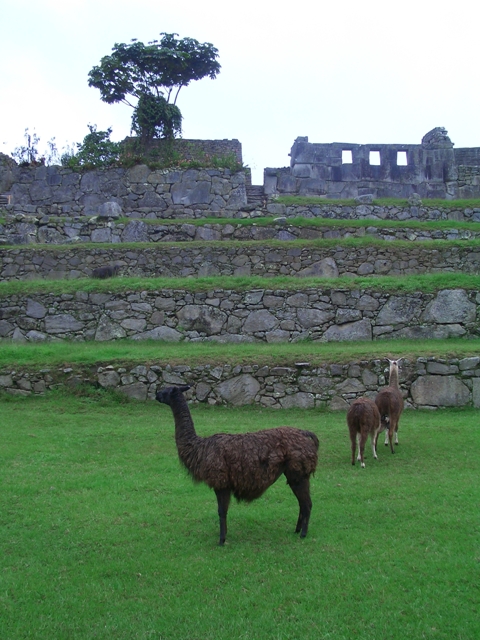 Llamas and Alpacas roam all around the city of Machu Picchu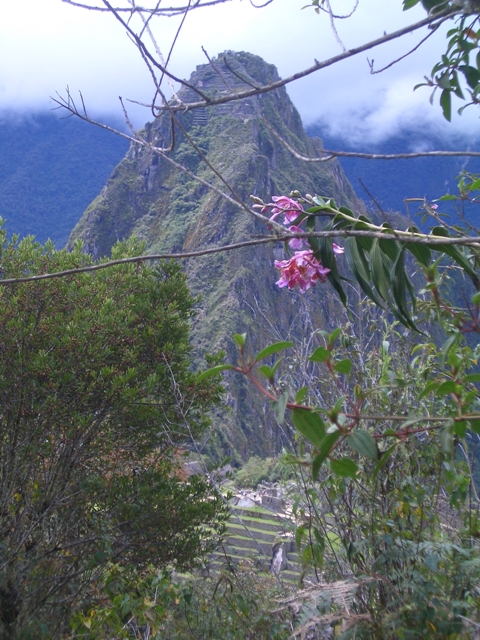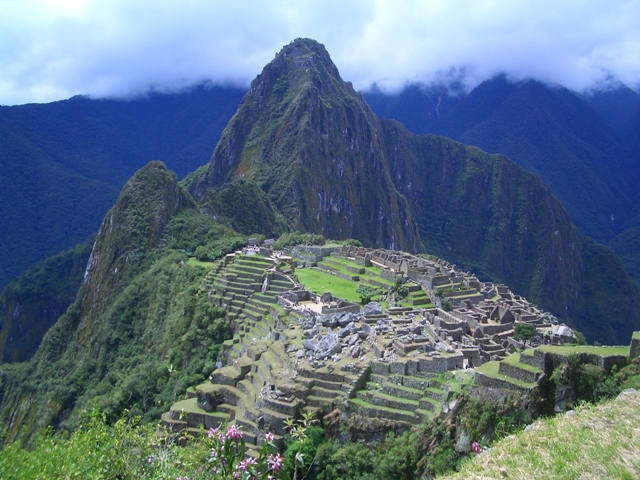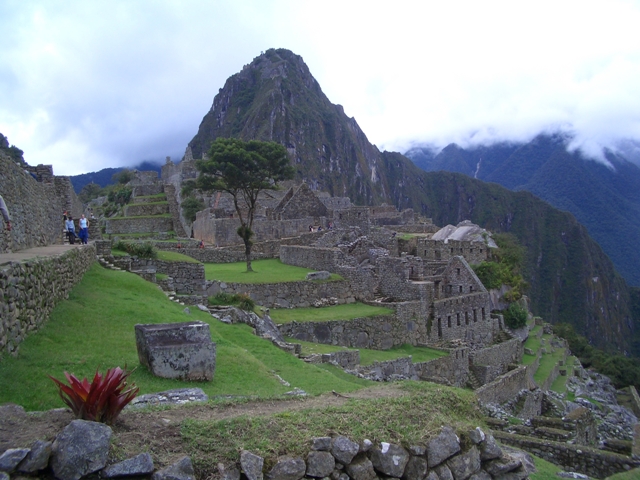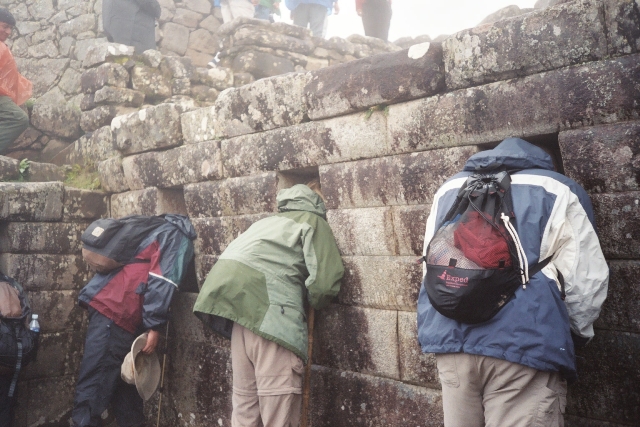 It looks ridiculous, but everyone was sticking their heads in these cubby holes to experience how the sound could travel thru these walls loud and clear.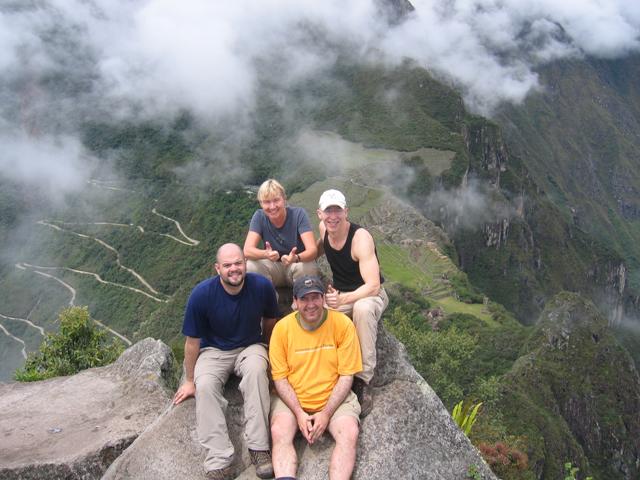 So, once again, give us another mountain to climb and climb we will. If you look closely you can see Machu Pichu below us (right behind my left shoulder).
This mountain we're on is called Wayna Pichu and is actually the mountain you see in almost every photograph you usually see of Machu Pichu - it's the backdrop mountain that towers over Machu Pichu and although we had spent another full-day of hiking, we couldn't just stop with Machu Pichu...well, at least four of us couldn't

On top of the world...above the clouds and towering over Machu Pichu...wow, what a feeling!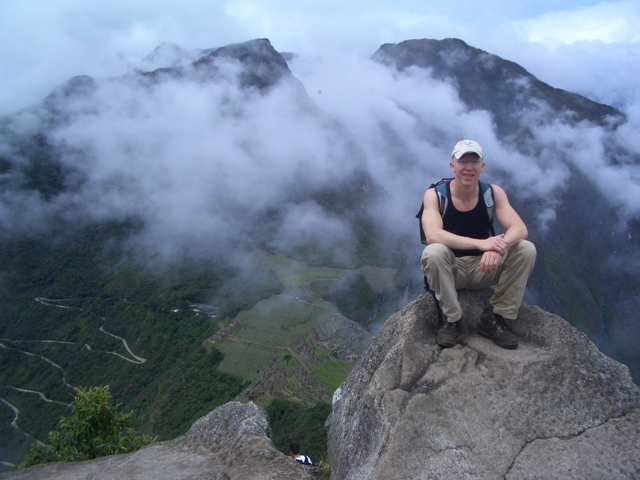 The road you see on the left side of the picture is the road the buses take up to Machu Pichu, for the people who have taken the train from Cusco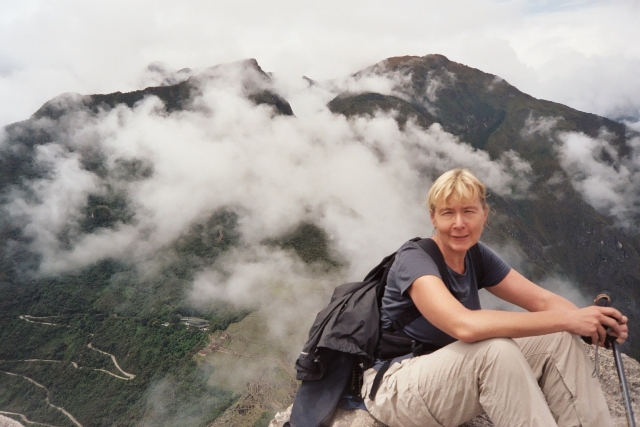 Trixie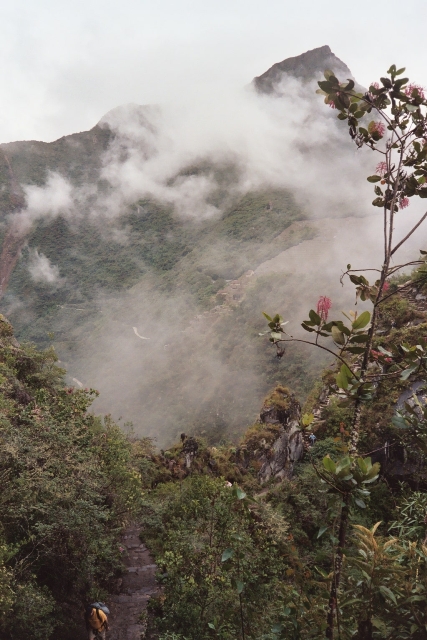 The trail up Wayna Pichu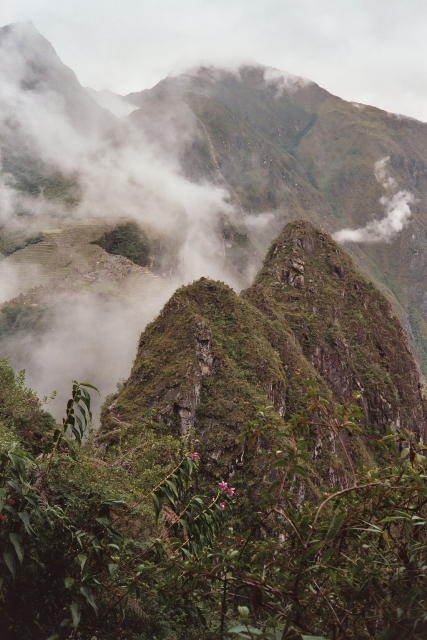 The trail up Wayna Pichu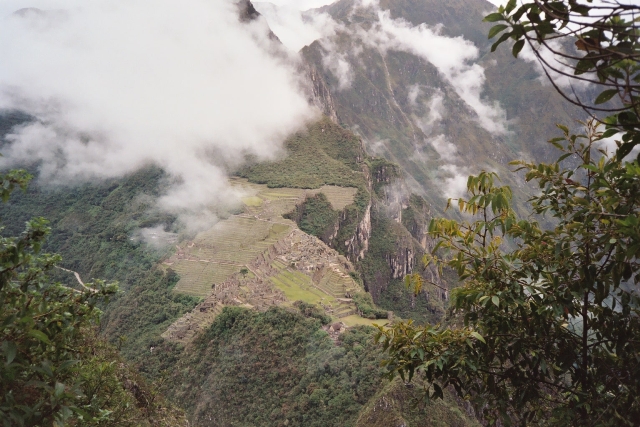 The trail up Wayna Pichu with a cool glimps looking down on Machu Pichu thru the trees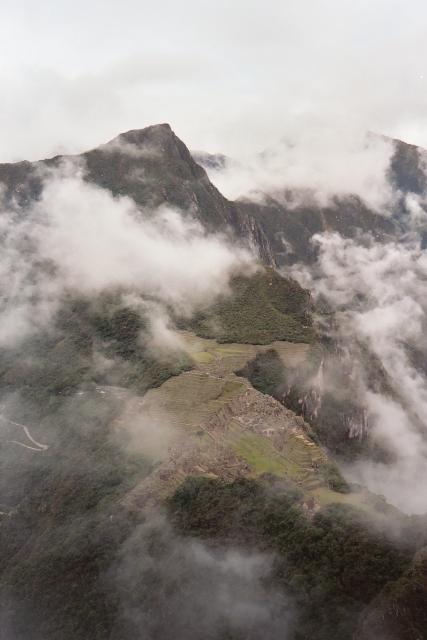 Yep, that's Machu Pichu far below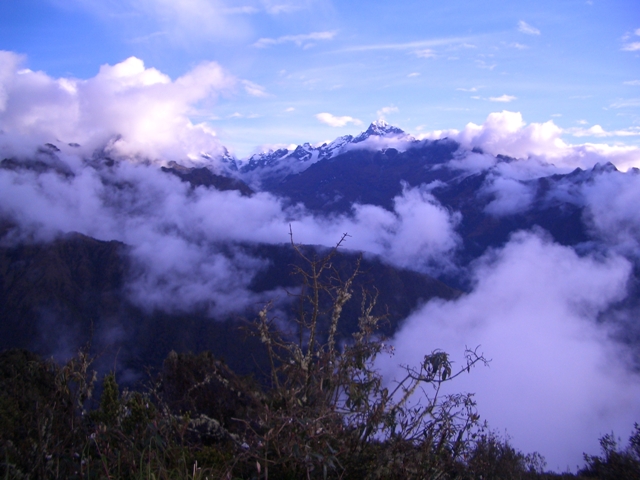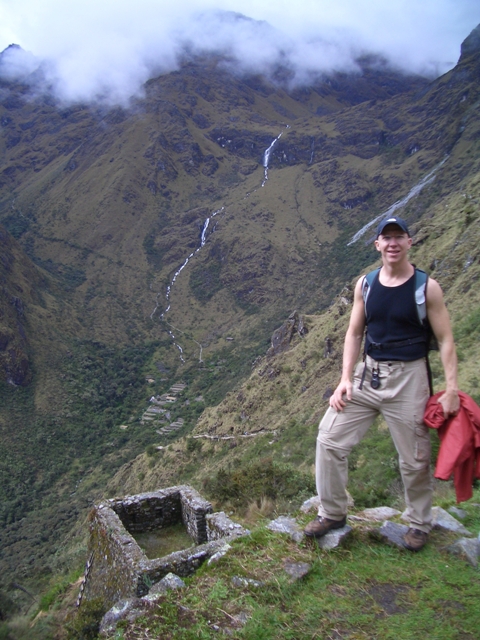 Although you can't tell, those are waterfalls in the background...and they are HUGE...and FAR, FAR below me...and I mean FAAAAARRRR!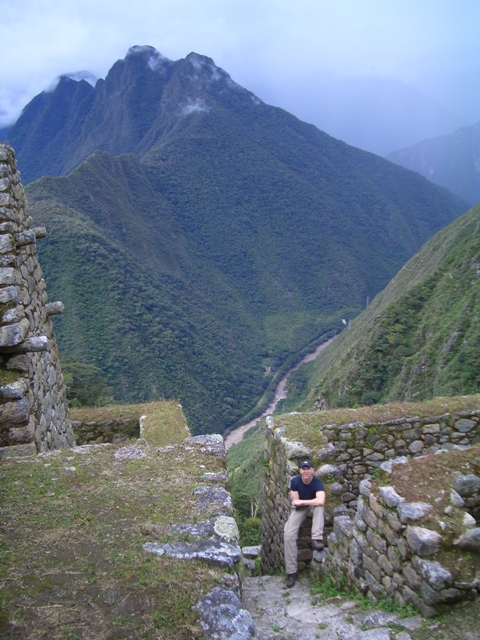 Wiñay Wayna (Quechua for "forever young") is an Inca ruin along the Inca trail to Machu Picchu. It is built into a hillside overlooking the Urubamba River. The site consists of upper and lower house complexes connected by a staircase and fountain structures.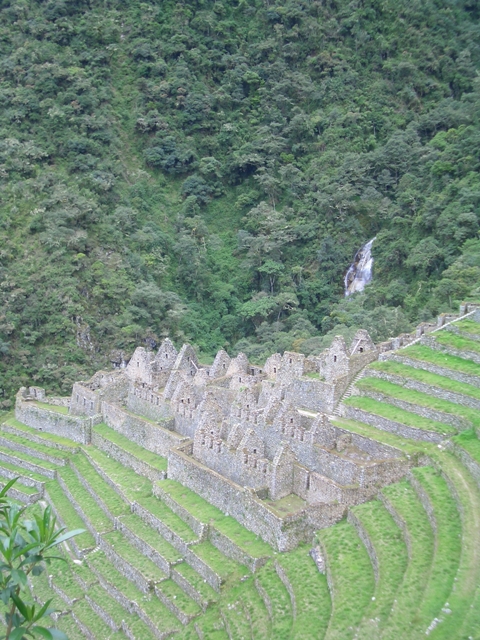 Wiñay Wayna - beside the houses lies an area of agricultural terraces.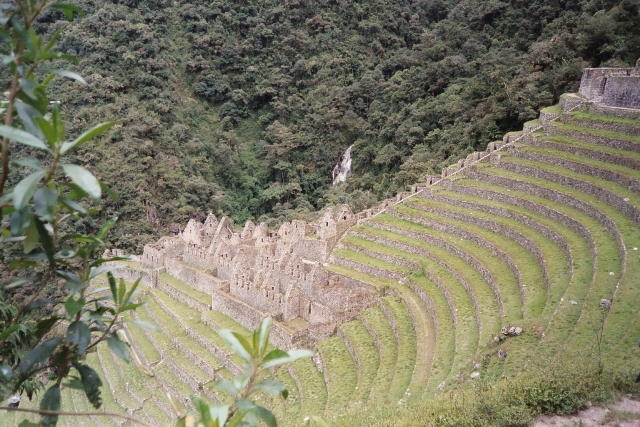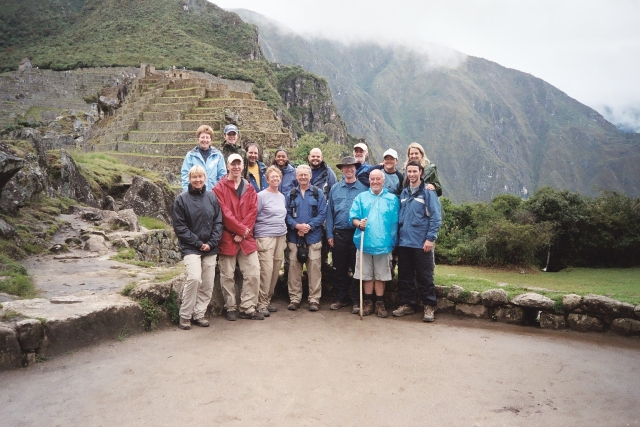 Our final photo together outside Machu Picchu