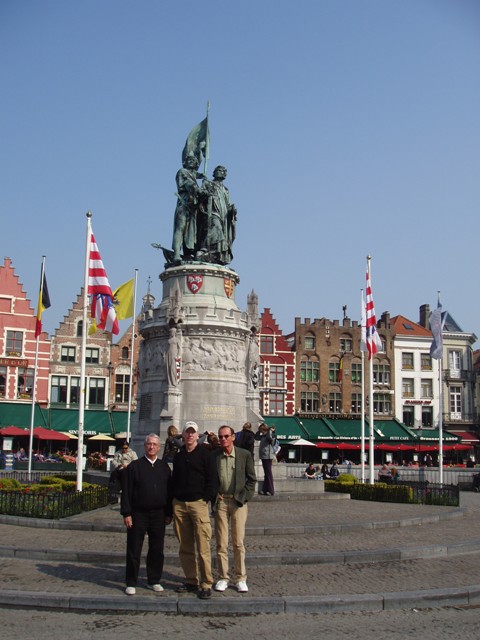 Bruges, Belium Piazza - Milt (aka Dad), Tom & Dennis.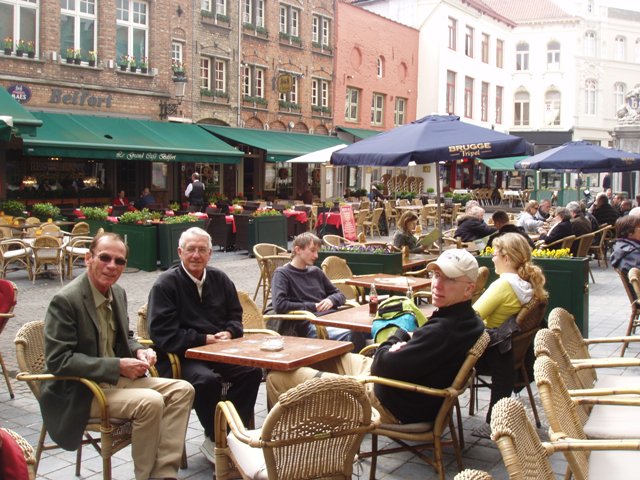 We couldn't possibly go to Belgium and not have a Belgium beer.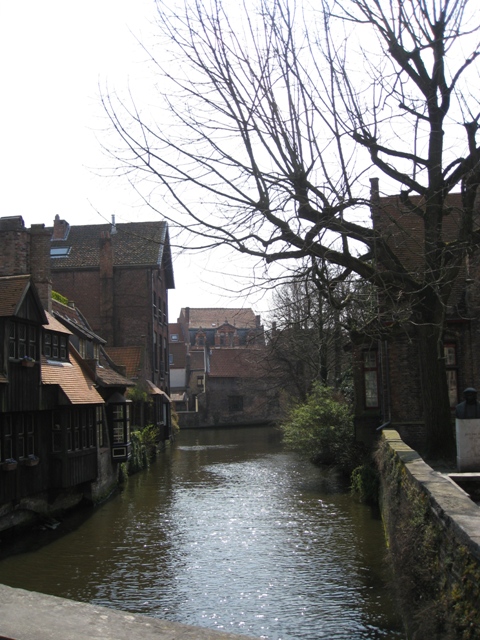 Bruges, Belgium - what a charming and beautiful city. We took the train from Brussels to explore this city on our short 1-1/2 day layover in Belgium.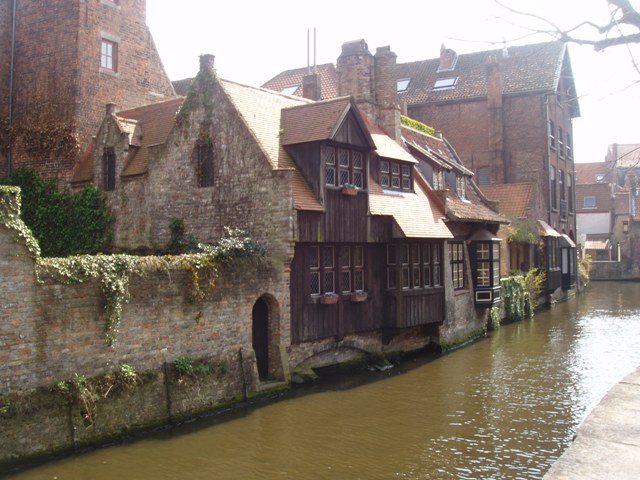 Canals run around the city...not quite like Venice, but quite a few of them and added to the charm of the city.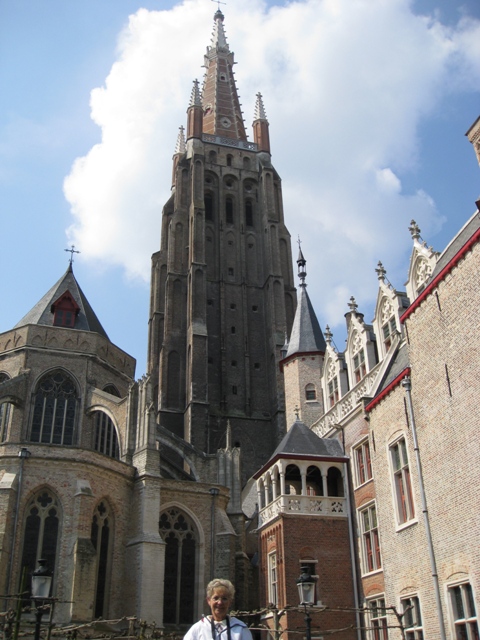 There's Mom.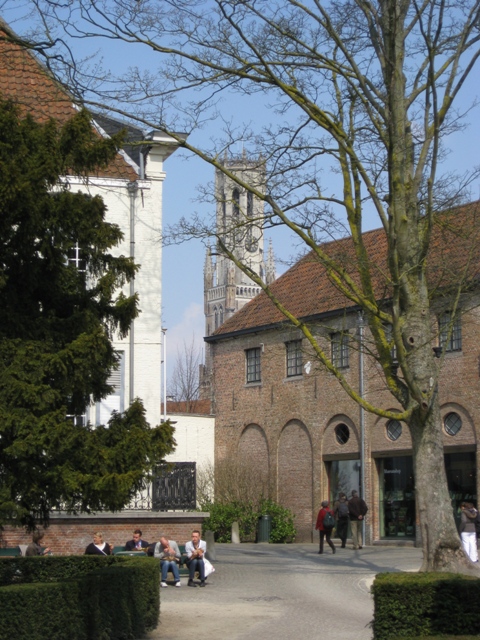 Bruges' belfry in the background - it is 83 meters high (or 249 feet), was built in 1250 and contains 47 bells weighing 27 tons!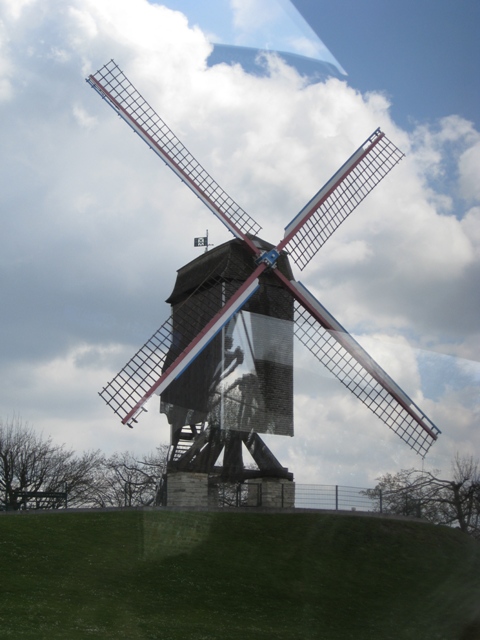 There were 17 windmills in Bruges at one time, only 3 remain.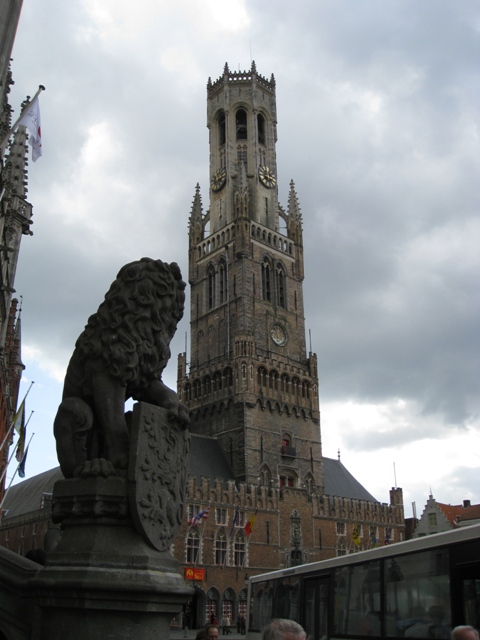 There's Bruges' belfry again.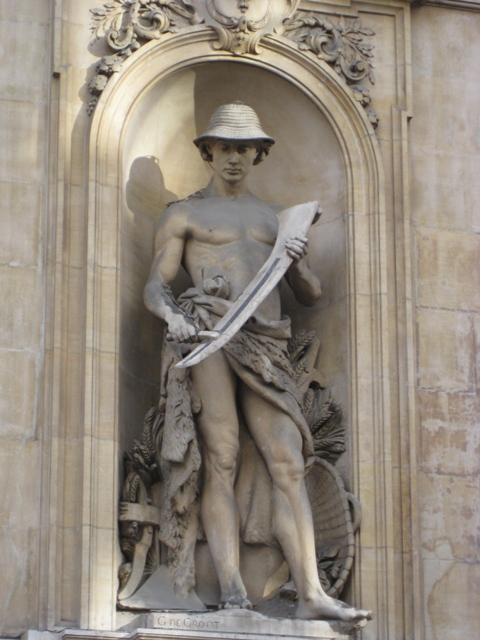 Bruges.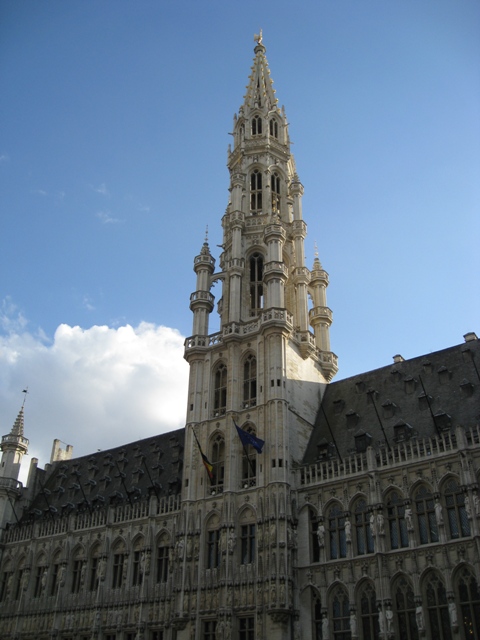 Back to Brussels for the remainder of our layover before heading to Italy.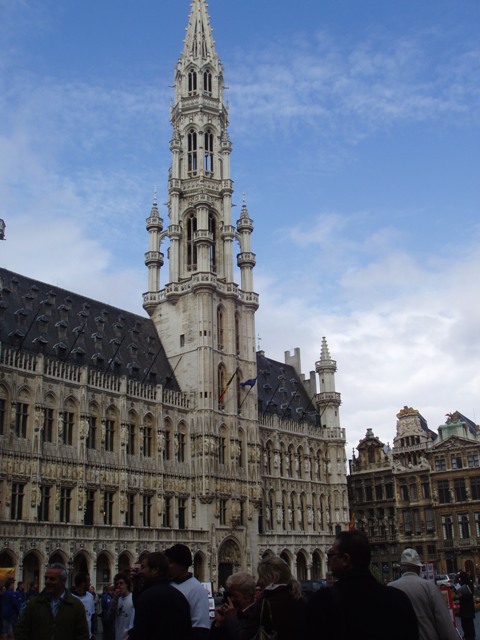 Brussels City Hall.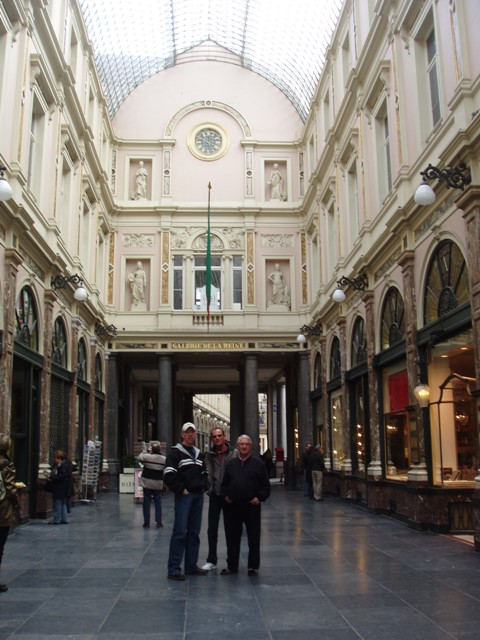 Galleria in Brussels - First covered market built in 1843.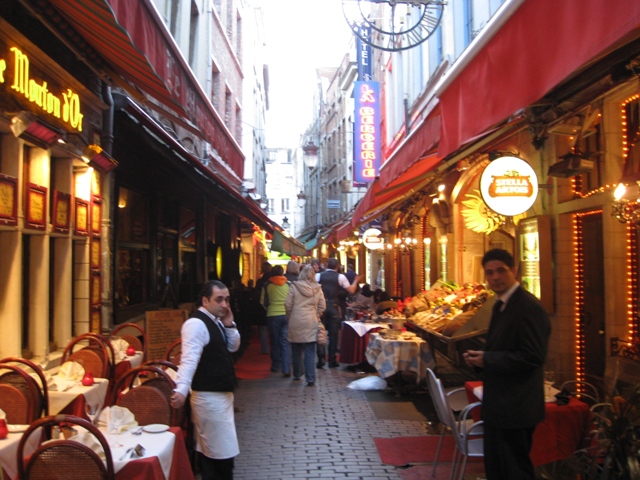 Looked like what I would call restaurant row - here the waiters were standing in front offering all kinds of bargains to get you to eat in their restaurant.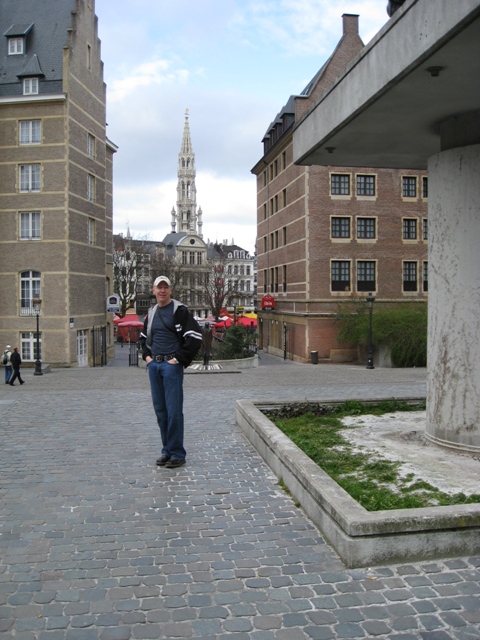 Brussels city all in the background.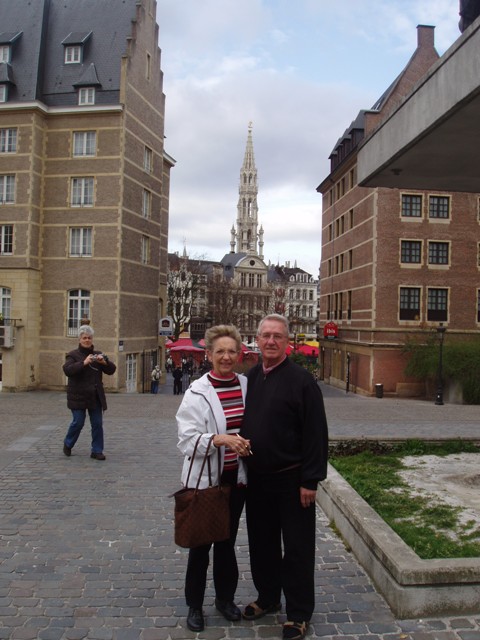 The folks.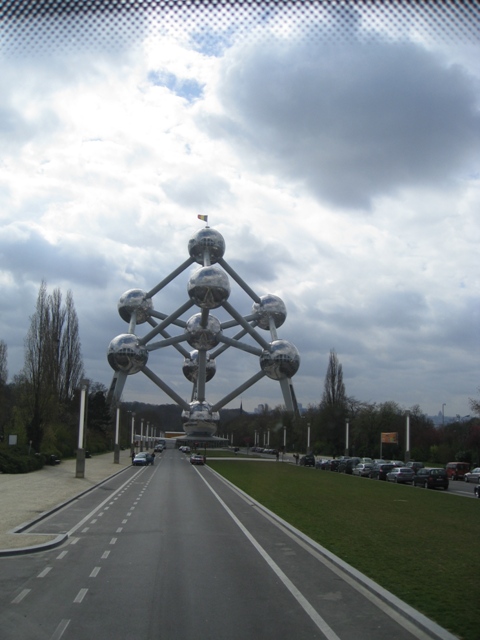 This is called the Atomium (giant molecule). It was built for the 1958 World's Fair and is a replica of an atom - enlarged 165 billion times.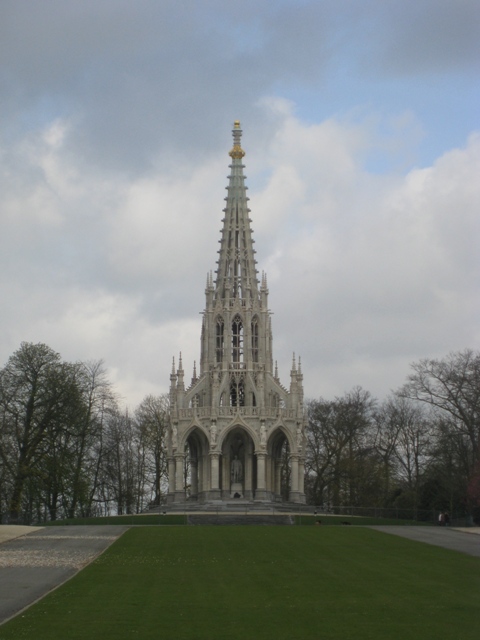 Beautiful church in Brussels.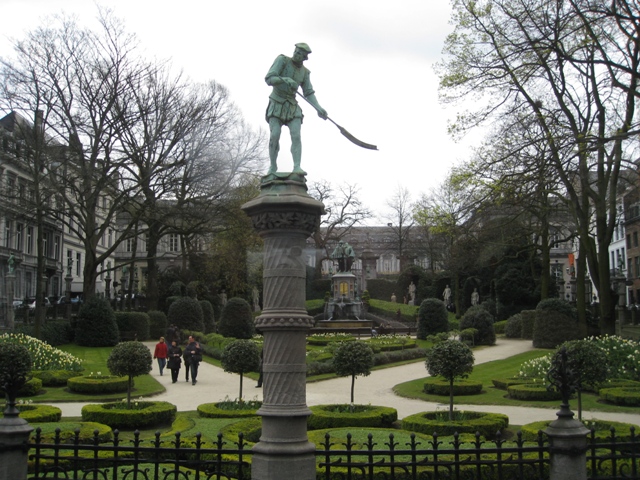 Brussels Royal Residence.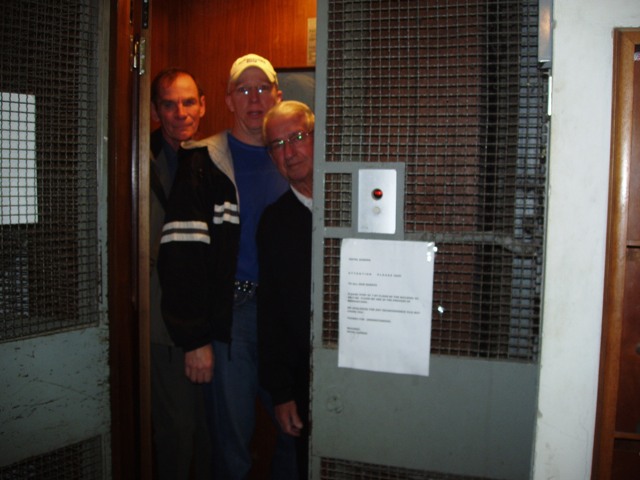 So now we're in Florence, Italy - and this is the elevator in our B-and-B/Hotel - Euopa Hotel in Florence.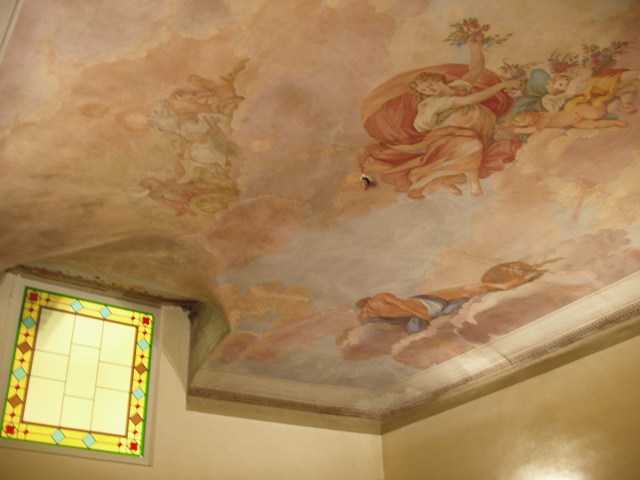 The painted ceiling in the continental breakfast room in our hotel.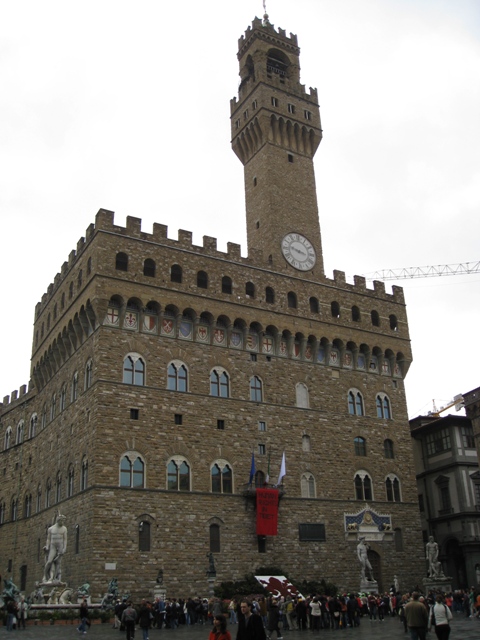 Piazza Della Signoria, Florence, Italy.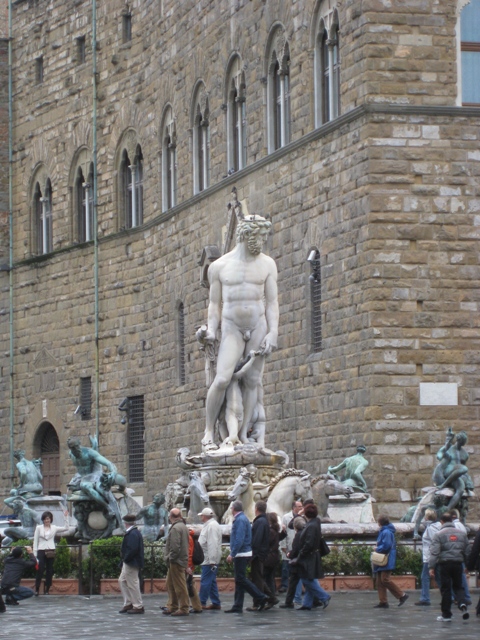 Florence.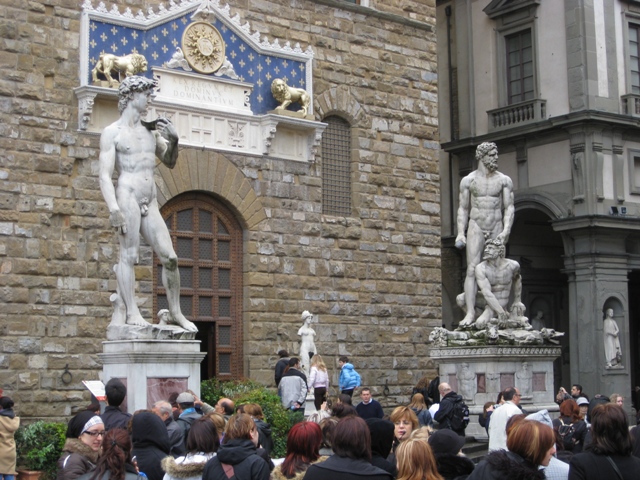 Florence.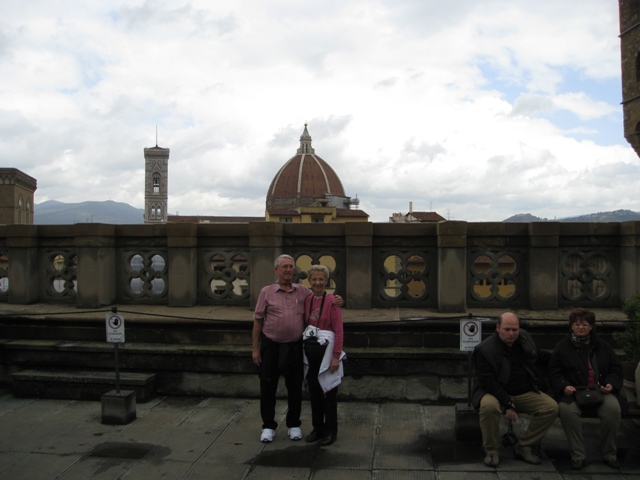 My folks on the outside terrace of the museum with the dome of the Duomo in the background.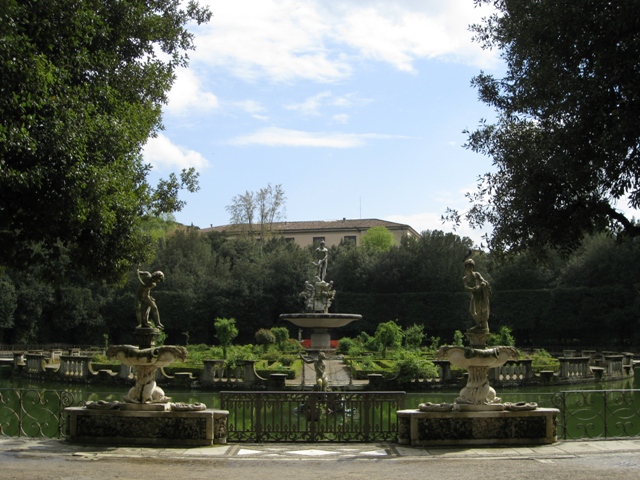 Boboli Gardens, Florence.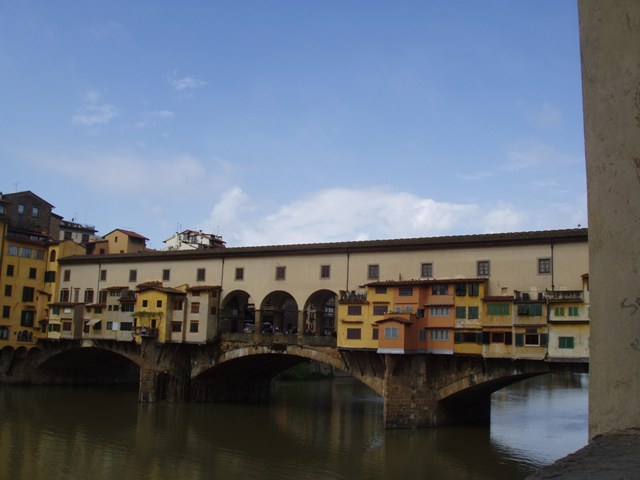 Ponte Vecchio.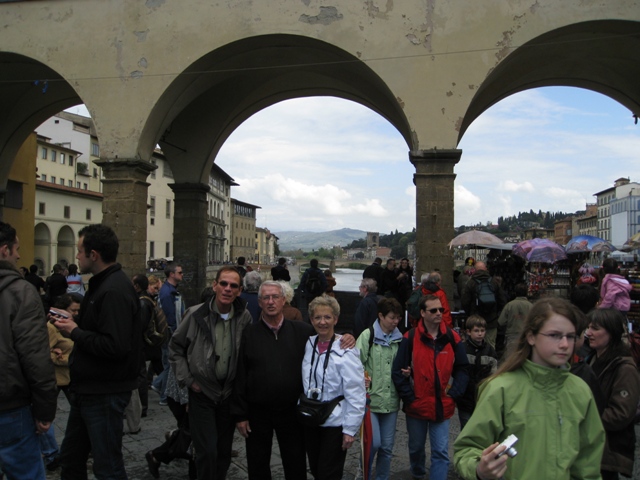 My folks and Dennis on the Ponte Vecchio.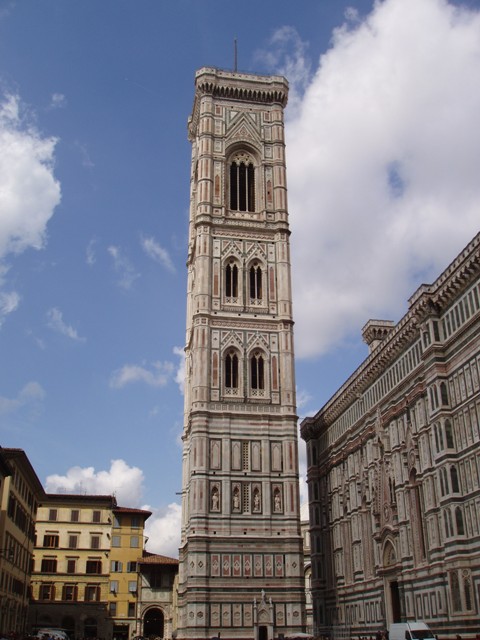 Florence.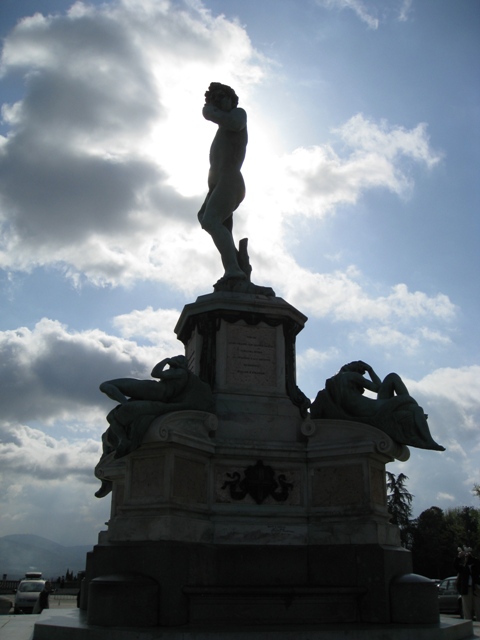 Michelangelo Mountain Tourist spot with a replica of David here.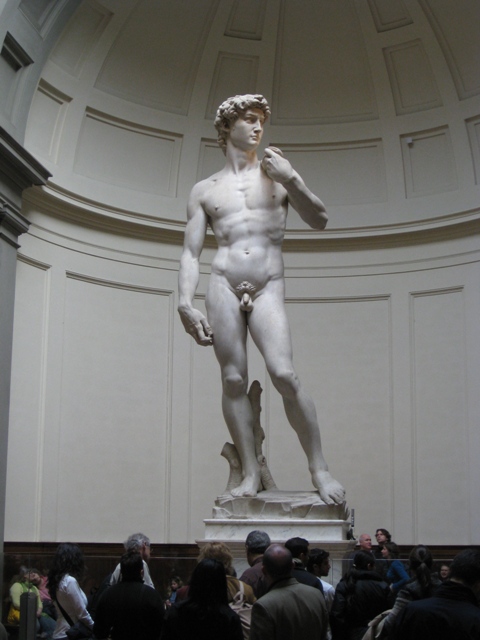 There's the real David.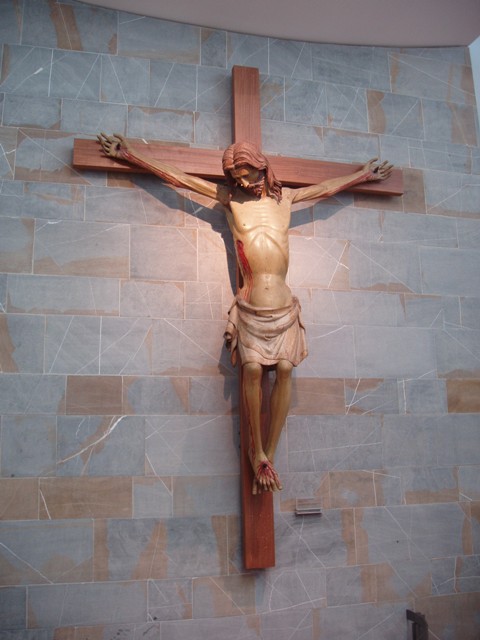 Crucifix Michel @ Museo dell'Opera del Duomo.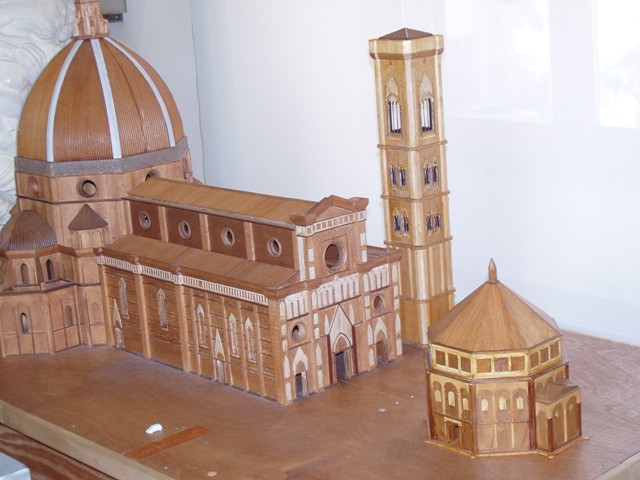 Duomo wood model @ Museo dell'Opera del Duomo.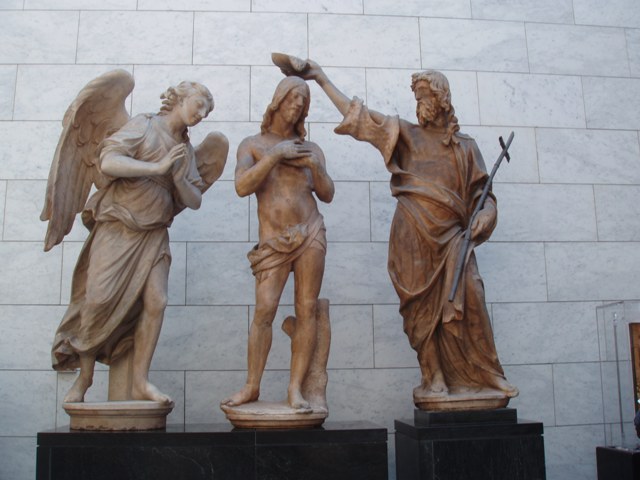 Baptism of Christ sculpture originally over the Gates of Paradise @ Museo dell'Opera del Duomo.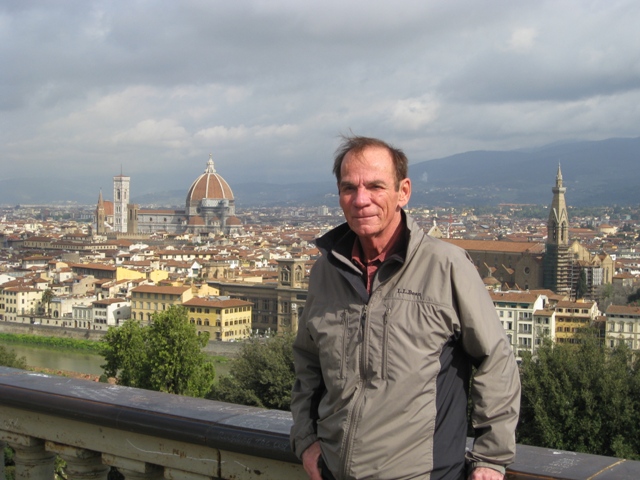 Back up to the Michelangelo mountain with beautiful views of downtown Florence with the Duomo towering over the city.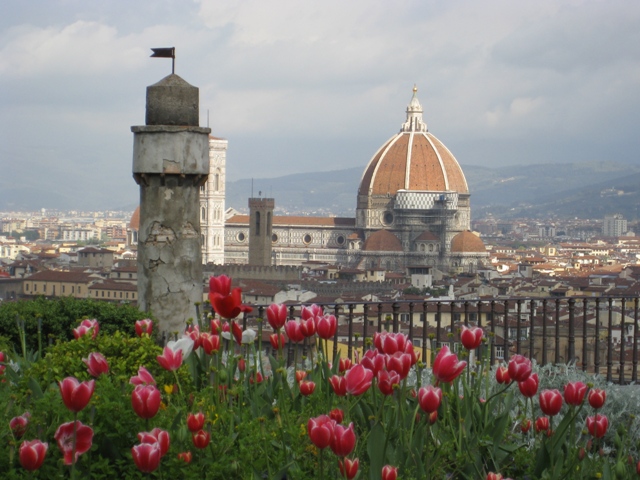 Duomo.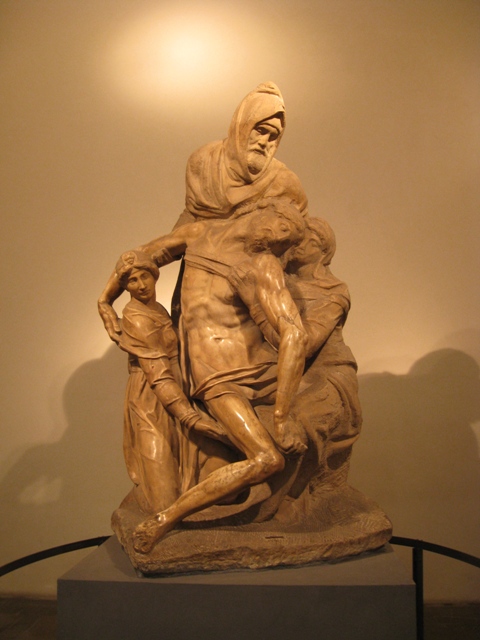 Michelangelo's Pieta @ Museo dell'Opera del Duomo.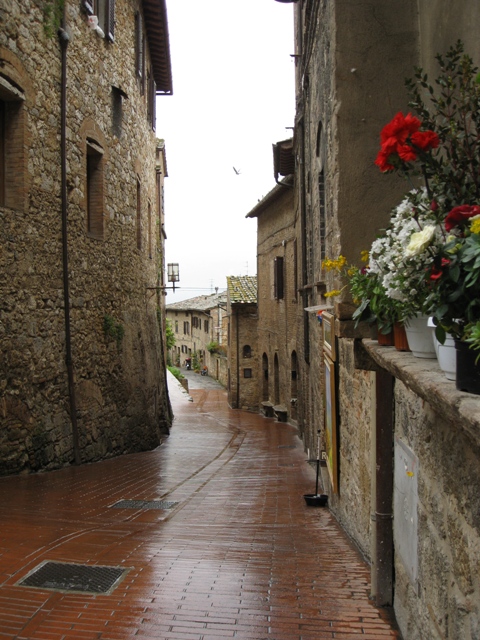 Now off for our scenic two-day drive thru Tuscany on route to Rome - our first stop - the charming city San Gimignano.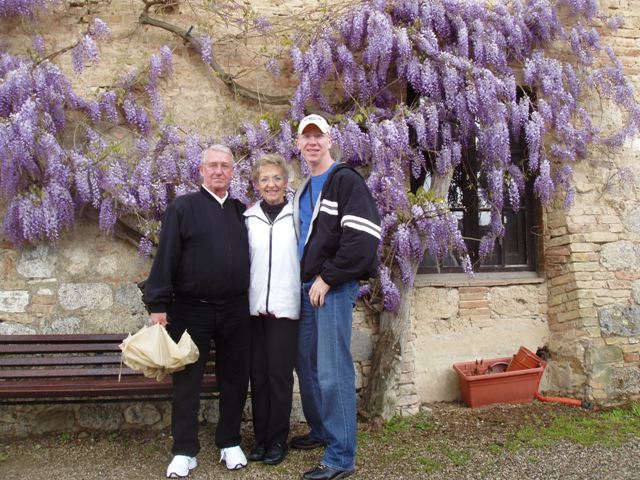 The wisteria was beautiful.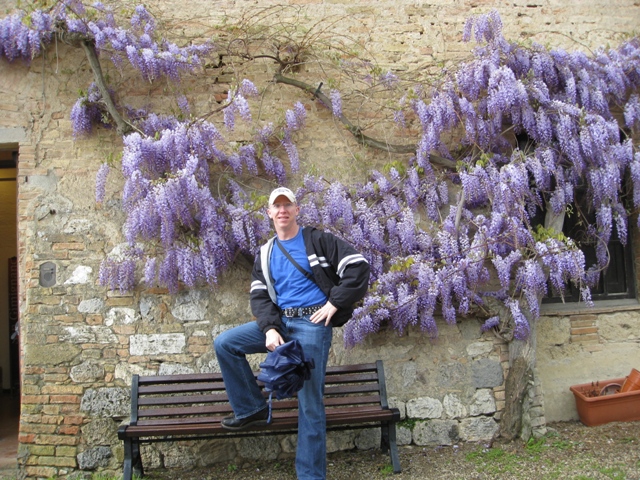 Still in San Gimignano.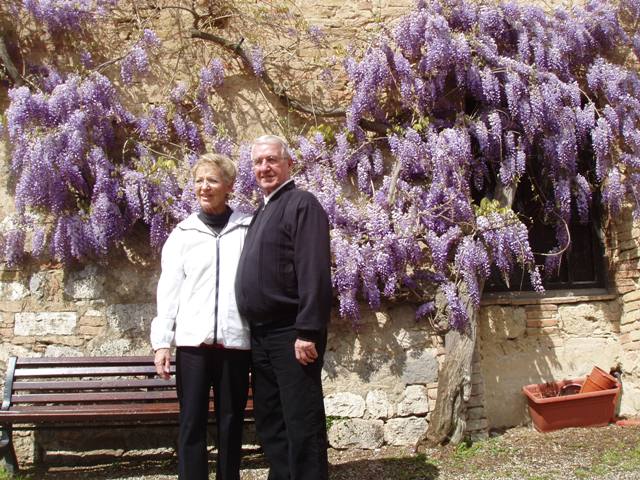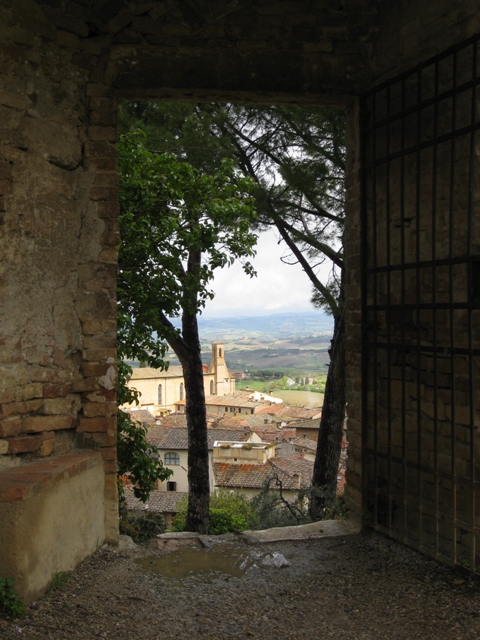 San Gimignano is purched up on a hill in Tuscany.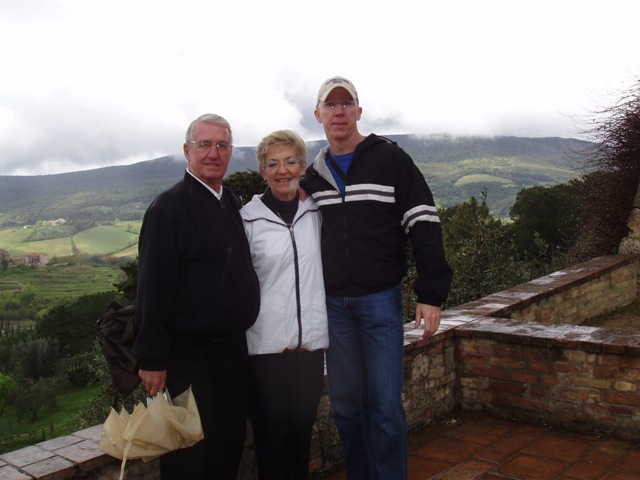 It was a great spot with spectacular views.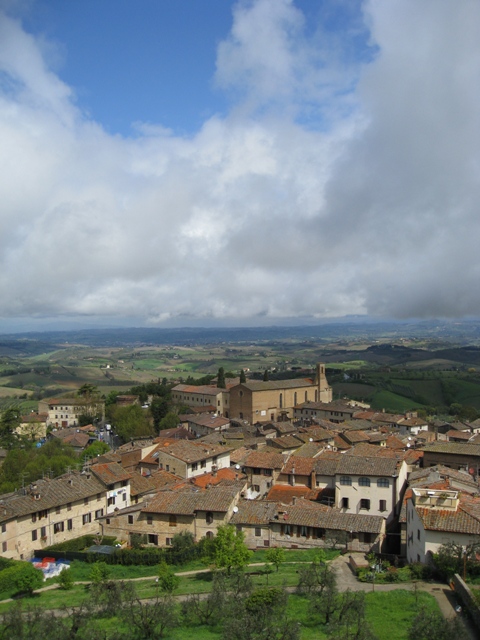 San Gimignano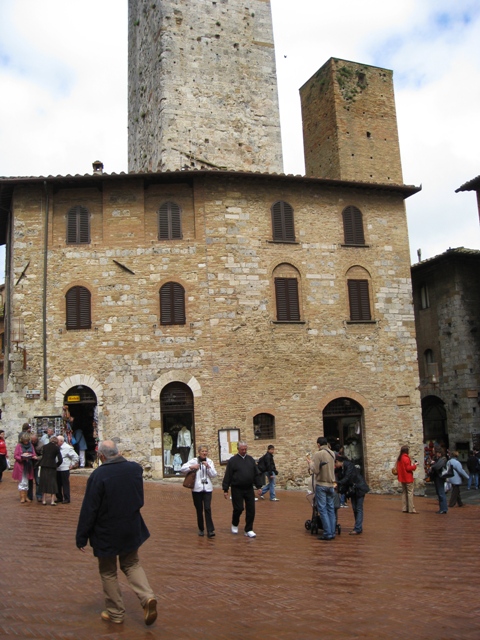 Wondering around in San Gimignano.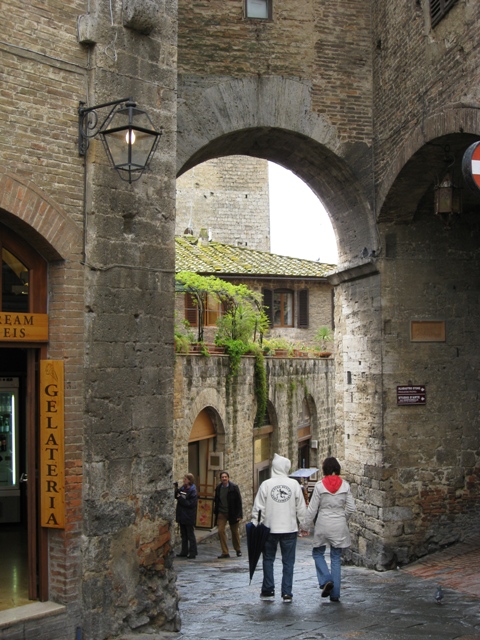 San Gimignano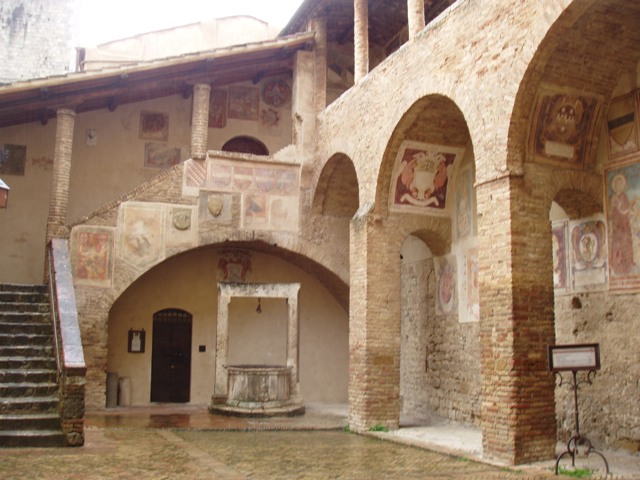 San Gimignano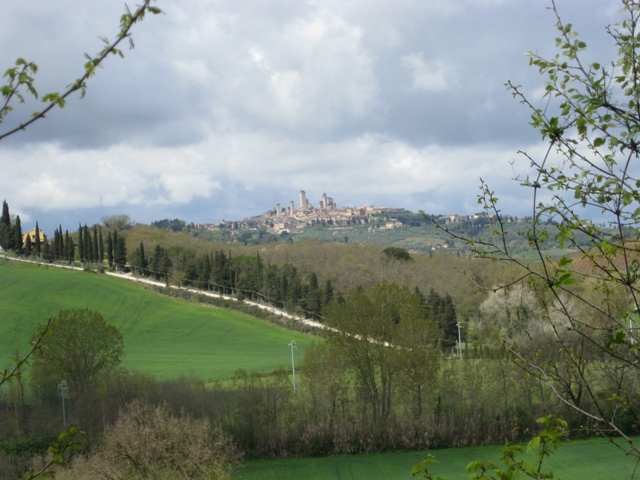 View of San Gimignano.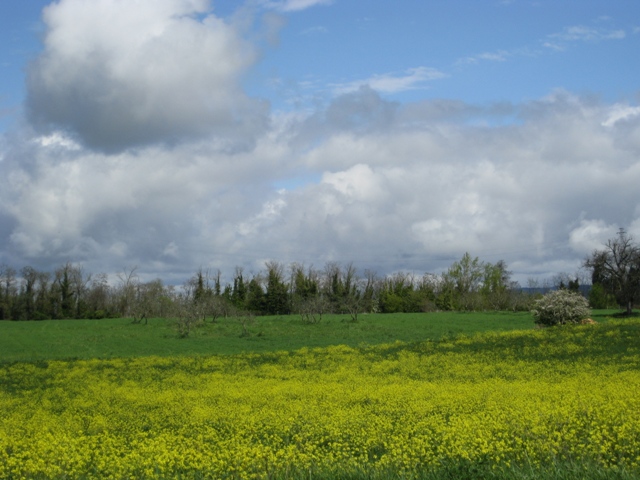 It was early spring here and the fields of flowers were amazing.

Siena.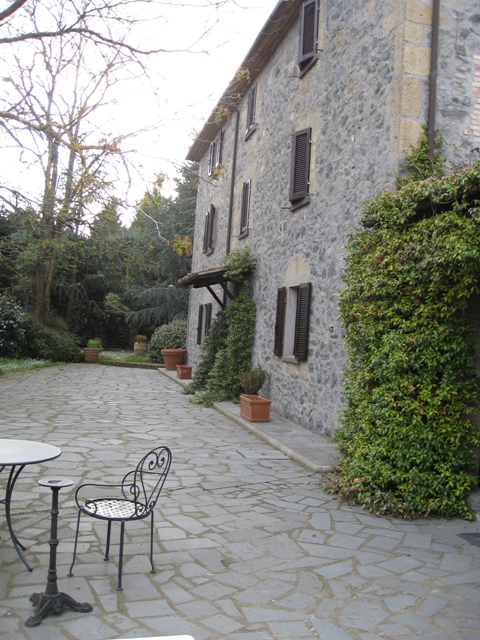 In Tuscany we found a wonderful B and B just outside Orvieto (another gorgeous and wonderful city in Tuscana perched up on a hill) called Locando Rosati.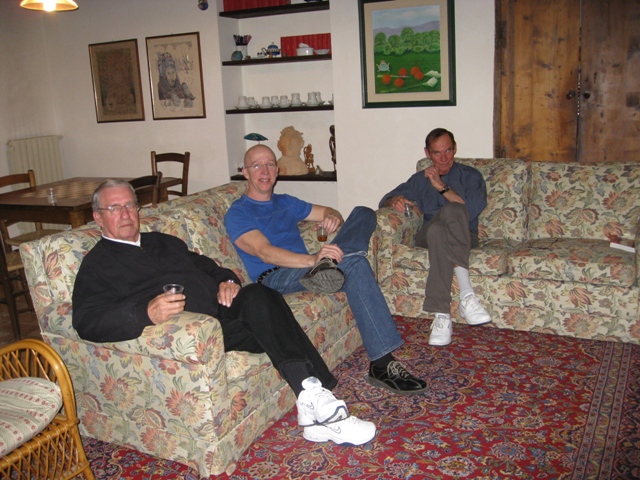 Lounging in the B and B after a day of driving thru and exploring some wonderful cities in Tuscany.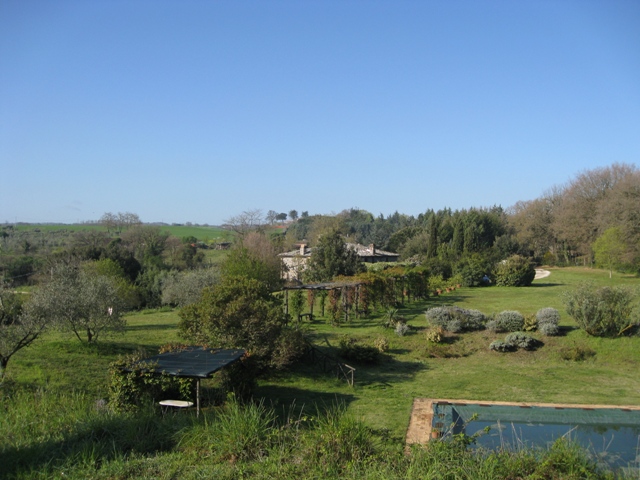 These are the grounds of the B and B - beautiful place!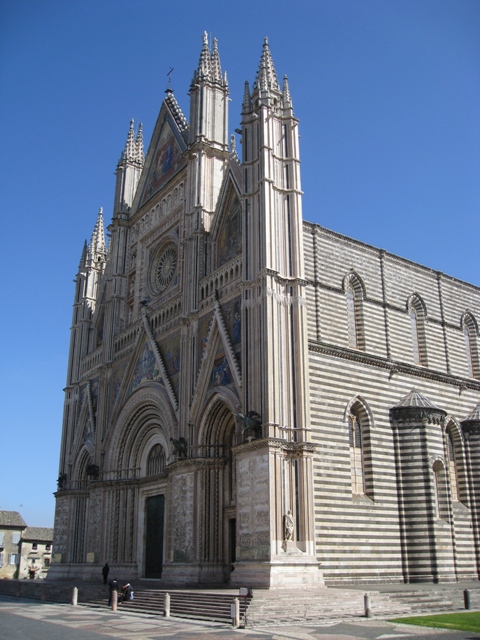 Orvieto Cathedral with this ornate and beautiful facade that took 300 years to complete.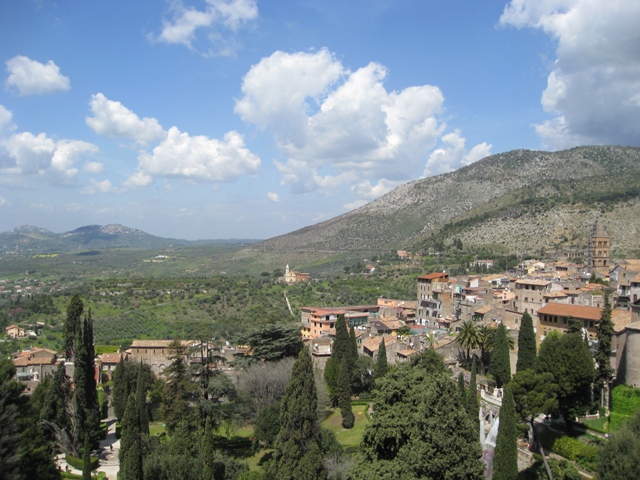 Before venturing into Rome we took a small detour to Tivoli Gardens - this is the view from the entrance to the gardens.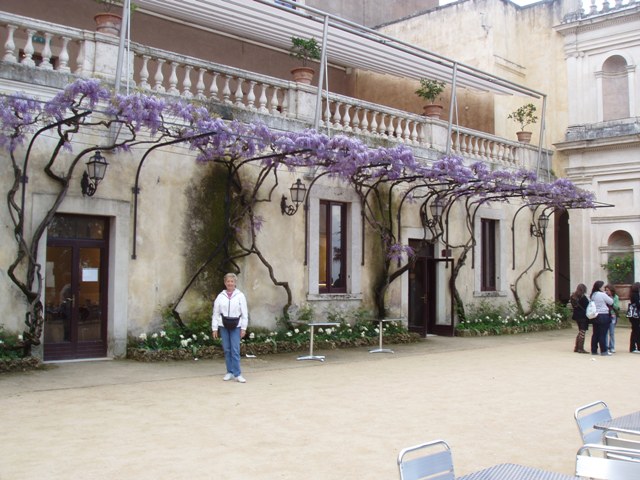 The wisteria (and Mom of course) inside Tivoli Gardens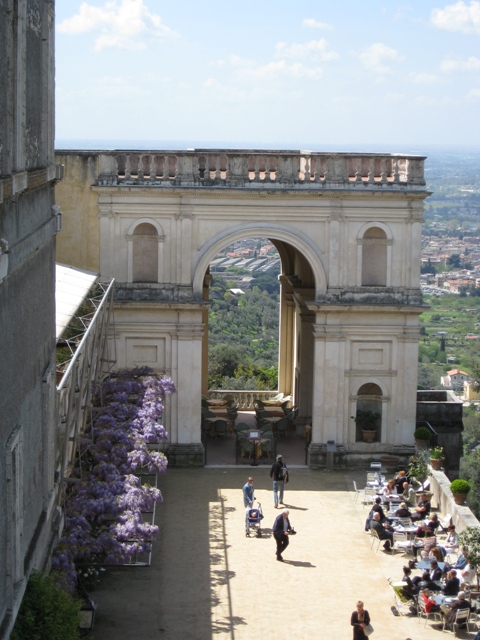 Tivoli Gardens is huge and beautiful with specular views from all over - on a clear day you can see Rome from here.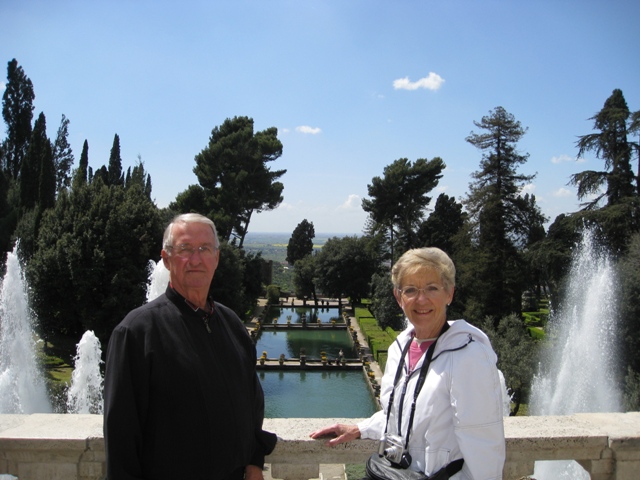 Birthday boy and his wife.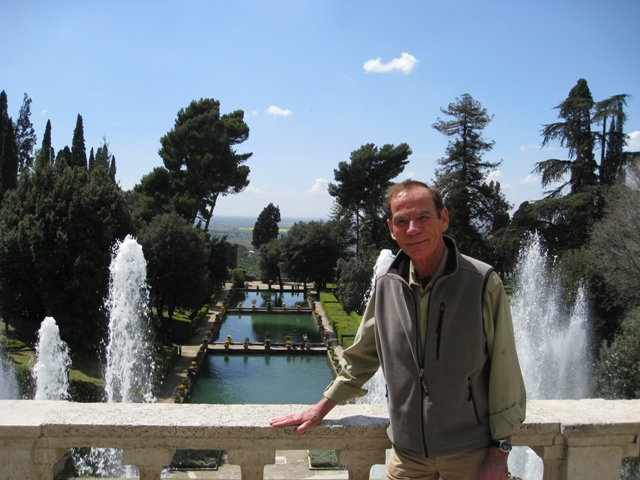 And Dennis too.

and more wisteria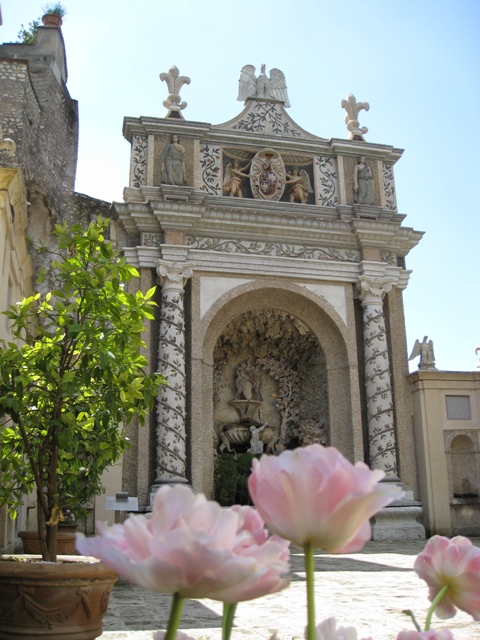 Tivoli Gardens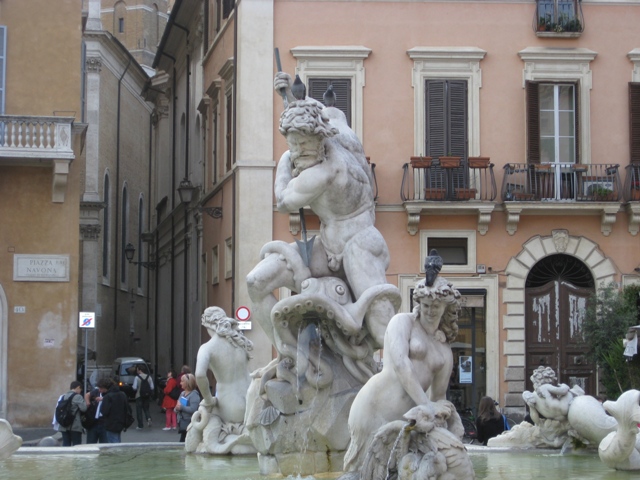 Rome, Italy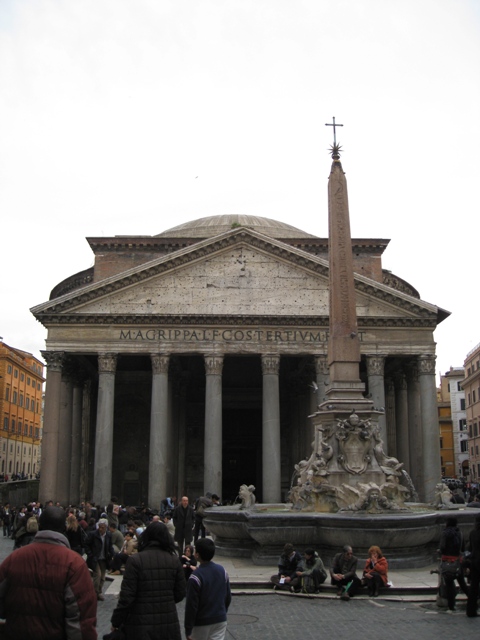 This building fascinated me - the Pantheon because of its age and because of the open dome inside.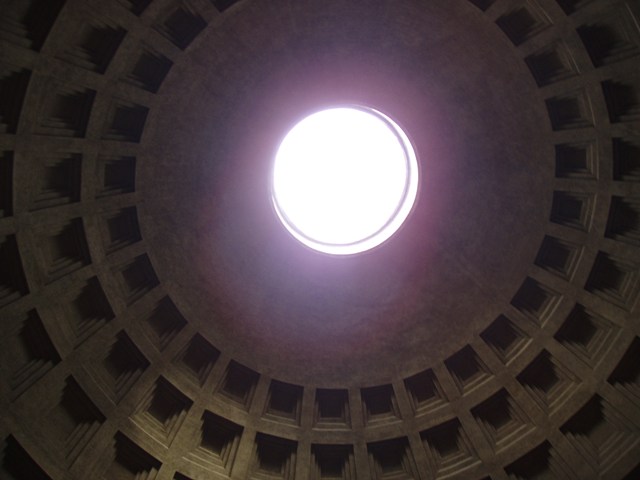 Open dome inside the Pantheon - called "The Eye To Heaven"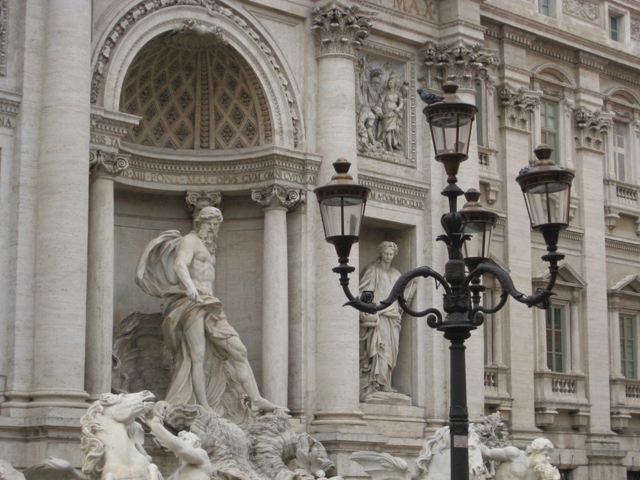 And probably one of the most famous spots in Rome - Trevi Fountain.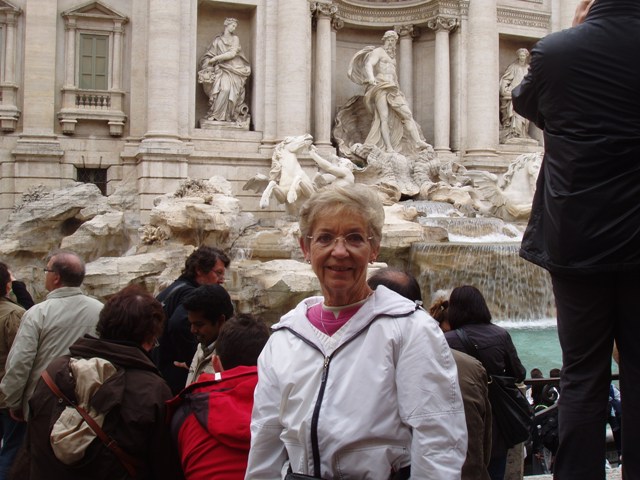 Mom and Trevi Fountain.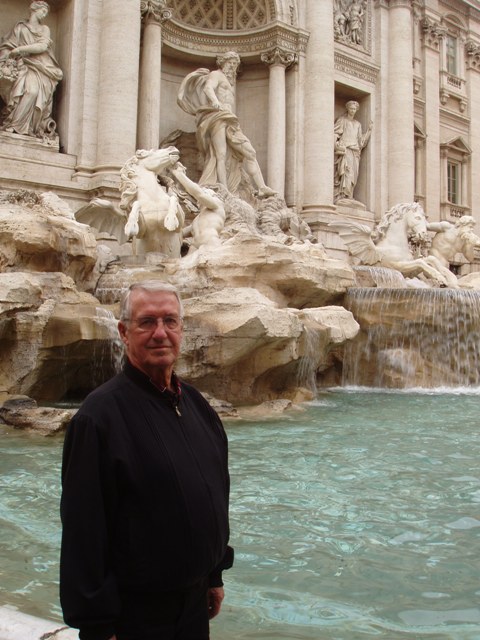 Dad and Trevi Fountain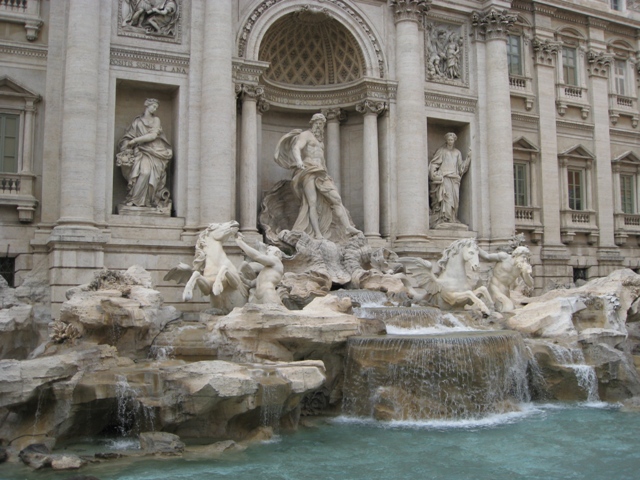 Trevi Fountain.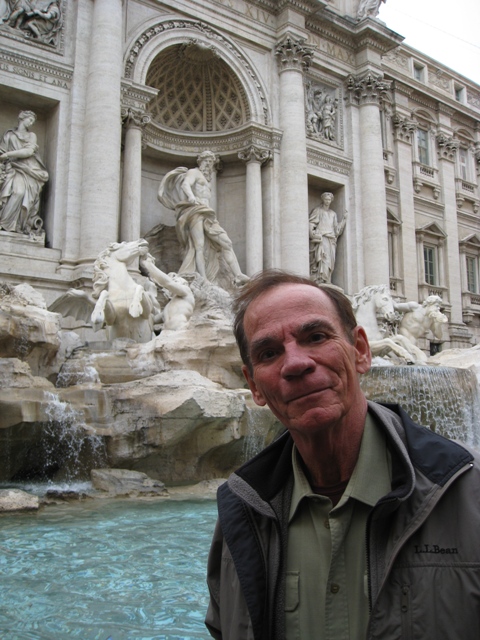 Dennis and Trevi Fountain.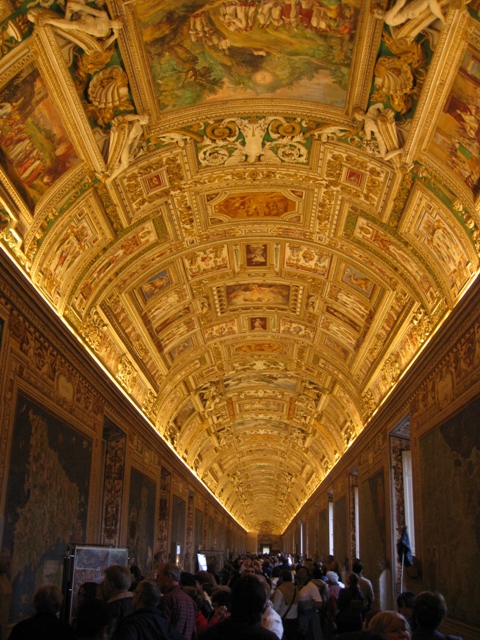 And then off to the Vatican - this is the entrance ceiling.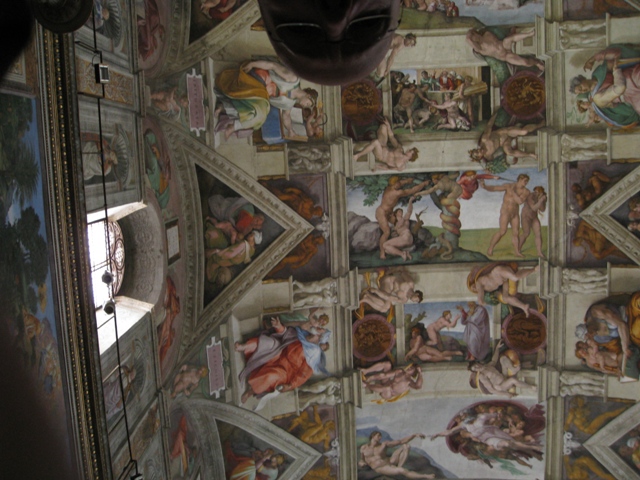 .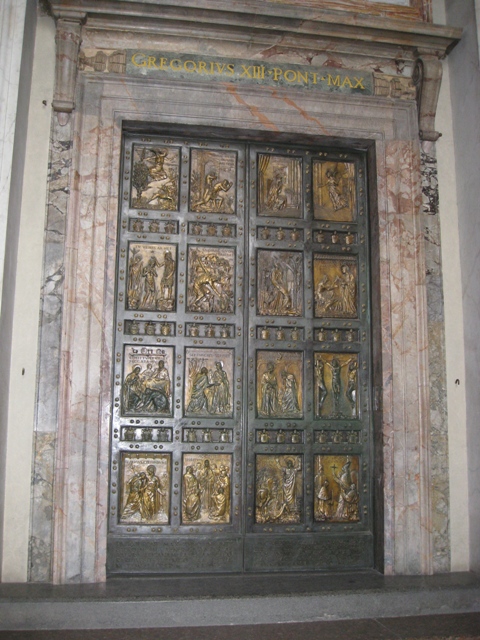 Doors to St. Peter's Basilica - opened only every 25 years.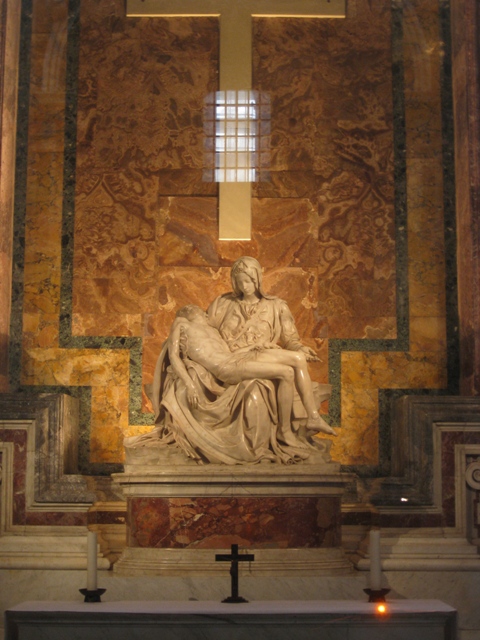 Michael Angelo's Pieta in St. Peter's Basilica.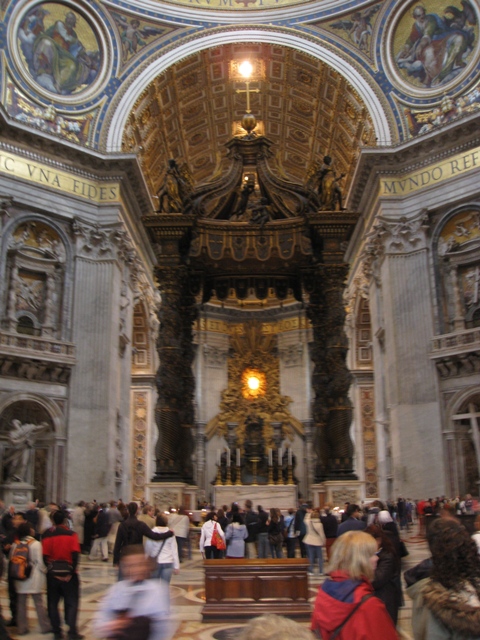 St Peter's Basilica.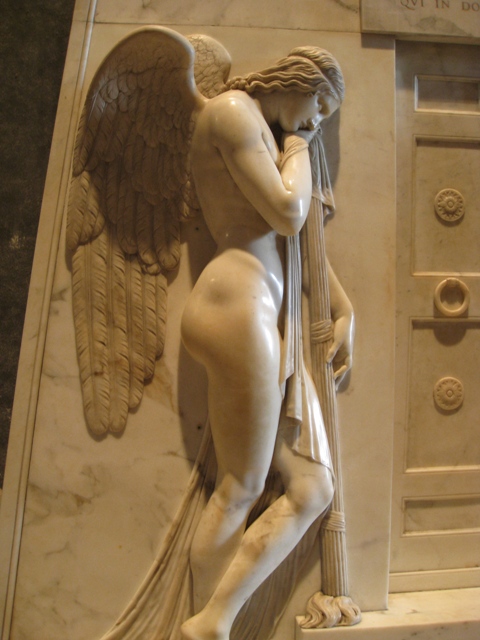 St Peter's Basilica.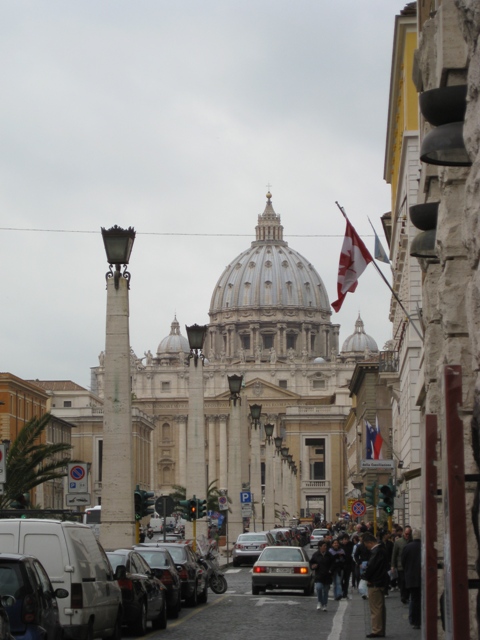 St Peter's Basilica.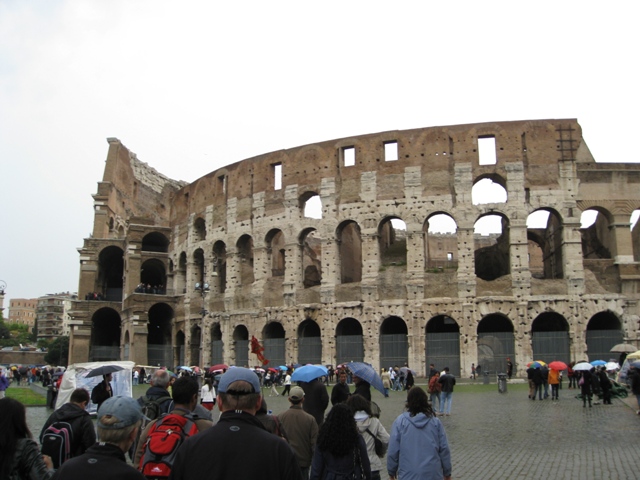 The Coliseum...of course.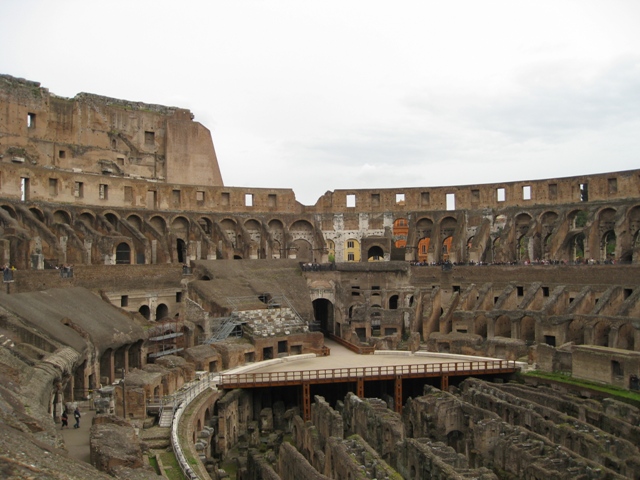 The Coliseum.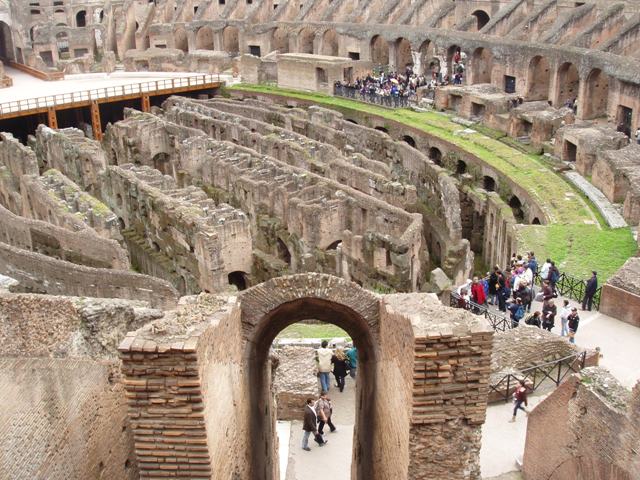 The Coliseum.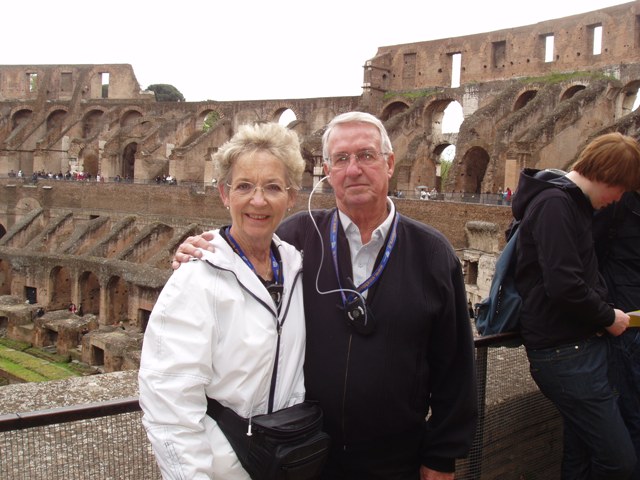 There they are again.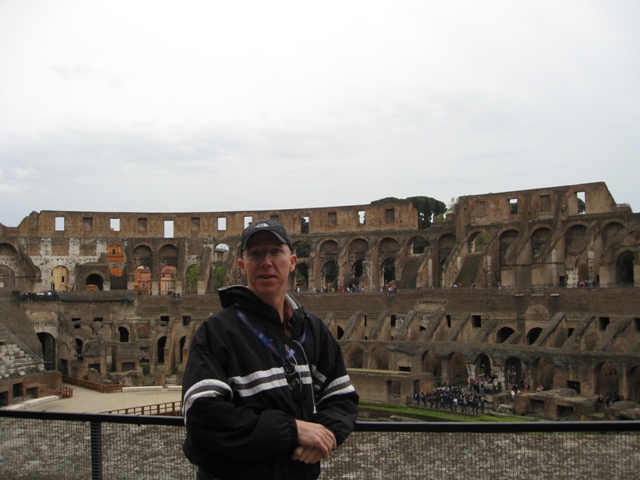 And me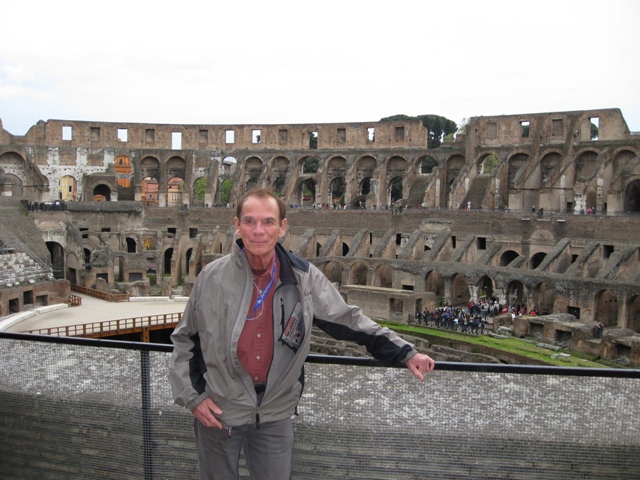 And Dennis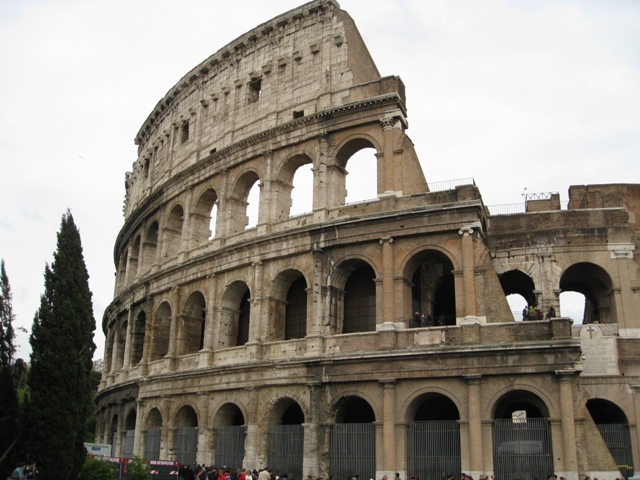 Rome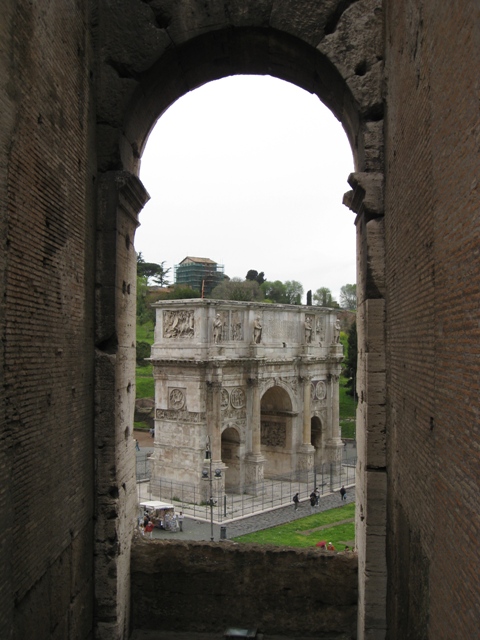 Rome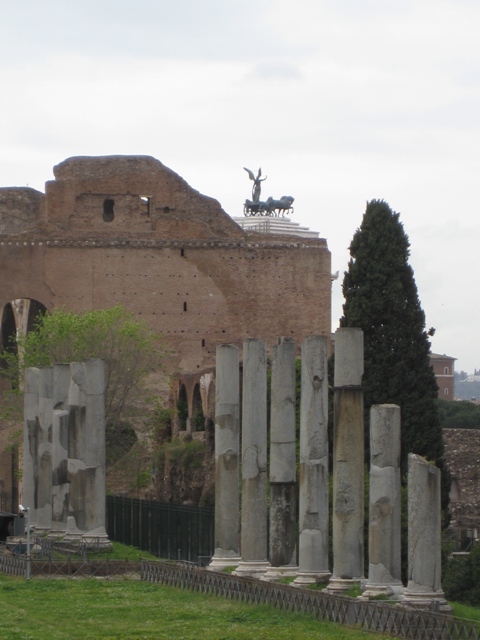 Rome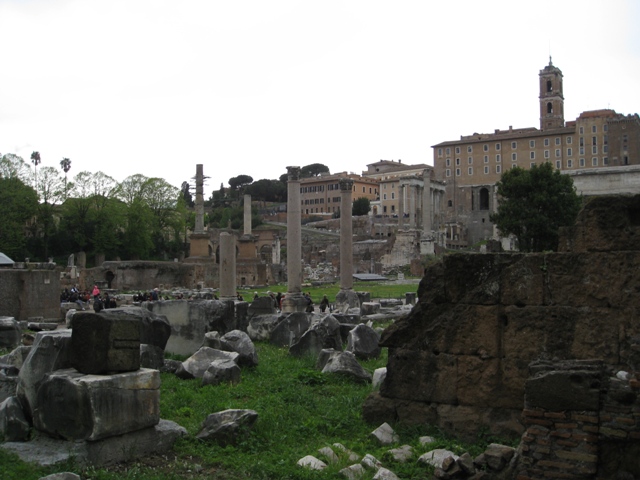 Rome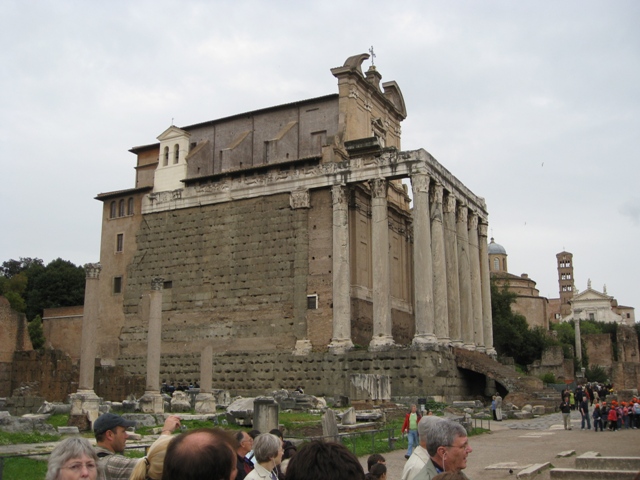 Rome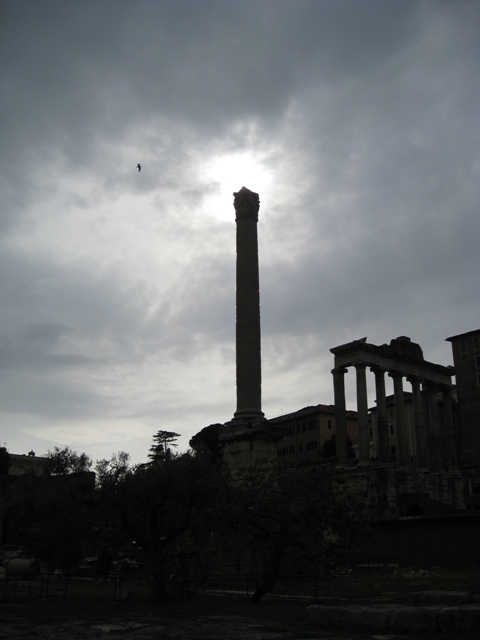 Rome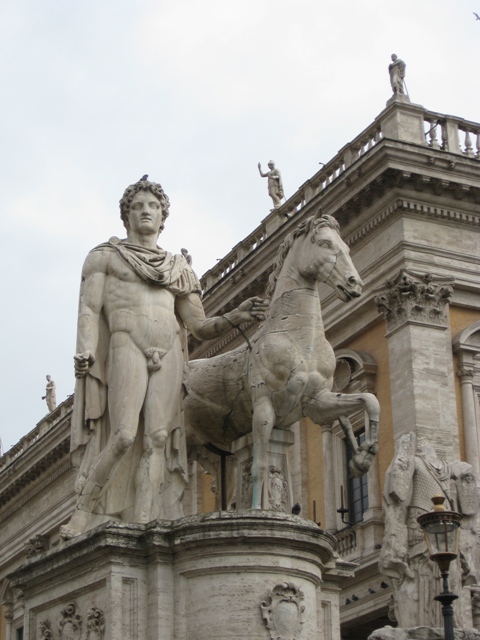 Rome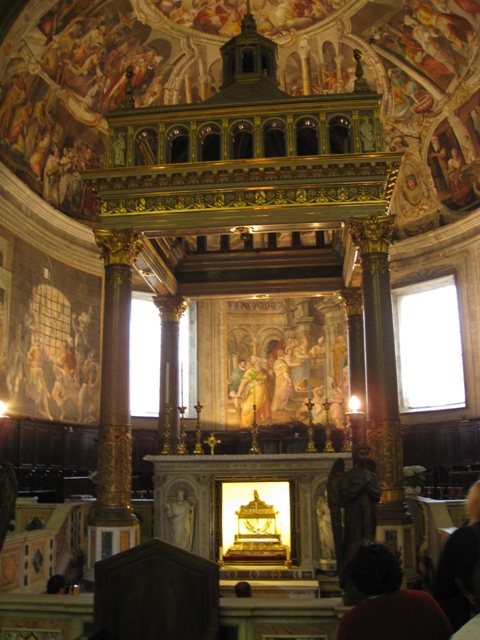 Rome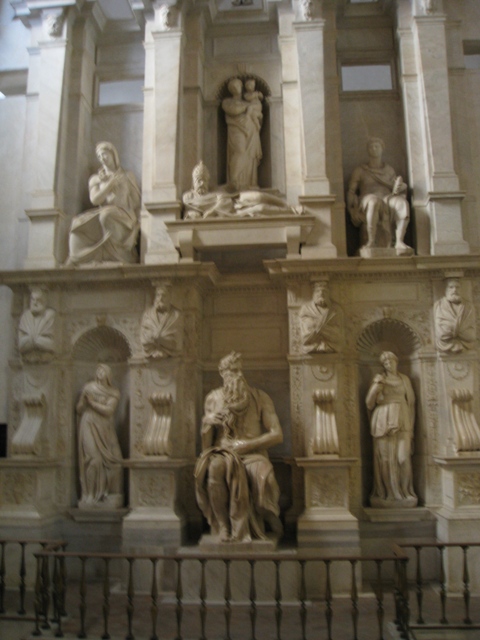 Rome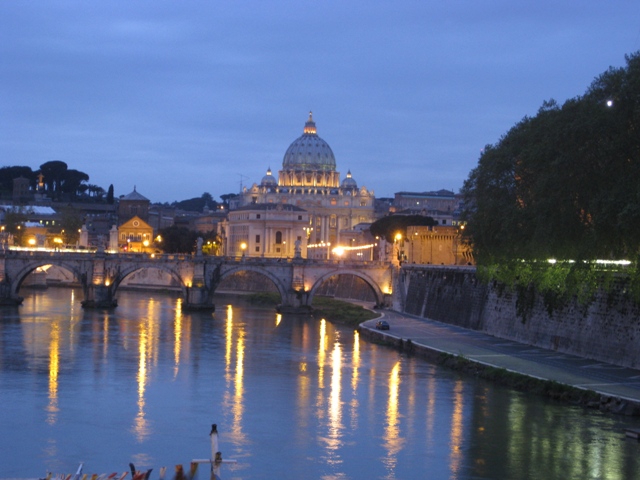 The Vatican & St Peters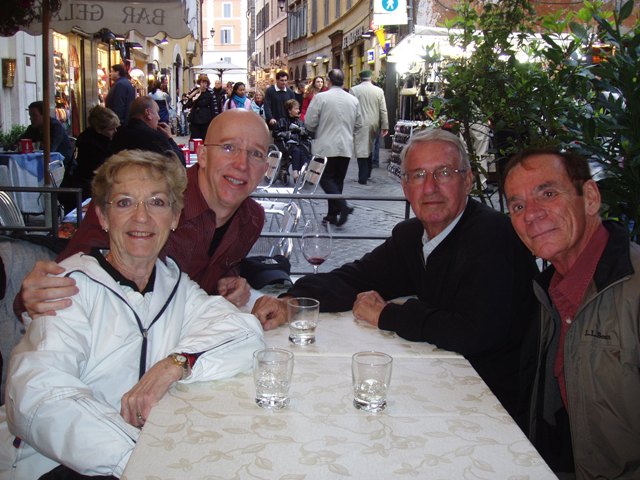 A cocktail as we say chow and arrivederci to Rome